Joe and I just got back from a very mini/last minute vacay in Palm Springs. It was glorious. All we did was nap, swim, eat, walk Hula and reverse. At 100+ degrees, we were either in the pool or melting into the couch. We cleaned out our fridge at home and cooked everything in the condo, which was great because I love coming home to an empty fridge and eating leftovers but not so great on the waist line. Burgers, sausages and beer seemed to be the cast of charaters on our lazy excursion, making me crave something fresh!
"No more dessert" I told Joe as I handed him this colorful salad for lunch. Of course, I was talking to myself because I am the one that has the sweet tooth. I always crave just a bite of something sweet after dinner, but a bite usually leads to multiple bites and eating the entire carton of ice cream. That's not good, huh?

I love vegetables, absolutely love them! But it is boring salads that lose my focus. Big, hearty, textual, colorful bowls of natures perfection is what I love…just like this fattoush salad!
If you are not familiar with fattoush salad, I'd like to say it is the Middle Eastern cousin to panzanella. Both use left over bread and allow a dressing and vegetables to soak into the bread, making for a very robust salad. However, fattoush is garnished with gorgeous pieces of freshly fried pita. Use whatever vegetables you have on hand as in heirloom tomatoes in the summer which I did. If you're making this closer to the fall, maybe some brussel sprouts and beets would be nice?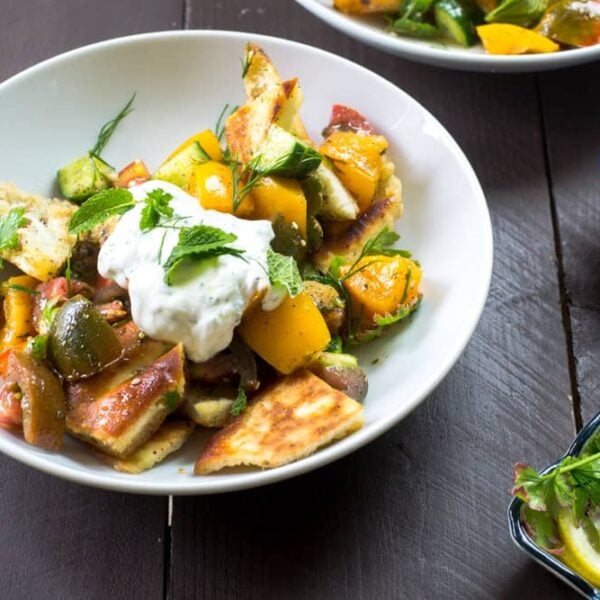 Print Recipe
Heirloom Tomato Fattoush Salad
Ingredients
Salad
3

heirlooms tomatoes cut into large pieces

1

pita bread

cut into quarters

1

Persian cucumber

chopped

Few sprigs of fresh dill

Few sprigs of fresh parsley

Few leaves of fresh mint
Pomegranate Vinaigrette
1

tsp

Pomegranate molasses

or pomegranate juice if you have

1/2

lemon

juiced + zest

1

tsp

za'atar

1/2

tsp

dried mint

or fresh mint

1/4

cup

olive oil

1

Tb

white wine vinegar

1

tsp

honey

Salt and pepper

to taste
Yogurt Sauce
1/2

cup

Greek yogurt

Few sprigs of fresh dill

chopped

1/2

lemon

juiced

Drizzle of olive oil

Salt and pepper to taste
Instructions
First make the vinaigrette dressing. In a mason jar, add all dressing ingredients and mix vigorously to combine. Taste for seasoning. Set aside.

In a large pan, drizzle with olive oil and allow pan to get to medium-hot. Add pita bread and pan fry in oil on both sides until brown and crisp. When done, remove to a paper lined plate.

In a large bowl, add all the salad ingredients and the fried pita bread. Pour a few tablespoons of vinaigrette over salad and toss gently to combine.

To make the yogurt sauce, add all the sauce ingredients in a bowl and mix to combine.

Spoon salad into large bowls and garnish with a dollop of yogurt sauce and extra dill and mint leaves for garnish.