I have always been fascinated with other cultures, but ever since I started blogging, I have been even more inquisitive with different cultures, cuisines and traditions.
Food blogging has explored my palate to levels I never would have thought about. And what I love so much about food blogging is the constant appreciation and loyalty to honest, traditional cooking. Bringing cultures together, sharing experiences and memories and sharing food, not only with friends and family, but sharing the love for cultural cuisine across the world!

Like my ADD self, I get instant cravings that just pop out of no where. Fried plantains were seducing me and the first thing I begin to do, is not run to the store, but tweet and post questions asking all about plantains. I didn't know much, except that I had some when I was little in New York. Latin cuisine is strong on the east coast and it has been at least a good 10 years since I have tasted sweet plantains.
So after many tweets, FB posts and questions about what I should look for..here's what my professional research told me.
1) Plantains are not bananas, you can not eat them raw!
2) The blacker the better. Ya…I said that.
3) Don't cheat, use oil and fry, baby…fry!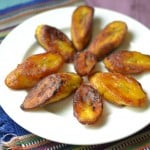 Fried Plantains
Ingredients
2

very ripe plantains

Canola or vegetable oil

Brown sugar

optional

Kosher or sea salt

optional
Instructions
Cut ends off of plantains and run a knife along the sides, peeling the skin off.

Slice on a diagonal about 1/2 in thick.

Heat a large skillet with oil so it completely covers the bottom of the pan. When oil is hot enough (you want to hear a sizzle when plantain goes in), place plantains a few at a time in the hot oil.

Fry on 1st side until it is golden brown and caramelized, about 4-5 minutes. Fry the other side until golden brown.

Optional: sprinkle with brown sugar or sea salt (But I find them sweet enough).
Looking for more Latin inspired flavors? try my homemade sazon seasoning and add it to black beans or chicken!