Learn how to make simple fried plantains recipe with ripe plantains that become caramelized and almost candied like.
I have always been fascinated with other cultures, but ever since I started blogging, I have been even more inquisitive with different cultures, cuisines and traditions.
Food blogging has explored my palate to levels I never would have thought about. And what I love so much about food blogging is the constant appreciation and loyalty to honest, traditional cooking. Bringing cultures together, sharing experiences and memories and sharing food, not only with friends and family, but sharing the love for cultural cuisine across the world!
I get instant cravings that just pop out of nowhere. This time is has been for fried plantains (even fried plantain chips as well) and the first thing I begin to do, is run to the store to find the perfect plantains. Truth, I haven't had much since I grew up in New York (oh how I miss the Puerto Rican and Cuban restaurants!)
But I do know one thing. For the perfect fried plantains, you want them ripe, dark and sweet! I stuffed these into my Plantain, Black Bean and Havarti Arepas recipe.
A few tips on how to fry plantains
1) Plantains are not bananas, you can not eat them raw!
2) For this recipe, the darker and blacker, the sweeter the plantains will be.
3) Don't cheat, use oil and fry, baby...fry!
4) On the other hand, if you want to make fried plantain chips, look for green unripe plantains that are more starchy and hold up to a deeper fry and become incredibly crispy and savory.
More wonderful latin recipes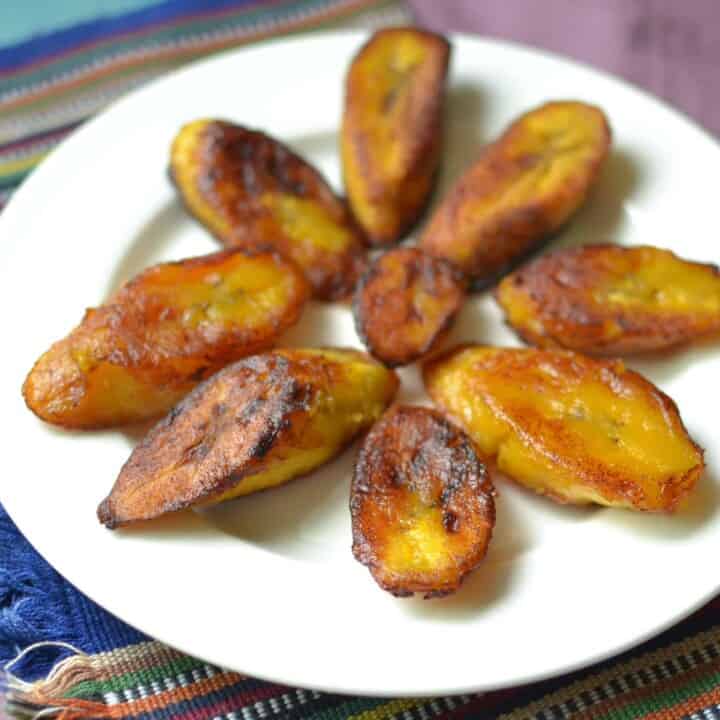 Fried Plantains
LittleFerraroKitchen.com
Learn how to make simply fried plantains recipe with ripe plantains that become caramelized and almost candied like.
Instructions
Cut ends off of plantains and run a knife along the sides, peeling the skin off.

Slice on a diagonal about ½ in thick.

Heat a large skillet with oil so it completely covers the bottom of the pan. When oil is hot enough (you want to hear a sizzle when plantain goes in), place plantains a few at a time in the hot oil.

Fry on 1st side until it is golden brown and caramelized, about 4-5 minutes. Fry the other side until golden brown.

Optional: sprinkle with brown sugar or sea salt (But I find them sweet enough).
Nutrition
Calories:
109
kcal
Carbohydrates:
28
g
Protein:
1
g
Sodium:
3
mg
Potassium:
446
mg
Fiber:
2
g
Sugar:
13
g
Vitamin A:
1010
IU
Vitamin C:
16.5
mg
Calcium:
3
mg
Iron:
0.5
mg
Did you make this recipe?
Let us know by leaving a comment and 5 star rating!