Sticky bun, meet Rugelach! A twist on the traditional Jewish cookie, these rugelach are filled with caramelized nuts and topped with streusel and drizzled with sweet caramel.
Cinnamon Bun + Rugelach
Cinnamon bun, meet your new BFF rugelach! I think you two will get along very, very well!
Word of warning, these cinnamon bun rugelach may be the most delicious and indulgent cookies you will ever bake.
Cinnamon and orange zest are added to the dough before being rolled with homemade caramel sauce and caramelized nuts and then the rugelach are topped with a simple streusel. Because, it's all about the layers.
And after everything is all baked and golden brown, you guessed it…drizzle with MORE caramel sauce and icing. After all, these are supposed to be sticky.
Ingredients and Components
Dough: Similar to my other rugelach recipes but to enhance the cinnamon bun flavors, orange zest and cinnamon are added to the dough.
Caramelized Nuts: Pecans and walnuts are used in this recipe but use your favorite nuts. The toast in butter and add sugar so the nuts get nice and toasty and coated.
Caramel Sauce: Butter, sugar and heavy cream make for a decadent caramel sauce. I like to add a splash of vanilla extract for a pop of flavor too.
Streusel Topping: Flour, sugar and softened or even melted butter make for a streusel topping that you can put on just about everything!
Rugelach Making Tips
Use unsalted butter in the dough to control the amount of salt in your cookies.
Once you roll out the dough, use a cheesecake or pie pan as a guide to cut out a 9-10 inch circle, then cut the scraps off and save those to roll out again. (The dough is very versatile).
Use a pizza cutter to cut the rugelach into triangle shapes.
Once you roll your rugelach up, lay them on the baking sheet, tip side down so they bake evenly.
More Rugelach Recipes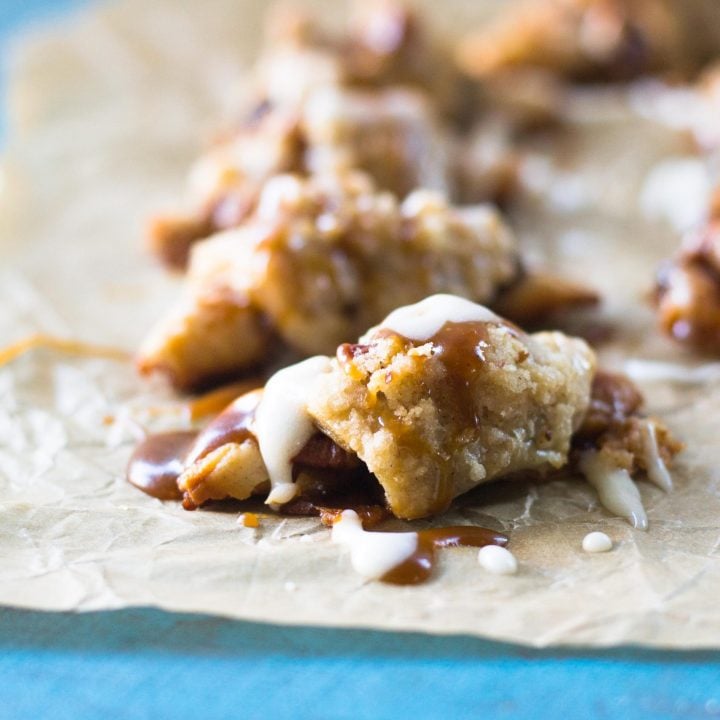 Sticky Cinnamon Bun Rugelach
LittleFerraroKitchen.com
Sticky bun, meet Rugelach! A twist on the traditional Jewish cookie, these rugelach are filled with caramelized nuts and topped with streusel and drizzled with sweet caramel.
Ingredients
Instructions
Make the Dough: Add cream cheese and butter to a stand mixer fitted with a paddle attachment and and beat until creamy.

Add the sugar and orange zest and continue to mix until well incorporated. Then slowly add in the flour, cinnamon and salt and mix until just combined. Scrape down the bowl to make sure everything is mixed well.

Chill Dough: Once done, dump the dough onto a well-floured surface and roll into a ball. Cut the ball in quarters and wrap each quarter in plastic wrap. Refrigerate for at least 30 minutes.

Caramelize the nuts: Add all the ingredients for the caramelized nuts in a large nonstick pan and cook on low heat until the butter melts. Use a spatula to toss everything around so the butter is evenly distributed.

Continue to cook until butter and sugar is completely melted and nuts smell toasted. Once done, pour onto a baking sheet and allow to cool. Then roughly break into pieces and set aside.

Make the Caramel Sauce: Add all the the caramel sauce ingredients together in a small pot and cook on low-medium heat until butter and sugar melt.

Continue cooking and stirring with a whisk until sauce thickens and is pourable, about 5-7 minutes. When done, let caramel cool to room temperature. However, the longer it sits, the thicker it will get.

Make the streusel: Add all the ingredients to a bowl and use your fingers to break up the butter into the flour evenly. Continue blending until butter is the size of peas. Set aside.

Make the icing: Stir the powdered sugar with the vanilla and milk until combined and pourable to desired consistency.

Pre-heat oven to 350 degrees Fahrenheit.

Roll out Dough: Take one dough-ball out of the fridge (leaving others chilled until ready to use) and on a well floured surface and using a lightly floured rolling pin, roll dough to about 9 inches in diameter. Then outline a circle using a plate or cheesecake as a guide to cut a circle. Remove scrape and save to roll out later.

Spread Filling: Spread about 2 tablespoons of caramel sauce over your circle in a thin even layer and sprinkle about ¼ cup of caramelized nuts and ¼ cup raisins evenly. Use your hands to gently press down so nuts and raisins stick.

Cut into Triangles and Roll: Cut the circle into eight pieces (a pizza cutter works great here) and roll the rugelach by starting at the outer end of the triangle and rolling in making a little crescent shape.

Place toppings on Rugelach: Place all rugelach end side down on parchment lined baking sheet and brush with egg wash. Then top each rugelach with streusel topping, gently pressing down so the streusel sticks. (It will be messy). Repeat with remaining balls of dough.

Bake Rugelach: Bake at 350 degrees Fahrenheit for about 18-20 minutes until lightly golden brown.

Add more Caramel: Once rugelach are done baking, drizzle more caramel sauce and icing on top. Allow to cool to room temperature.
Notes
A pizza cutter works great for cutting triangles pieces.
Save the scraps of dough and roll out for more rugelach.
Nutrition
Calories:
286
kcal
Carbohydrates:
27
g
Protein:
3
g
Fat:
20
g
Saturated Fat:
9
g
Cholesterol:
36
mg
Sodium:
45
mg
Potassium:
110
mg
Fiber:
1
g
Sugar:
16
g
Vitamin A:
422
IU
Vitamin C:
1
mg
Calcium:
33
mg
Iron:
1
mg
Did you make this recipe?
Let us know by leaving a comment and 5 star rating!