Charcuterie boards are all the rage, a true classic when it comes to entertaining. Here I share all of my favorite tips, tidbits and pairings to make an excellent cheeseboard that everyone will truly love. My main tip, add what you like!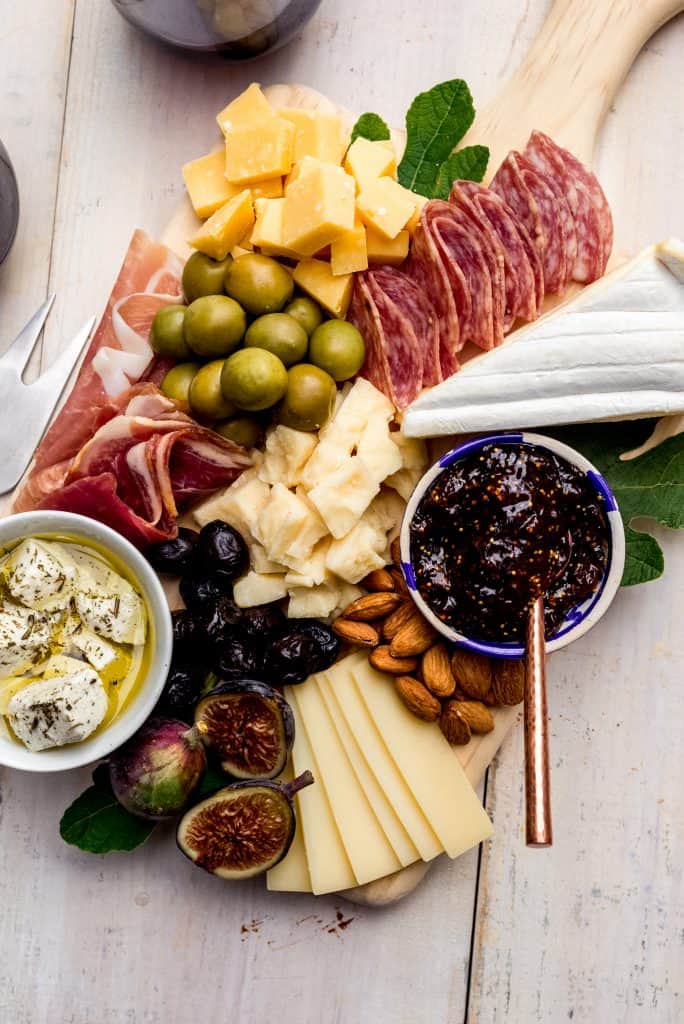 Cheese for Everyone
Over the last year or so, I've been learning more about the world of cheese and what a delicious world that is. There are so many styles, flavors and textures, not to mention all the cheeses that come from different milks and mixes of milks too. There is truly a cheese for everyone.
Here, I gathered all the tips, tidbits and pairings to make an incredible charcuterie board that everyone will truly love.
Cheese Board vs. Charcuterie Board
There is a difference when it comes to a cheese board or a charcuterie board. Technically, the word "charcuterie" translates to meats in French. So if you were making a board full of only cheese, it wouldn't be a charcuterie board. But once you start adding meats, then it is.
What Goes on a Simple Charcuterie Board
This is where you can have fun with what you have! I like to raid my cabinets and pantry for variety and different finger foods to add to the board.
Cheeses
Meats
Olives and/or Pickles
Fresh or Dried fruit
Nuts
Honey and/or Jams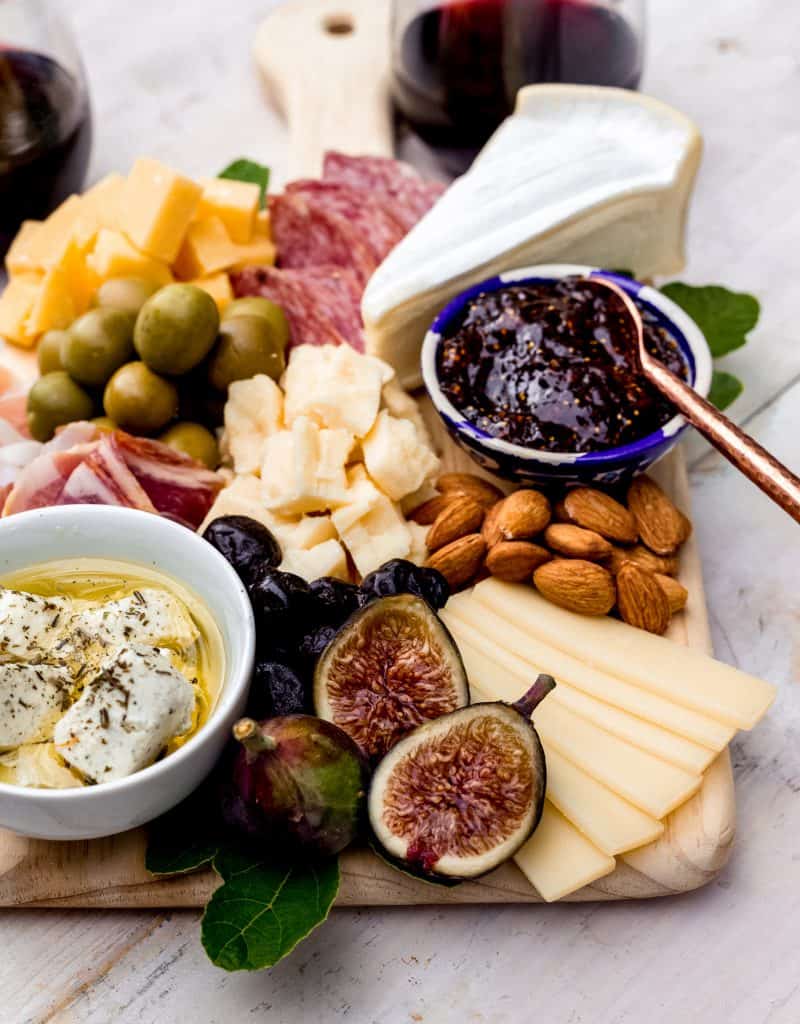 How to Arrange a Charcuterie Board
Start by arranging the cheeses on the board
If using bowls for jams, arrange bowls around the platter.
Fold meats if desired and arrange in empty spots.
Fill empty spots with olives, fruit, nuts, etc.
Add serving utensils to cheeses and jams and honey.
Tips on Making a Meat and Cheese Board
Have a variety of options with different textures, flavors and colors if possible
Same goes with meat, have a variety of meat, such as. hard salami or a funky prosciutto
Keep it FULL. What is so eye catching about cheese boards, is how full and abundant they look. So fill in the gaps with nuts or fruit.
Serve cheeses with it's own serving utensils.
Same with jams, if having multiple jams or honey, serve each one with it's own spoon.
Bring cheeses to room temperature before serving, about 20 minutes before you are planning on eating. This will open up the flavors of the cheese.
And finally…add what you like! What is so fun about making charcuterie boards is the variety of flavors and bites. So add what you love and everyone will love it!
Cheeses for Cheese Board
I always like to suggest working in odd numbers, since it's more visually appealing and gives you variety.
The three cheeses I always recommend to start off with for a simple cheese board are:
Brie: Double cream D'Affinois is shown in the photos, buttery and mild. I also love a creamy triple cream brie such as Cowgirl Creamery Mt. Tam or St. Nuage, both incredibly decadent with a mild rind.
Aged Gouda or Aged Cheddar: 15 months + older so you can enjoy those lovely crystals that develop in aged cheese.
What I like to call this, the "wild card", such as a blue cheese, such as creamy gorgonzola or roquefort or sliceable alpine style, such as Gruyere or Comté or a tangy goat cheese.
Other notable mentions: marinated goat cheese with olive oil and herbes,burrata with olive oil and flakey sea salt.
Meats for Charcuterie Board
Salami: I am really liking Creminelli Barolo Salami as a hard salami where you slice it yourself or try a sliced Sopressata that is flavored with pepper and garlic.
Prosciutto or Speck: Another pork charcuterie option that offers a bit of funk and saltiness. Look for speck instead of prosciutto, which is the same cut, but speck is smoked rather than cured like prosciutto.
Bresaola: If you don't eat pork, look for this beef charcuterie option.
Accoutrements
Olives: Castelvetrano Olives are our favorite, they are mild, buttery and addictive.
Pickles and Peppers: Such as peppadews or cornichons
Fruit: figs, grapes, pick seasonally
Jams: This fig jam is always a crowd pleaser!
Honey or Honeycomb
Nuts: Almonds or Marcona Almonds are fantastic!
Crackers and/or Crostini
Cheese Pairing Suggestions
Aged Gouda + Fig Jam
Red Peppadews + Goat Cheese
Brie Cheese + Fig Jam or Pepper Jelly
Gorgonzola + Honeycomb
Soft Goat Cheese + Olive Oil + Herbes de Provence
Manchego + Quince Paste or Quince Jam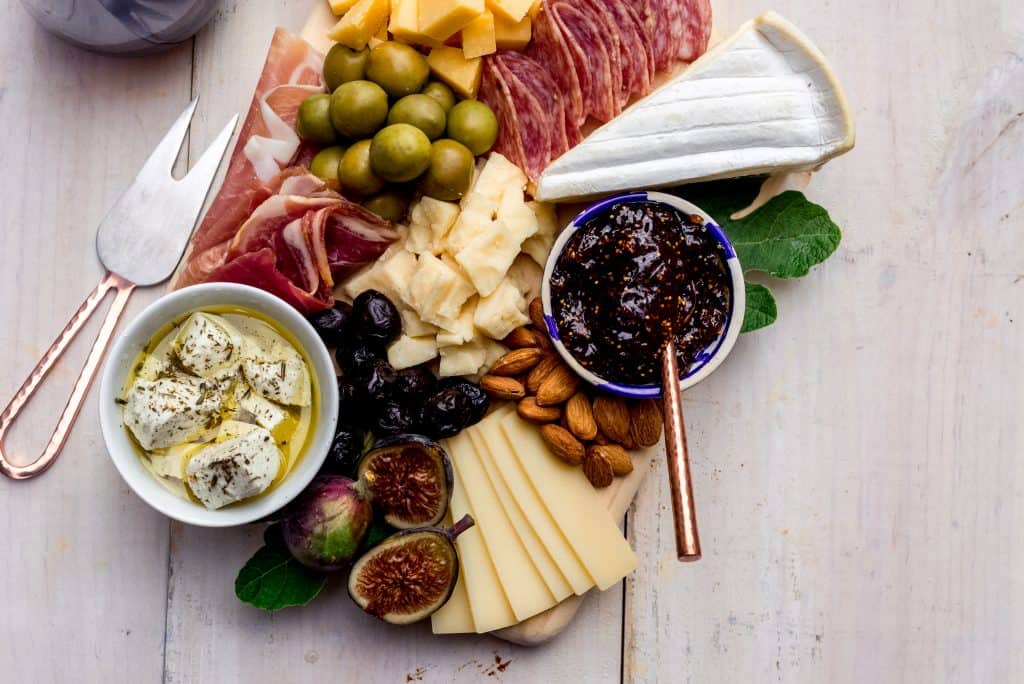 More Cheesy Appetizers to Try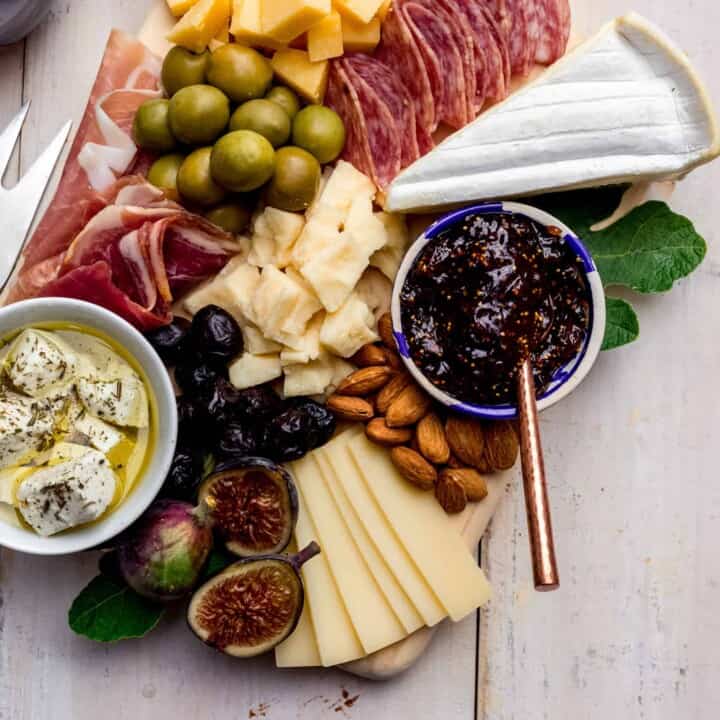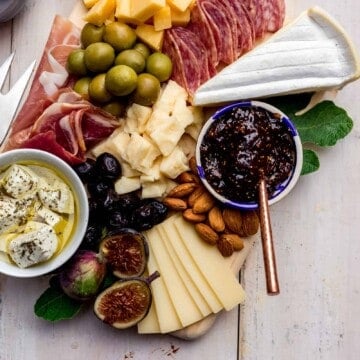 Simple Charcuterie Board
LittleFerraroKitchen.com
Sharing all of the tips, tidbits and pairings to make an excellent cheeseboard that everyone will truly love. My main tip, add what you like!
Ingredients
4

ounces

goat cheese

cut into cubes

½

cup

olive oil

1

tablespoons

herbes de provence

4

ounce

double cream brie

4-6

ounces

aged gouda

broken up into chunks

4

ounces

Gruyere or Comté

sliced thin

½

cup

Fig jam

¼

cup

Almonds

¼

cup

Cured olives

4

ounces

Sliced salami

2

ounces

Sliced prosciutto

Fresh fruit: figs

grapes, clementines, etc
Instructions
In a small bowl, gently toss the cubed goat cheese with olive oil and herbes de provence.

Arrange cheeses on a board or platter and spoon fig jam into a small bowl and arrange on platter.

Fill gaps with olives, sliced meat, nuts and fresh fruit.
Notes
Bring cheeses to room temperature before serving, about 20 minutes before you are planning to serve.
Nutrition
Calories:
969
kcal
Carbohydrates:
24
g
Protein:
37
g
Fat:
81
g
Saturated Fat:
29
g
Polyunsaturated Fat:
7
g
Monounsaturated Fat:
41
g
Trans Fat:
1
g
Cholesterol:
137
mg
Sodium:
1749
mg
Potassium:
347
mg
Fiber:
3
g
Sugar:
15
g
Vitamin A:
1032
IU
Vitamin C:
3
mg
Calcium:
643
mg
Iron:
3
mg
Did you make this recipe?
Let us know by leaving a comment and 5 star rating!