I am so excited to share this recipe! A few weeks ago, some of my girl friends and I got together and made salted caramel eclairs! Thank goodness I have sweet-tooth lovers like my food-loving gal Karla from Foodologie to help me not look like a sugar disaster. Karla is such a fabulous baker and was so excited to join me in crossing off another item from the bucket list.
So let's break this down. Eclairs have 3 parts to them. The pate choux, which is the pastry dough, then there's the pastry cream filling that goes inside the pastry and finally the gorgeous, glistening glaze that goes on top. We opted to make salted caramel eclairs with the traditional cream filling and glaze with a luxurious thick caramel sauce. Doesn't that sound sexy? Oh and then we got all girly-fied and decorated them with colorful sprinkles, edible glitter and edible rose petals. Fabulous..isn't it?
So a few words of advice. The dough..easy. The caramel sauce…easier! But the pastry cream…well, it deserves a lot more patience than we had. I have to give FULL credit to Karla for the amazing caramel sauce. We had a little extra and the leftovers were insane. Let's just say I caught Joe with his tongue stuck to the spoon several times. Addicted, I'll give it that!  Now the dough and cream were adapted from Laura in the Kitchen, which came out great but could have been better. Everything tasted fabulous, but like I said, we didn't give the pastry cream the time it needed. The longer you allow it to settle in the fridge, the thicker it gets and easier it is to pipe into the pastry. So, lesson learned. Chill the cream.
How fun does the eclair party look? We seriously had such a blast decorating and sprinkling anything colorful on the eclairs. I probably had the most fun and spent the day picking out edible silver sprinkles from my hair and plastered caramel sauce off my chin, but what a way to go down, huh?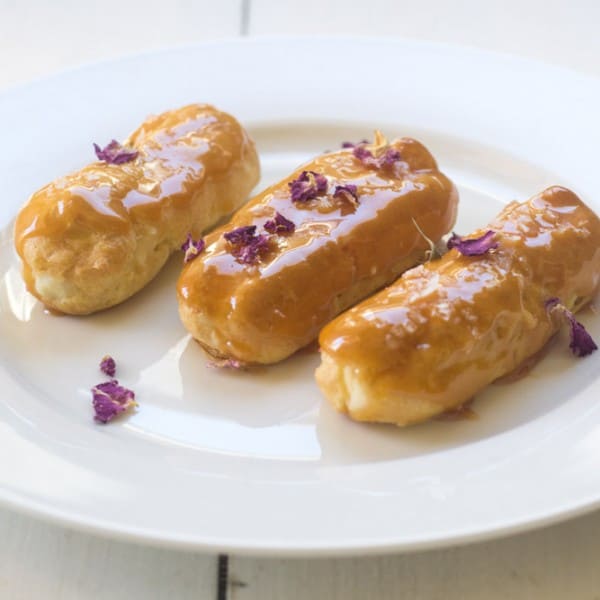 Print Recipe
Caramel Eclairs
Ingredients
Pate Choux
1

cup

flour

1

cup

water

1/2

cup

unsalted butter

8 Tb

1/2

tsp

salt

4

eggs
Pastry Cream
21/4

cups

whole milk

1/4

cup

corn starch

1/4

cup

sugar

4

egg yolks

1

vanilla bean

split in half and seeds removed

Pinch

of salt
Instructions
Pate Choux
First, pre-heat oven to 435 degrees F. Then line 2 baking sheets with parchment paper.

In a medium pot, melt the butter, water and salt together over medium-low heat. Add the flour and stir with a spoon until everything is mixed together and forms a dough. Continue to cook dough for 2 minutes, making sure there is no raw flour left.

Next, add the eggs 1 at a time and continue mixing with a spoon until everything is well incorporated. It may look a but wet, but the dough will come does come together.

Next, secure a piping bag with a large round tip (or use a Ziploc and cut a small whole in 1 of the corners) and fill bag 3/4 full with the dough. (You may have re-fill bag several times). And pipe pate choux into 6 inch long. You can fit 11-12 on each baking sheet.

When all the pastry is piped out, brush the tops of each pate choux with water and bake at 425 degrees F for 10minutes then reduce the heat to 250 degrees F and continue baking for another 20 minutes or until all the pate choux is golden brown. When done, remove from oven and allow to cool completely.
Pastry Cream (Make ahead!)
Add all of the pastry cream ingredients to a medium saucepan and cook on medium heat, stirring everything together. Continue to cook, while stirring, until mixture thickens and is able to coat the back of a spoon.

When done, strain cream mixture through a fine mesh sieve and into another bowl. This will help remove any lumps or eggs that may have scrambled. Place plastic wrap directly over the cream, making sure it touches so no "skin" forms and chill in refrigerator until completely cool. (Note* The longer it sits, the thicker cream will get and easier it is to pipe into pastry).
Caramel Sauce
In a small pot, add the sugar and cook on low heat until sugar gets clumpy. Use a wooden spoon to help break up the sugar to cook evenly. Continue to cook until sugar is completely smooth and turns a light brown color.

Then, add 1/4 cup butter, vanilla and heavy cream and continue to stir together. Add flaky sea salt and taste for seasoning. Turn off heat and continue to mix together until sauce thickens. Set aside.
To Assemble
Use a chopstick or skewer and poke holes on each side of the pate choux so there is a whole going through.

Fill a piping bag with pastry cream and pipe cream into pastry, trying not to overfull.

Then dip one side of the eclair into the caramel sauce. Or you can use a spoon to spoon over the top.

Garnish with extra sea salt or edible sprinkles.
Notes
A Few Notes:
1) Make pastry cream the night before or day in advance so it has time to cool completely and thicken.
2) The longer the caramel sits, the thicker it will become.