Kadaif AKA kadayif is a Middle Eastern dessert of shredded phyllo that is softened with melted butter and layered with spiced pistachios. Similar to baklava, the phyllo dessert is generously doused with an orange blossom syrup and saffron as a personal touch.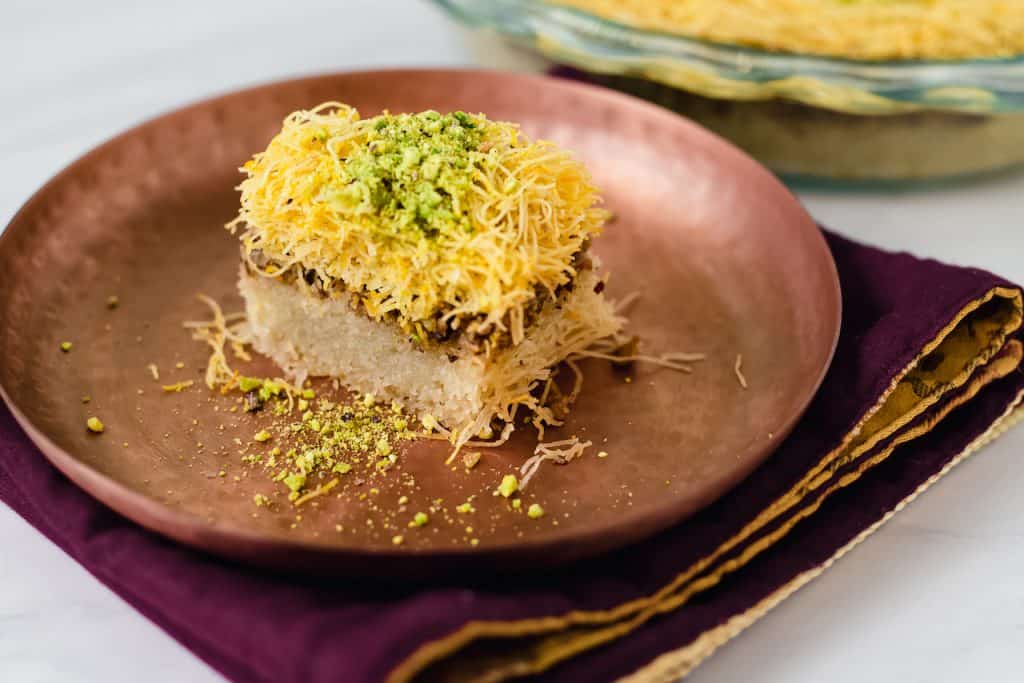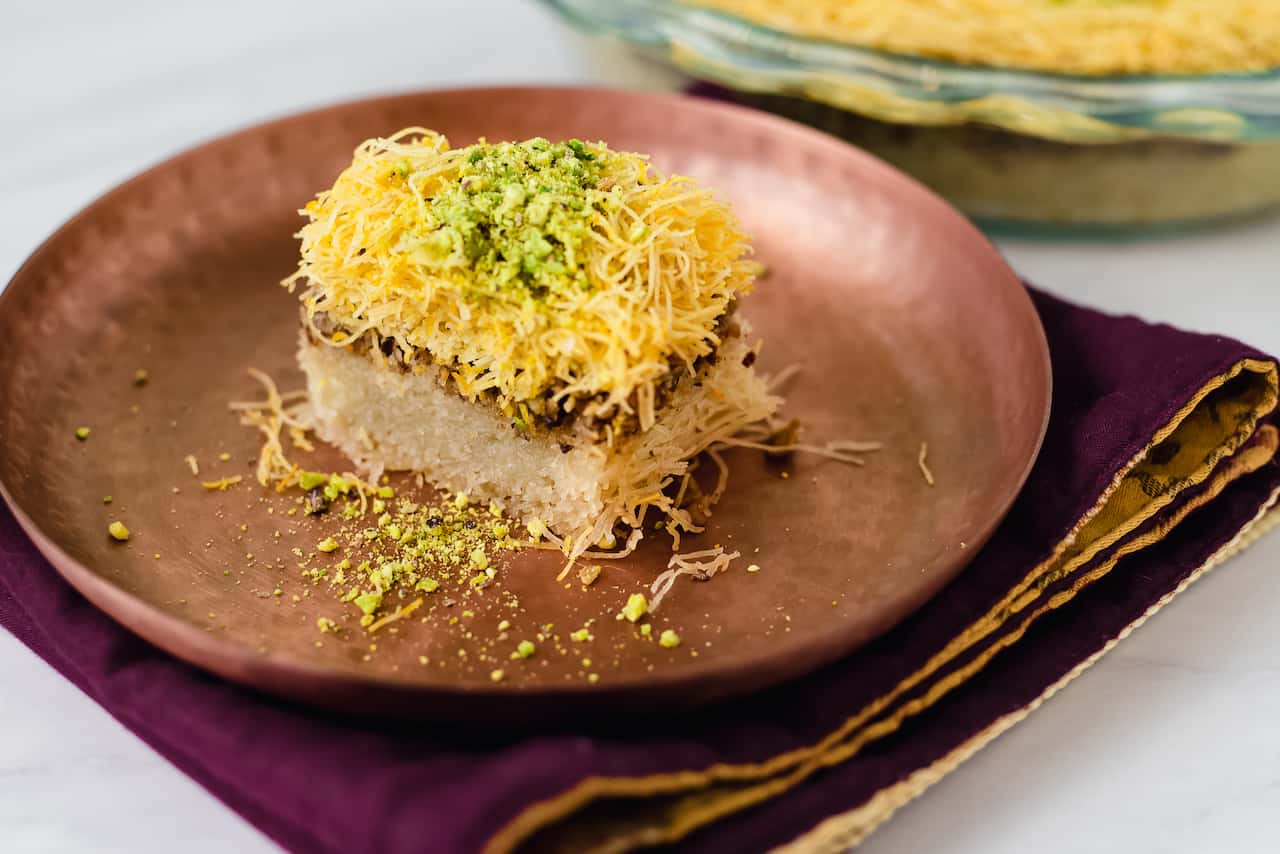 What is Kadayif?
Kadayif also spelled as kadaif is finely shredded phyllo that almost looks like very thin noodles and is made from flour and water. Similar to phyllo sheets, you can find kadaif sold in the freezer section of specialty or Middle Eastern markets and is often used in other Middle Eastern desserts, such as kanafe.
How to Prepare Kadaif (Shredded Phyllo)
Similar to phyllo sheets (at least sold here in the U.S.), boxes of shredded phyllo will be found in the freezer section and should be thawed before using. I keep mine in the freezer and place it in the fridge either the night before or morning before I'm going to work with it.
Kadaif is pretty dry and delicate, so it needs fat, such as melted butter to make it more pliable. When you take the shredded phyllo out of the box, it will feel dry and be tightly folded up.
Place the shredded phyllo in a large bowl, breaking it up with your hands and add melted butter in batches so all the shreds are coated.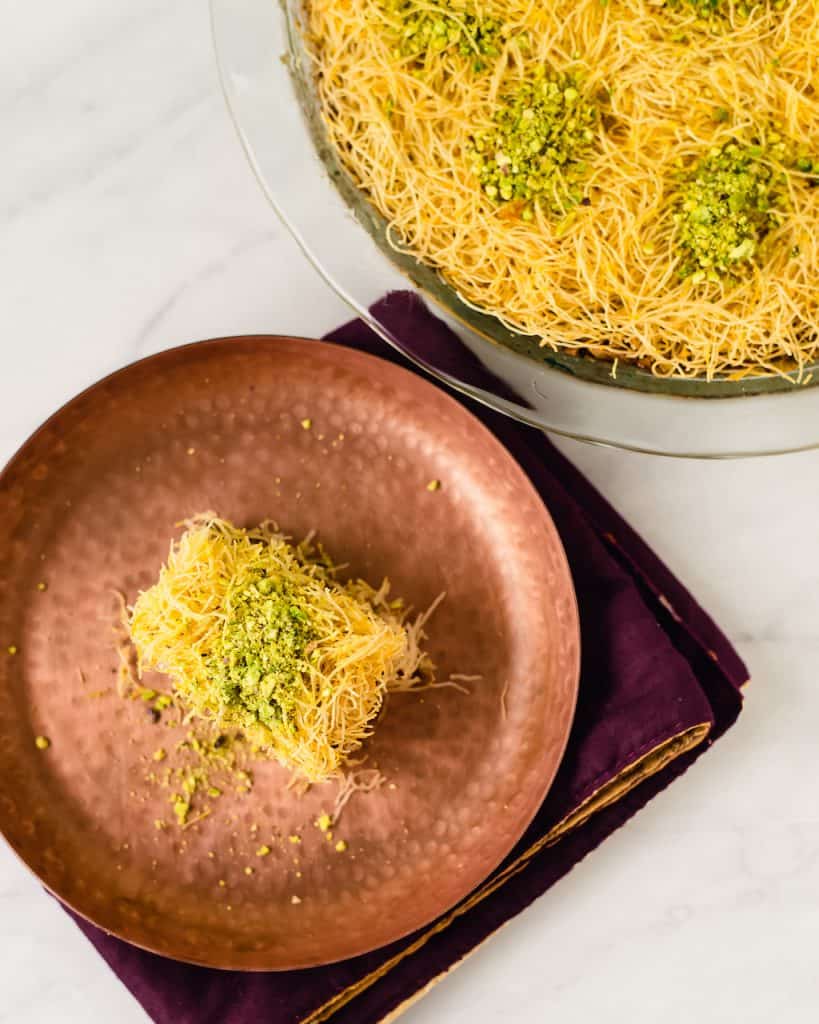 Ingredients and Substitutions
Shredded Phyllo (Aka kadaif/kataif/kadayif): A bit harder to find then phyllo, but I have found this in Middle Eastern stores in the freezer section.
Melted Butter: Shredded phyllo needs fat, slowly stream in butter while breaking up the shreds with your hands.
Saffron: A personal touch but offers both a beautiful orange hue and floral aroma. Take a pinch of saffron threads and steep in warm water and add that to the melted butter.
Pistachios: My nut of choice when baking baklava, but I would also suggest chopped walnuts and almonds.
Spices: Cardamom and Cinnamon are used in this recipe and are classic in baklava and many Middle Eastern treats.
Orange Blossom Water: Another favorite flavor and a little goes a very long way. Start with just a tablespoon. and add more if desired. You can also use rose water or omit the flower water all together and make a plain syrup. Here is the Orange Blossom Water I use.
Aromatics: Cardamom pods and orange peel to enhance the other flavors added. I have also used spreips of lemon peel and have thrown in a small cinnamon stick too.
More Middle Eastern Dessserts to Try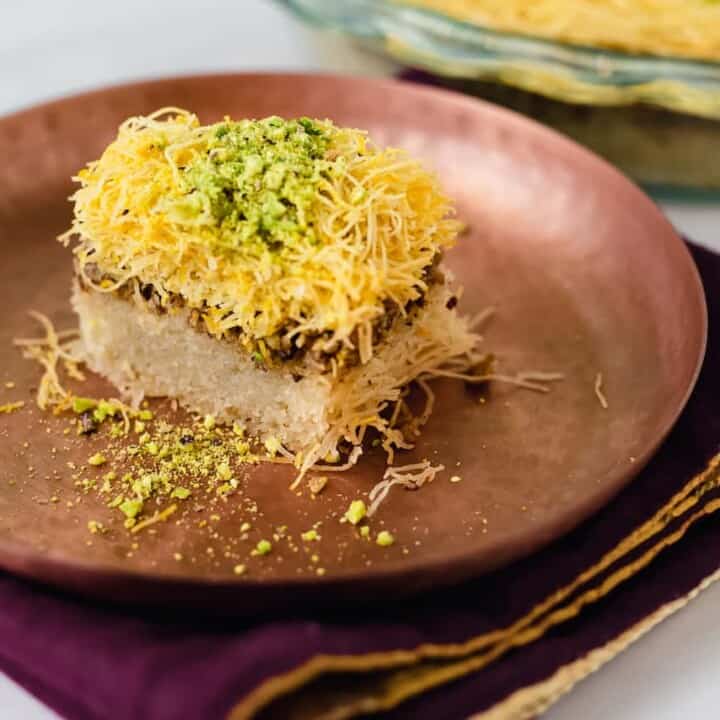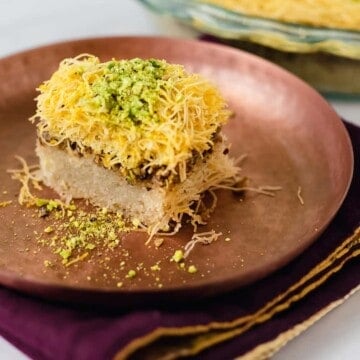 Kadaif (Shredded Phyllo with Pistachios)
LittleFerraroKitchen.com
Kadaif AKA kadayif is a Middle Eastern dessert of shredded phyllo that is softened with melted butter and layered with spiced pistachios and doused with an orange blossom syrup.
Ingredients
Kadaif
1

box kadaif

shredded phyllo, thawed

8

tablespoons

unsalted butter

Pinch

saffron
Instructions
.Begin by pre-heating the oven to 400 degrees Fahrenheit

Melt butter in a small pot and add a pinch of saffron threads, letting the saffron steep in the butter.

Place the shredded phyllo in a large bowl and use your hands to break up the shreds. Add melted butter, in batches and use your hands to break up the shreds so the butter is evenly distributed.

In another bowl, mix the chopped pistachios with cardamom and cinnamon and set aside.

Using a 9-10 inch pie plate (you can also do this with a 9x13 baking dish), place half of the shredded phyllo mixture on the bottom, gently pressing down and making sure there is an even layer. Then layer teh pistachio mixture and finish with the other half of shredded phyllo, gently pressing down.

Place kadaif in the oven for 30 minutes until lightly golden brown.

While the kadaif bakes, make the simply syrup by adding the sugar, water, orange blossom syrup, honey, orange peels and cardamom and bring to a gentle simmer. Give it one good whisk and continue simmering until the sugar as dissolved and syrup has slightly thickened, about 5-7 minutes.

Once the kadaif is done, remove from the oven and this is when the syrup needs to be added, while it is still hot. Remove aromatics from the syrup (cardamom pods and orange peels) and carefully pour syrup slowly and evenly all over the kadaif. You will hear a crackling sound as the kadaif soaks up the syrup.

Once all the syrup is poured over, let the kadayif sit at room temperature for at least 45 minutes to 1 hour, so it has time to soak the syrup.

If you have leftover pistachios, garnish on top and cut into squares for serving.
Notes
Kataif will keep for up to 5 days, covered at room temperature. I have also left it in the fridge but prefer the texture at room temp. 
You do not need to re-heat as this recipe is best served warm or at room temperature, once the syrup has soaked in. 
Nutrition
Calories:
393
kcal
Carbohydrates:
45
g
Protein:
7
g
Fat:
22
g
Saturated Fat:
8
g
Polyunsaturated Fat:
4
g
Monounsaturated Fat:
9
g
Trans Fat:
1
g
Cholesterol:
24
mg
Sodium:
142
mg
Potassium:
286
mg
Fiber:
4
g
Sugar:
24
g
Vitamin A:
354
IU
Vitamin C:
4
mg
Calcium:
42
mg
Iron:
2
mg
Did you make this recipe?
Let us know by leaving a comment and 5 star rating!