You haven't had a beet soup like this! Layered with red and yellow beets with bold spices and bright citrus and topped with crispy fried beet greens. And yes, you should most certainly keep those beet greens!
Welcome to day 7 of my Hanukkah party around the world! Tomorrow is our last global stop and I am so thrilled that many of you enjoyed all these recipes. Today's exploration is very loosely based off of Ukraine with their infamous sup, borscht. However, I am calling this a red and yellow layered beet soup in hopes of keeping the peace.
Now I have heard that borscht is a very, very serious thing. I researched this and and have witnessed arguments and war break out over who and what borscht truly is. The one I grew up with had meat in it or meat bones for flavor with lots of cabbage. I've also had the borscht that was hot pink from the mixed in sour cream and still have nightmares errr...I mean memories of my mom forcing it down my throat. Because that's what Jewish mothers did back then, you ate whatever's was in front of you and liked it even though you didn't.
I'd like to call this a very modern twist on beet soup. The colors are out of this world and the flavors intense. Joe and I were licking the spoons as I made the soup (but don't worry, no double dipping). I had fun mixing the colors and layering it with the yellow and red beets. But the true gem of this beet soup are the fried beet greens!
Beet greens are loaded with nutrition and have a great amount of fiber and antioxidants! I'm a huge, huge lover of beet greens and always use them in soups or pasta dishes. This time and with Hanukkah, of course, I quickly fried them! I've had fried greens before (spinach and chard) and beet greens were no exception! They come out perfectly crisp and crunchy and perfect for snacking on or topping with your gorgeous beet soup.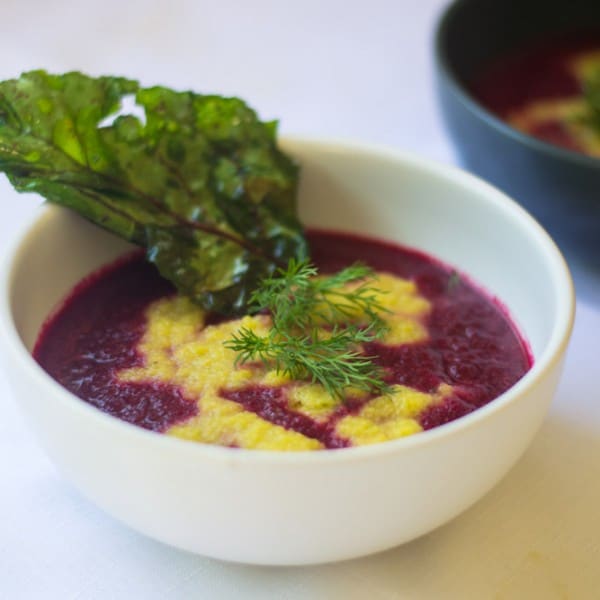 Red and Yellow Beet Soup with Fried Beet Greens
LittleFerraroKitchen.com
Layered beet soup with red and yellow beets, bold spices and bright citrus, topped with fried beet greens.
Ingredients
Beet Greens
Beet greens from beets

stems removed and cut in half if too large

Olive oil

for frying
Instructions
To make the red beet soup, add butter and olive oil to a small pot and saute onions until softened and lightly browned. About 5-8 minutes.

Add cumin and cayenne and stir to combine. Then add beets, potatoes, carrots and stock and cook on medium-low heat until the vegetables are very tender, about 20-30 minutes.

Season with salt and pepper and adjust seasoning as desired. Once vegetables are very tender, use an immersion blender or a food processor to blend the soup to a puree. Set aside.

To make the yellow beet soup, saute yellow onion in butter and olive oil until lightly browned, about 5-8 minutes. Add turmeric, lemon zest and ginger and stir to combine for a few seconds.

Then add yellow beets and vegetable stock and cook on medium heat until beets are very tender, about 10-15 minutes. Season with salt and pepper and adjust as necessary.

Once beets are tender, use an immersion blender or food processor to puree soup.

To make the beet greens, heat a large non-stick skillet with canola or vegetable oil. Wash greens and pat them very dry. Place greens in skillet and fry on both sides until charred and brown, about 1-2 minutes per side. When done, remove to a paper towel lined plate and immediately season with salt.

To plate soup, ladle either the yellow or red soup in a bowl first and use another clean ladle to spoon the opposite color on top. Garnish with fresh fill and crispy beet greens.
Notes
Tip: Work with the yellow beets before the red beets so you don't stain the yellow and it keeps its vibrant color.
Nutrition
Calories:
179
kcal
Carbohydrates:
27
g
Protein:
3
g
Fat:
8
g
Saturated Fat:
5
g
Polyunsaturated Fat:
0.4
g
Monounsaturated Fat:
2
g
Cholesterol:
19
mg
Sodium:
1032
mg
Potassium:
645
mg
Fiber:
5
g
Sugar:
11
g
Vitamin A:
5887
IU
Vitamin C:
30
mg
Calcium:
45
mg
Iron:
2
mg
Did you make this recipe?
Let us know by leaving a comment and 5 star rating!