An Asian inspiration for beef stew, Chinese beef stew has flavors of ginger, anise and clove that perfume every bite.
Welcome to the 1st day of my Hanukkah party around the world! Every day this week, I will be sharing a different recipe from a different country for the holiday. This has been a personal project of mine and really just for fun to celebrate one of my favorite holidays!
So please make sure to check back every day this week and see where in the world we are traveling to!
Let's just jump right in shall we? The first country on this Hanukkah journey is China! Although not very known for their Jewish culture or ancestry, there were some Jews living in Shanghai that fled as refugees during World War 2. If you happen to be in China during Hanukkah, you can still celebrate eating gelt with chopsticks..how fun does that sound, though a tad difficult, right?
To loosely blend 2 cultures together, I took inspiration from brisket, which is such a popular main dish during Jewish holidays and decided to share another brisket version. Chinese beef stew is on the menu today and is actually a very popular dish in Cantonese cuisine (from what I read). The main ingredient is called "chu hou" paste, made of soybeans and can be found at Asian markets. The paste is thick, dark and almost of a molasses texture with the aroma of spices and soy. A little goes a very long way and just a ¼ cup of paste is added to this huge stew.
Daikon radish is the traditional vegetable in this dish and was a nice change from the standard starchy potato, Flavors of ginger, anise and clove perfume every bite just perfectly Serve this with some simple ramen noodles tossed with a bit of sesame oil for more aromatic flavor. And save some for the next day because the leftovers are even better!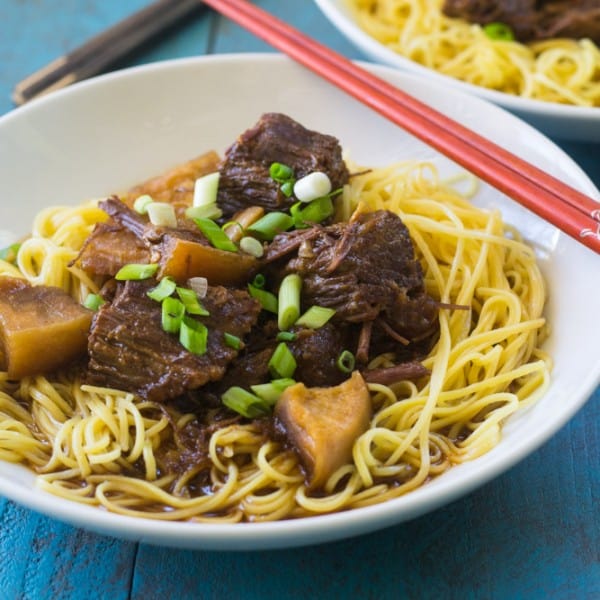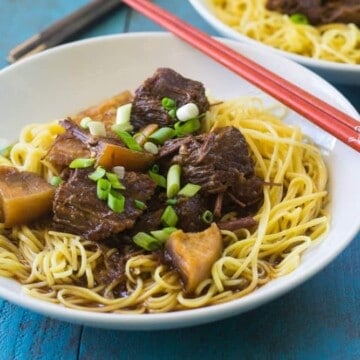 Chinese Beef Stew
LittleFerraroKitchen.com
An Asian inspiration for beef stew, Chinese beef stew has flavors of ginger, anise and clove that perfume every bite.
Instructions
Drizzle olive oil or vegetable oil in the bottom of a large dutch oven. Sear brisket pieces on each side, browning the outside but leaving the inside uncooked (it will cook later).

Once the meat is all seared, remove to a plate and set aside. Next, add shallot, ginger and red pepper flakes and saute until shallot is lightly caramelized. Then add garlic, star anise and cloves and saute for another minute just to caramelize garlic.

De-glaze the pot with a bit of your stock and use a wooden spoon to scrape off all the bits of meat in the pan. Then add chu hou paste, stock, water, dark soy sauce and brown sugar. Mix everything together.

Add the meat back into the pot with bay leaf and stir everything to combine. Bring the stew to a boil and then cover and bring it down to a simmer and cook for 2 hours.

After 2 hours, add the daikon and continue to cook for another hour or until the meat and daikon are tender.

Once down, allow the stew to sit on low or off flame. Then boil ramen noodles for 3-4 minutes until cooked. Drain and toss with sesame oil so they don't stick.

Serve stew on top of ramen noodles and garnish with fresh scallions.
Nutrition
Calories:
296
kcal
Carbohydrates:
13
g
Protein:
35
g
Fat:
12
g
Saturated Fat:
4
g
Polyunsaturated Fat:
0.5
g
Monounsaturated Fat:
5
g
Cholesterol:
94
mg
Sodium:
483
mg
Potassium:
997
mg
Fiber:
2
g
Sugar:
7
g
Vitamin A:
125
IU
Vitamin C:
28
mg
Calcium:
61
mg
Iron:
4
mg
Did you make this recipe?
Let us know by leaving a comment and 5 star rating!