Whether you're baking, steaming, or grilling fresh clams, this step-by-step guide will teach you how to clean clams like a pro. With these expert tips, every bite will guarantee a grit-free clam eating experience that's perfect for any recipe!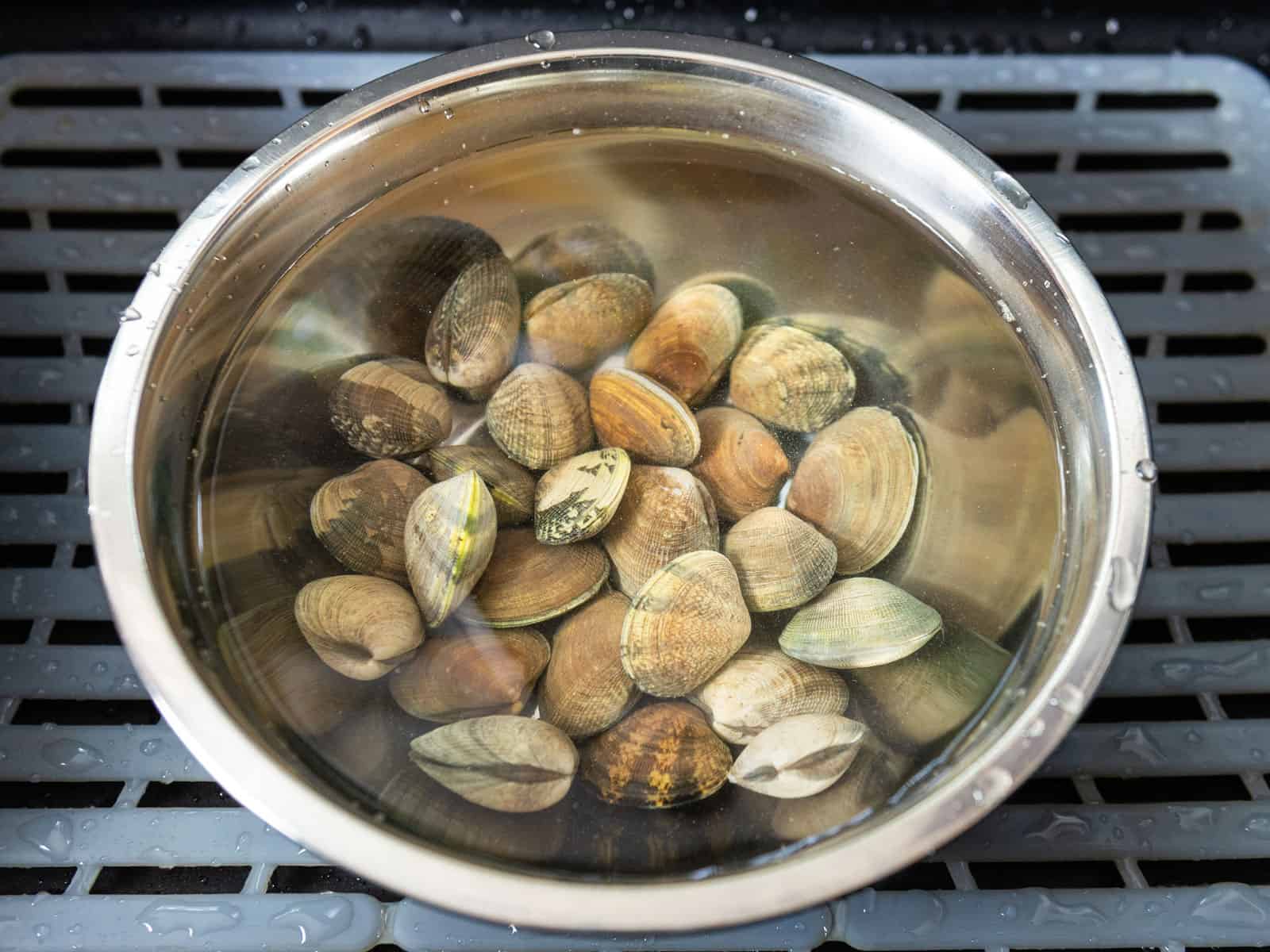 Steamed clams are some of our favorite seafood and we eat them a lot! And over the years, I've learned how to clean clams the right way to ensure you don't bite into a hard piece of grit.
Cleaning clams takes longer than cooking them, but it's worth the effort! Cleaning and prepping clams can take up to an hour, where on the other hand, cooking clams takes less than 10 minutes! But once you've mastered cleaning them, the world is your oyster! Or clam, in this case!
Jump to:
🦪 Types of Clams for Cooking
Here are a few types of clams you may find.
Littleneck Clams: These are smaller clams compared to other varieties and have a sweet and tender flavor.
Manilla Clams: Manilla clams are slightly larger than littleneck clams with a longer oval shape and also have a mild and sweet flavor and perfect for steamed clams with tomatoes.
Steamers: Steamers are also known as soft shell clams as their shells are thin and fragile. You'll often find steamers in New England where they are simply steamed and served with melted butter to dip into. Steamers are sweet and briny but their meat is chewier compared to other clams.
Razor Clams: Razor clams are long and thin clams that resemble a slim "razor". Razor clams have a delicate and sweet flavor.
🛒 What to Look for When Buying Clams
When purchasing clams from a seafood market or the seafood section of your local grocery store, the first thing to notice is the smell. The seafood should smell fresh, briny and like the ocean and there should be no fishy smell at all!
Fresh clams should be kept cold on ice and not soaking in melted water.
Clams should not have any broken shells or cracks in the shell.
Ask the fishmonger how long the clams have been in the store? I wouldn't buy clams that have been in the store for more than 2 days.
When the fishmonger packs the clams, they should be kept on ice and either in a mesh bag or another bag that is open so the clams can "breathe".
🧊 Bringing Fresh Clams Home
Once you come home with your fresh clams, immediately take them out of the bag and put them in a large bowl of ice and keep them in the refrigerator until you're ready to clean and cook them.
❄️ How can I keep clams fresh for a day?
It's best to cook clams the same day they are bought but if needed, fresh clams can last for a day.
Keep the fresh clams on ice and in the refrigerator. Keep an eye on the melted ice and pour out the water and replenish with fresh ice until you're ready to clean and cook them.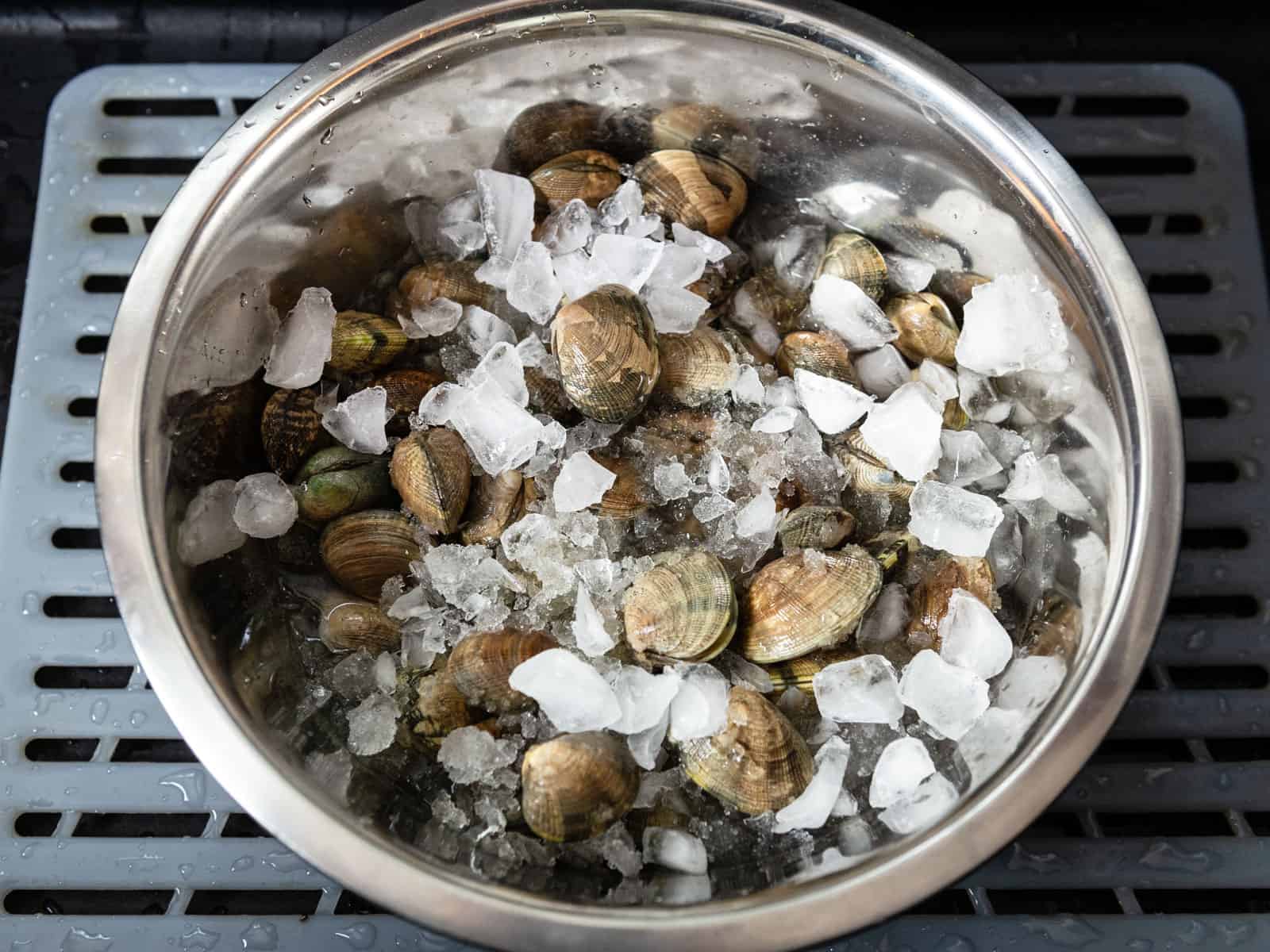 🧂 Soak the Clams in Salted Water
About an hour before cooking the clams, it's time to purge and clean them. Place the clams in a large bowl filled with ice cold water and sprinkle 1-2 tablespoons of Kosher salt into the water.
This will help the clams purge out any sand and debris.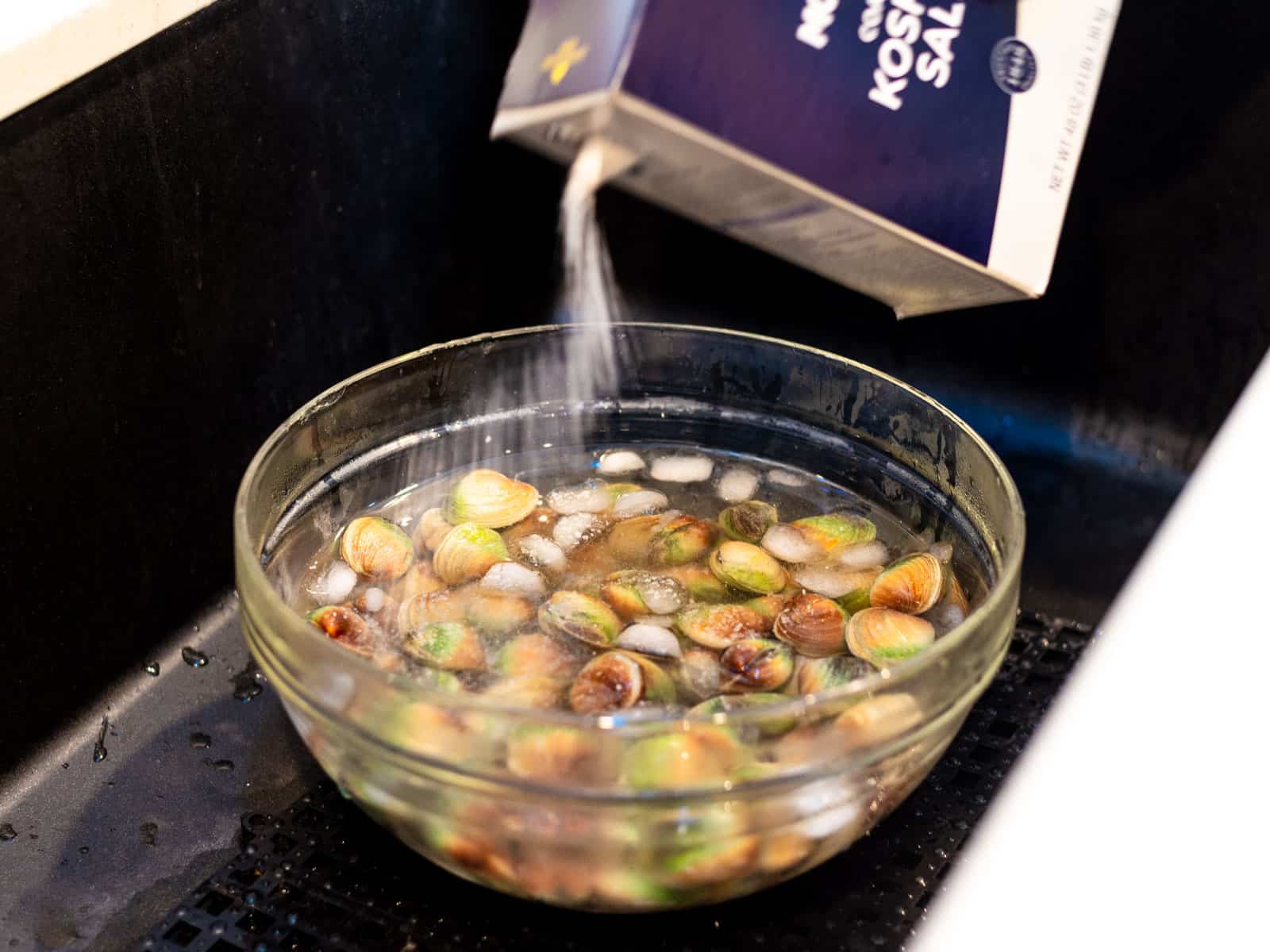 Soak the clams in the salted water for 30-40 minutes.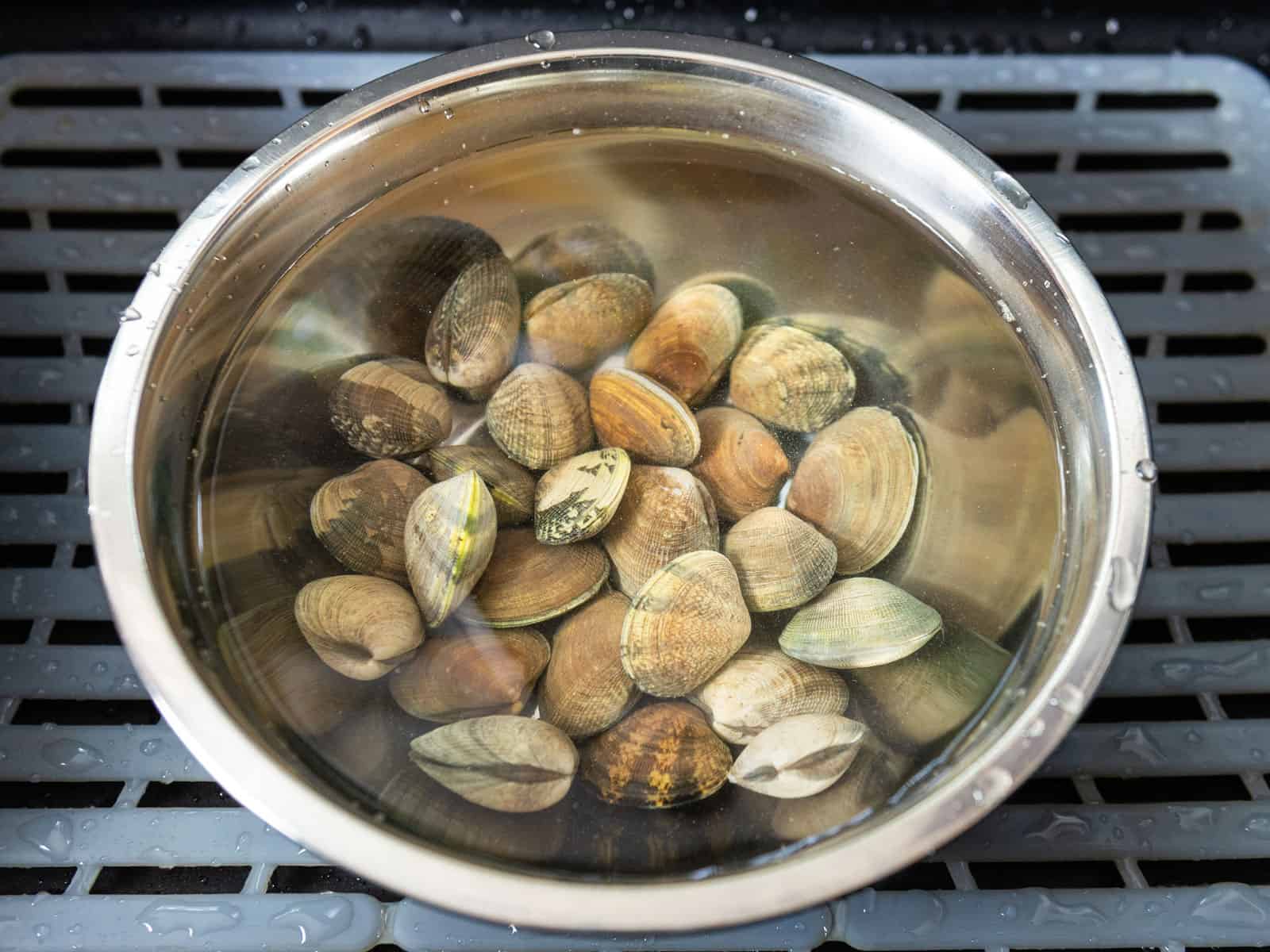 🧽 Wash and Scrub the Clams
At the 30 minute mark, begin scrubbing the clams. Sometimes clams will have other small shells or debris on the shell, so it's important to scrub each clam. It's time consuming, but worth it to make sure you don't bite into a piece of grit!
Use a soft bristled clam brush to scrub the outside of each clam. This is a good time to double check for any cracks or breaks in the shell too.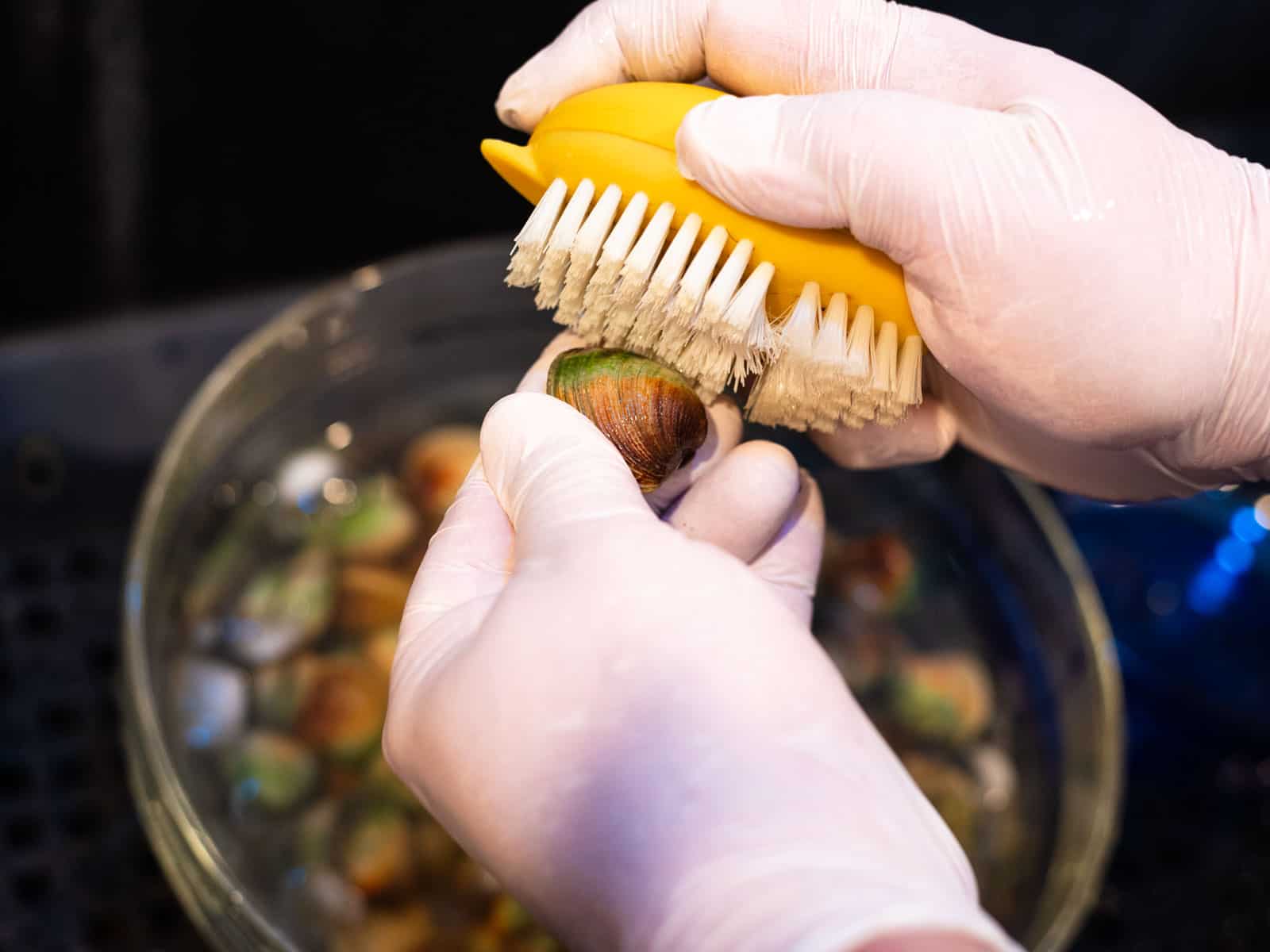 💦 Remove Clams from the Water
As you remove the clams from the salted water, have another clean bowl ready to place the cleaned clams in.
And once all of the clams are out of the bowl, now you'll see all the sand and grit that the clams purged out! This is after 35 minutes of soaking! Some clams may need another soak if you think there's more sand.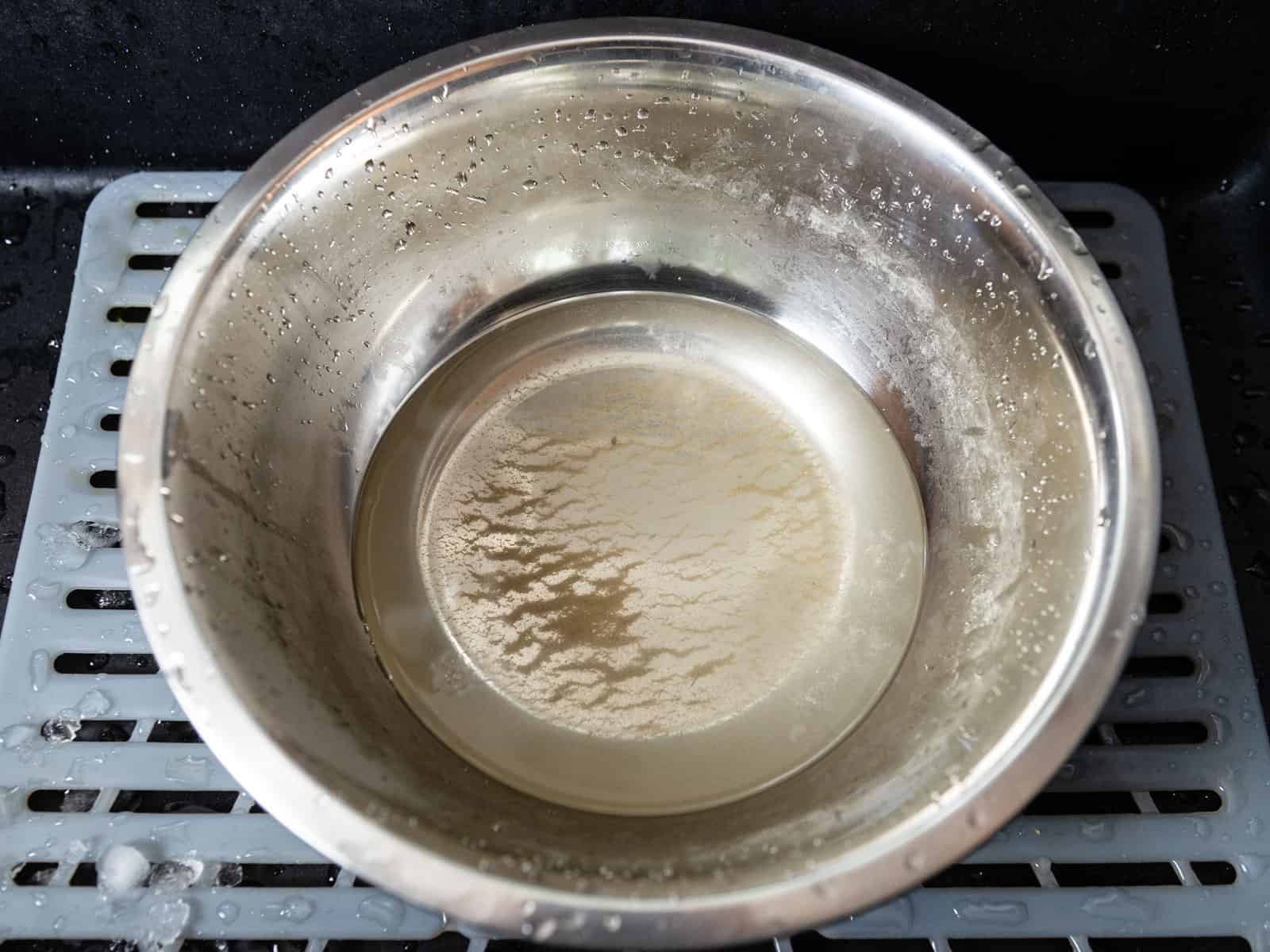 ⏲️ Time to Cook the Clams!
Trust me, all that work will be worth it once you open up a perfectly tender clam with no grit! Once the clams are cleaned, they're ready for steamed clams with butter and white wine or added to clam pasta! Steamed clams are also delicious in a coconut curry broth, similar to the recipe for curry mussels.
Fresh clams only need 5-7 minutes of cooking until the shells just open up. Some larger clams may need a minute longer.
How to Clean Clams
LittleFerraroKitchen.com
Learn how to clean clams like a pro to ensure the clams purge out all of the sand and you won't bite into any sand or grit!
Ingredients
1

pound

of clams

4-5

cups

of cold water

1-2

tablespoons

Kosher salt
Instructions
When buying clams, check to make sure they smell fresh and briny and are kept on ice. Do not buy any clams that have cracks or broken shells.

As soon as you bring the clams home, remove them from the bag and place them on ice in a large bowl until you are ready to clean and cook them.

About 1 hour before cooking, place the clams in a large bowl of ice cold water and sprinkle with salt. Let the clams soak in the slated water to purge out any sand or debris.

After about 30 minutes, wash and scrub the outside of each clam and place them in a separate clean bowl.

Discard any accumulated sand or debris and now you're ready to cook the fresh clams!

Add the fresh clams to your favorite recipe, and cook the clams for 5-7 minutes until the shells just open open.
Notes
Discard any clams that have broken or cracked shells.
Discard clams that do not open or do not close when gently tapped.
Clams are best cooked and enjoyed the same day they are bought, but can last another day on ice in the refrigerator.
Nutrition
Calories:
29
kcal
Carbohydrates:
1
g
Protein:
5
g
Fat:
0.3
g
Saturated Fat:
0.1
g
Polyunsaturated Fat:
0.1
g
Monounsaturated Fat:
0.04
g
Trans Fat:
0.01
g
Cholesterol:
10
mg
Sodium:
3531
mg
Potassium:
16
mg
Vitamin A:
102
IU
Calcium:
30
mg
Iron:
1
mg
Did you make this recipe?
Let us know by leaving a comment and 5 star rating!