Cioppino is a hearty Italian seafood and tomato stew, that is flavored with floral saffron, sauteed fennel and loads of fresh seafood.
I have a select few memories that I will never forget. Seeing a humpback wale breach right in front of our boat in Hawaii, or the time we got to tour the Champagne caves for Moet Chandon. And the time my 4th grade teacher told us that fish should never smell fishy. Yes, those are some of the memories I will never forget.
Fresh seafood should never smell "fishy". But instead, bright, briny and like the ocean. Something I always think about when walking into a store or fish market. And to this day, each time I cook something with seafood.
What is Cioppino?
A glorious, hearty Italian seafood stew. A bit different than bouillabaisse, instead cioppino is chunky and thicker, which I just adore.
Full of sweet tomatoes and sauteed fennel, which pairs beautifully with the fresh seafood. A touch of floral saffron is added to intensify it's deep red color and for it's robust floral flavor. As far as seafood, use what you have, as cioppino is a rustic stew.
Use Whatever Seafood you have or Whatever's Your Favorite
The beautiful thing about cioppino is that it is really a stew, meaning you can add whatever your little heart desires, or whatever you have on hand.
A lot of times, we'll buy a few extra pieces of seafood we get at the time and save the leftover "scraps" and pieces for stews like this.
Some of my favorite cioppino additions are:
Mussels and clams (if I'm not sauteing clams with wine wine, they're usually throw into a cioppino)
Tail on shrimp
Lobster tails
Pieces of salmon and /or halibut
Calamari
Cooking Tip: Layer the Seafood
Even though this seafood stew is pretty easy to whip up, keep in mind that not all the seafood cooks at the same time.
All the seafood is essentially getting "poached" in the stew base so that it gently cooks the seafood.
Start by adding the heartier pieces, such as salmon, cod or halibut.
After a few minutes, add in the shrimp and lobster. The larger ones should go in a minute or so before.
And finally, add in the clams and mussels at the end. Cover everything and as soon as the shells open, you're ready.
What To Serve with Cioppino
Lots of crusty bread to sop up the delicious tomato stew. And a nice glass of bright Sauvignon Blanc (save some for the recipe) would go very well with the tomato, fennel and seafood.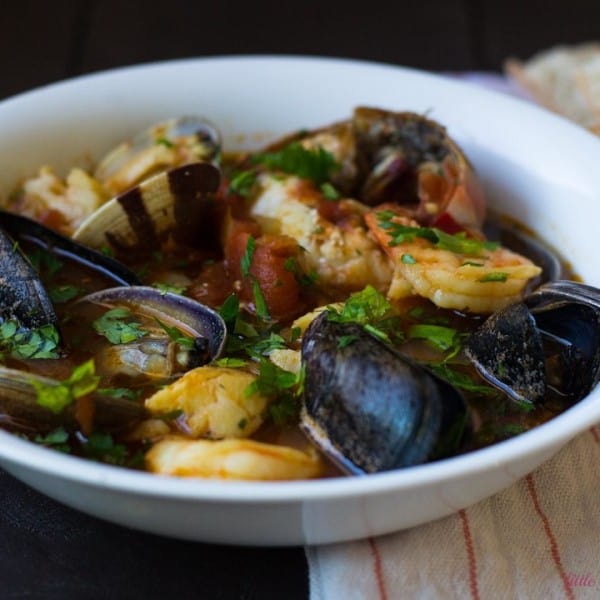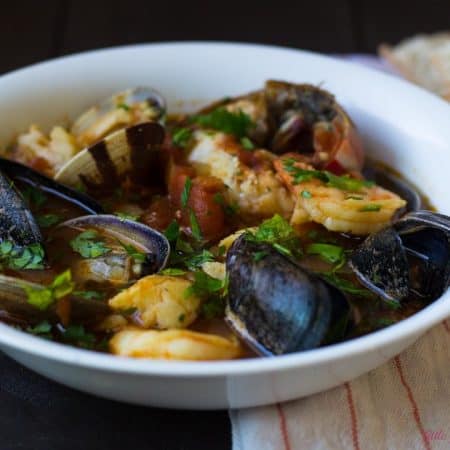 Cioppino (Italian Seafood and Tomato Stew)
LittleFerraroKitchen.com
Cioppino is a hearty Italian seafood and tomato stew, that is flavored with floral saffron, sauteed fennel and loads of fresh seafood.
Ingredients
Olive oil

for sauteing

1

fennel bulb

sliced thin

1

yellow onion

sliced thin

1

shallot

chopped

2

garlic cloves

chopped finely

Pinch

of saffron

Few sprigs of fresh thyme

leaves removed and chopped

Few sprigs of fresh oregano

leaves removed and chopped

1/2

tsp

red pepper flakes

2

Tb

tomato paste

1

cup

white wine

Sauvignon Blanc or your favorite

2

bay leaves

1 28

oz

can whole or chopped plum tomatoes

I love using San Marzano

4

cups

seafood stock

1-2

cups

water

Salt and pepper

to taste
Seafood (Use any assortment of fish you have)
1/2

pound

mussels

1/2

pound

clams

10-12

Large prawns

1-2 per person

1

pound

of fish

salmon and cod, cut into 2-3 inch pieces

2

Lobster tails

1/2 per person

Chopped parsley

for garnish
Instructions
First clean the fish and shellfish. Place mussels and clams in a large bowl of cold water and let them sit for 20-30 minutes. Use a brush (like a potato brush) to scrub the shells and pull the beards out of the mussels. (You can see how I did that in this recipe). Let them soak so all the sand falls to the bottom and you're ready to cook them.

Next get a large pot or dutch oven and drizzle olive oil to lightly coat the bottom of the pot. On medium heat, add the fennel and onion and cook until lightly caramelized, about 3-4 minutes.

Add the shallots and garlic and cook for another minute or two, or until garlic lightly caramelizes. Next add the tomato paste, pinch of saffron and red pepper flakes and use a spatula to break down the tomato paste and saffron and stir together.

Add the white wine and cook until alcohol evaporates and you're left with a condensed sauce.

Once wine has reduced, add the tomatoes. If you're using whole tomatoes, use your hands to break them up (carefully not getting juice everywhere like I have) and add your seafood stock and bay leaves. Bring to a gentle boil and allow soup to cook for 30 minutes. Taste for seasoning and add salt and pepper.

When adding fish, take note to add things that take longer to cook first. Add the salmon and cod first and cook for about 4 minutes (depending on how large the pieces are), then add the shrimp and lobster and cook for another 4-5 minutes and finally the mussels and clams and continues to cook until the shells open.

To serve, remove bay leaves and serve with chopped parsley and toasted bread.
Notes
For the mussels and clams, gently pick them up with your hands and don't pour the soaking water over them, since that will add the sand right back in.
Any mussels or clams that don't open should be thrown away too.
Nutrition
Calories:
221
kcal
Carbohydrates:
15
g
Protein:
28
g
Fat:
3
g
Saturated Fat:
1
g
Cholesterol:
92
mg
Sodium:
1081
mg
Potassium:
1106
mg
Fiber:
3
g
Sugar:
6
g
Vitamin A:
421
IU
Vitamin C:
23
mg
Calcium:
173
mg
Iron:
4
mg
Did you make this recipe?
Let us know by leaving a comment and 5 star rating!
Looking for more hearty stew recipes? Try my Dominican Sancocho recipe!
This post was updated 2/16/20 with nutritional info and cooking tips.