Have you made savory challah yet? A gorgeous aromatic, savory garlic rosemary challah to be exact. There is roasted garlic powder and freshly chopped rosemary inside the dough as well as garnished with thin slices of garlic and small sprigs of fresh rosemary. It is certainly a show-stopper and one of my favorite classic flavor combinations.
I may be obsessed with making savory challah. Have you seen my olive oil challah with olives and rosemary, or Stuffed Challah French Toast? True winners!
I taught a challah making class a few months ago at the local Co-op and it was so much fun! Each participant braided their own challah to take home and before the class and I made a few to nosh on while they baked. And this garlic rosemary challah was the exact challah I brought to the class.
A Few Challah Making Tips:
Yes you can make the dough ahead of time, just let if rise (proof) in the fridge instead of in a warm spot.
To freeze challah, I would suggest baking the challah in its entirety, then letting cool completely, then wrap very well in plastic wrap and then place in a sealed plastic bag and freeze. The let challah thaw and bake until warmed through.
The fresh rosemary sprigs may dry out in baking, so for presentation, add a few sprigs after it's baked.
More great Challah Inspiration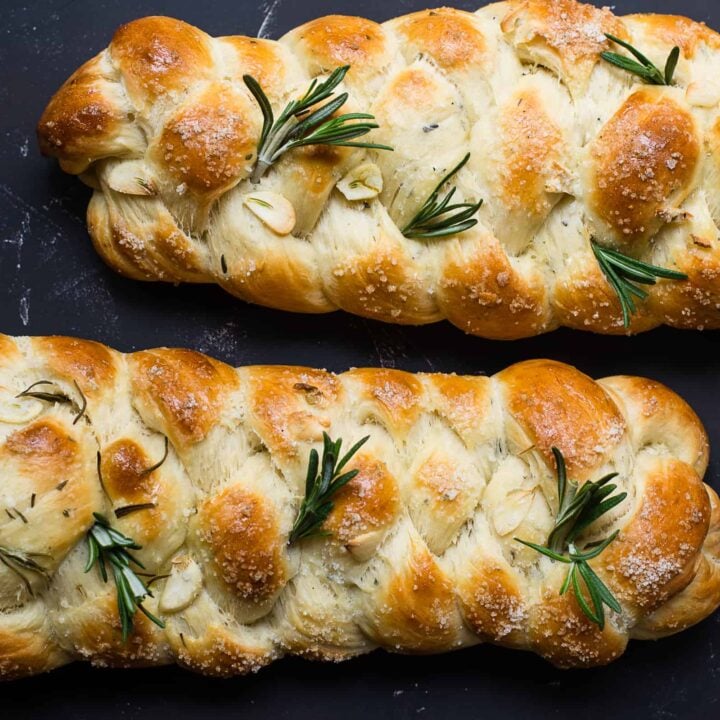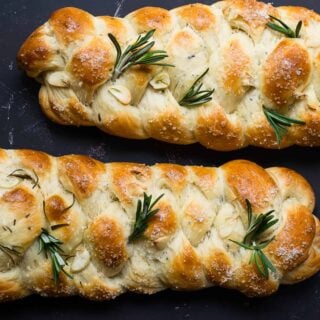 Garlic Rosemary Challah
LittleFerraroKitchen.com
Garlic rosemary challah is a deliciously savory challah, with classic flavors of roasted garlic powder and freshly chopped rosemary.

Instructions
In the bowl of a stand mixer, add 1 cup warm water, yeast and sugar. Mix lightly with a fork to get all the yeast in the water and set aside for about 15 minutes. It should begin to foam up and you should see little bubbles.

In another bowl, whisk together the oil, honey and 2 eggs and pour mixture into the yeast mixture.

Using a dough attachment on your mixer on low-medium speed, gradually add the flour, salt, garlic powder and chopped rosemary, about ½ cup of flour at a time with the mixer on low. Continue to mix until everything is incorporated. The dough should begin to pull away from the bowl and come to 1 large ball of dough.

Turn the dough onto a very well floured surface and knead for about 5 minutes. You can use your finger to see if it's ready. Press your finger in and if the dough bounces back quickly, it's ready.

In a large bowl, pour a bit of oil in and place your dough ball in the bowl. Turn it around so the entire dough is covered with a thin layer of oil. Cover with a clean towel and place bowl in a warm spot. (for me, it was my oven). Allow to rest and rise for 1 ½ hours until doubled in size.

When dough is ready, it should have doubled in size. Punch the dough down and divide dough into 2 balls, this will be your challahs. Cover 1 ball of dough as you work with the other.

Divide dough into 3 or 4 pieces (depending on what kind of braid you'd like), which will be your strands. Roll each strand into a long rope all of equal sizes, about 8-10 inches in length and continue with desired braid.

Pre-heat oven to 350 degrees Fahrenheit and place challahs on baking sheet. Brush each challah with egg wash and sprinkle with course sea salt and chopped rosemary and place sliced garlic in the "nooks" of the braid. Allow to rest for another 30 minutes.

Bake challah for about 30 minutes or runtil the top is lightly golden brown.
Nutrition
Calories:
1316
kcal
Carbohydrates:
219
g
Protein:
32
g
Fat:
34
g
Saturated Fat:
24
g
Trans Fat:
1
g
Cholesterol:
164
mg
Sodium:
1240
mg
Potassium:
411
mg
Fiber:
7
g
Sugar:
24
g
Vitamin A:
267
IU
Vitamin C:
1
mg
Calcium:
80
mg
Iron:
13
mg
Did you make this recipe?
Let us know by leaving a comment and 5 star rating!