This San Sebastian cheesecake is inspired from the famous La Viña restaurant in San Sebastian, Spain. The "burnt" cheesecake is incredibly light and creamy with a deep caramel burnt top, thanks to the low and slow cooking of the decadent cheesecake.
The Famous San Sebastian Cheesecake
I am still dreaming of the moment we had the first bite of this famous Burnt Basque cheesecake. We were on a food tour with Devour Tours in San Sebastian and the last stop was at La Viña. Known for their San Sebastian cheesecake that is quickly taking off. And for seriously good reason, this is the best cheesecake you will ever have!
Besides the pintxos that lined the bar tops, the walls were covered with rows of spring form pans filled with creamy cheesecake. And a glass of sweet sherry was the perfect pairing.
What is burnt basque cheesecake?
Light and incredibly creamy, this burnt cheesecake is like no other. Still made in a traditional 10 inch spring form pan this burnt cheesecake puffs up like a souffle and then gently deflates as it comes to room temperature.
The temperature and long cooking time creates an outside caramelized crust that is deep in flavor, a bit "burnt" but not bitter in anyway. The crust almost poaches the cheesecake, creating the most light and creamy cheesecake and not dense like the New York style cheesecakes we're used to.
All those crinkles you see in the cheesecake are from lining the pan with parchment paper. The batter seeps into the folds of the parchment paper, creating the most fun, rustic look which I absolutely love. Of course if you wanted a most clean look, just take the extra time to straighten out the paper, but I wouldn't bother.
What do you need to make this cheesecake?
The most work you'll do is mixing the cream cheese and cream together. I used my KitchenAid mixer but good ol' fashioned elbow grease works just as well!
You'll also need a leak resistant spring form pan and a few sheets of parchment paper, which will help the cheesecake rise and not spill over.
Basque Style Cheesecake is the Easiest Cheesecake
I know it's cliche to say, "oh my..this is the easiest recipe you'll ever make" But with a little elbow workout or the help of a mixer, it really is.
Unlike the classic traditional cheesecakes, the basque cheesecake is crustless, which is great because I never really liked the graham cracker crust much anyway. And it's incredibly light and not dense.
So what's the "easy" part...just mix everything together..and the best part..no water bath! Lots of eggs, heavy cream, cream cheese and a bit of flour. Then pour into your parchment lined mold and bake away. Though you'll have to patiently wait for the cheesecake to cool once it's done. Just wait, it will be worth it.
More dessert inspiration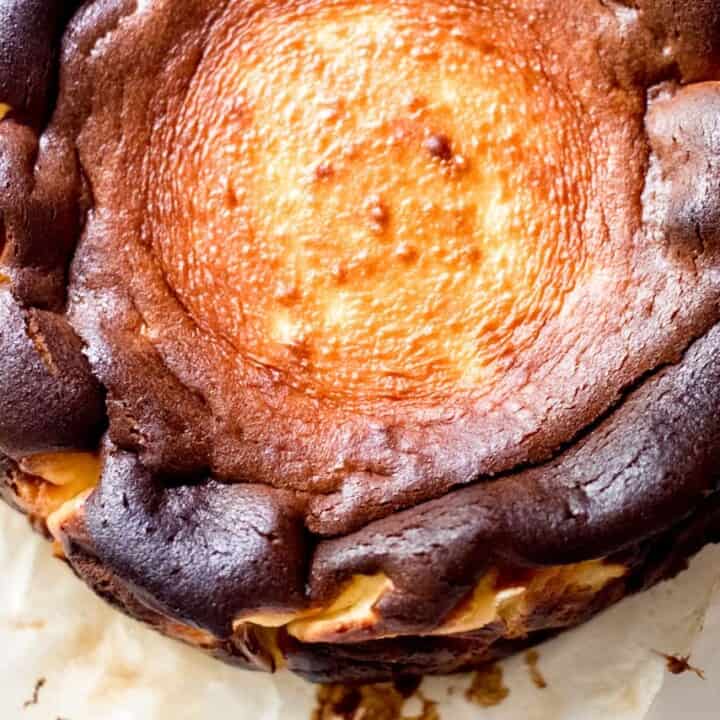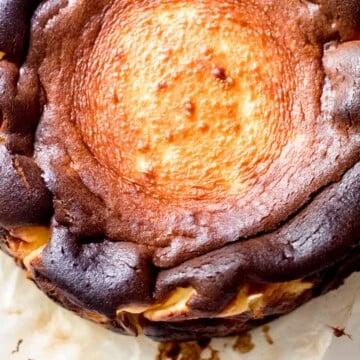 San Sebastian Cheesecake
LittleFerraroKitchen.com
San Sebastian cheesecake is inspired from La Viña restaurant in San Sebastian, Spain. The burnt cheesecake is light, creamy with a caramel top.
Instructions
Pre-heat oven to 400 degrees Fahrenheit and spray non-stick spray all over the inside of a 10 inch spring form pan, ensuring nothing will stick. Then line the pan with several sheets of parchment paper, making sure that there is a 2 inch overhand along all the sides.

Using an electric mixer (you can also with everything by hand), cream the cream cheese and sugar together until smooth.

On low-medium speed, add in the whole eggs, one at a time and mix thoroughly then stream in the heavy cream and vanilla extract. You may need to use a spatula to scrape any cream cheese that was stuck on the bottom of the bowl. Just make sure everything is mixed in well.

Turn off mixer and remove bowl and fold in the flour with a spatula.

Pour the batter into the parchment lined pan and place on a baking sheet to prevent spillage in your oven.

Bake for 60 minutes, checking at about 50 minutes if your oven runs hot. You want to see a deep caramel color on the top of the puffed cheesecake but it shouldn't be all the way black.

Once done, let cool at room temperature in the pan for at least 2 hours so the cheesecake can set, then serve at room temperature.
Notes
Use room temperature cream cheese but if it's still cold, just mix the batter a bit more.
Depending on your oven, check the cheesecake at 50 minutes. If it's not caramelized yet, keep it in for another 10 minutes. The color should be similar to the pictures in this post.
You must leave the cheesecake to cool to room temperature and do not remove it from the pan while it's hot.
The cheesecake should jiggle lightly and will deflate as it cools.
Nutrition
Calories:
835
kcal
Carbohydrates:
53
g
Protein:
13
g
Fat:
65
g
Saturated Fat:
37
g
Cholesterol:
349
mg
Sodium:
442
mg
Potassium:
254
mg
Fiber:
1
g
Sugar:
48
g
Vitamin A:
2605
IU
Vitamin C:
1
mg
Calcium:
171
mg
Iron:
1
mg
Did you make this recipe?
Let us know by leaving a comment and 5 star rating!