Some exciting things are happening. Well to me anyway. I bought some new running shoes today! Which means….I'm gettin' geared up to pound the pavement again. Next race is signed up for April 13th and I can not wait! A new pair of gear always gets me psyched and pumped!
I've shared my progress to my 1st 5K and contemplated taking it a step further to a 10k. Besides slacking a tad lately (it happens, right?), I am afraid of the possible damage that could happen to my joints. I hear other athletes who have horrible knee problems from their favorite sport and it breaks my heart. I love the rush and accomplishment I feel when I finish a goal and to conquer an even bigger goal would be even more amazing. So for now, I think I'll stick to 5K's and focus on my PR and other cardio fun. Did I just say that in the same sentence….cardio..and uhh..fun? Ya, it's possible.
Does anyone have any other running insights?
So being on the topic of healthy, I have a beautiful and super simple pesto for you. I have never made pesto before. Actually, scratch that, I have made pesto…and it was a mess. I made it with strong Thai basil and it made my already non-pesto loving husband not like it even more. So 3 three later…I finally have the courage to make pesto, again, and with teh right ingredients. You have to understand, to a OCD foodie like me, this is a huge…huggeee deal!
I made this pesto with the ingredients I had on hand: roasted whole almonds, basil, Parmesan, and only 1 clove of garlic, since Mr. Italian is a little sensitive to raw garlic!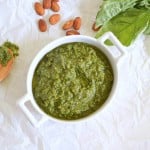 Print Recipe
Basil Almond Pesto
Ingredients
2

cups

fresh Basil

3/4

cup

olive oil

1/4

c

cup roasted whole almonds

1/4

cup

freshly grated Parmesan cheese

1

garlic clove

salt and pepper

to taste
Instructions
In a food processor, pulse the whole almonds and 1 garlic clove until all are ground well.

Add basil, Parmesan and olive oil and pulse together until well incorporated, but don't over mix.

Taste for seasoning. Add additional olive oil if needed.