Vegetable Green Curry Soup and We Moved!
Oh hello there. It's been a while and now I finally feel like we are just about settled and "at home". If you kept up with me a few weeks ago, you know that we made a HUGE move from Southern California to beautiful Bellingham, WA! A lot happened in the last few weeks and everything moved wickedly fast!
Literally, just about 35 days ago, Joe was visiting Washington and fell in love. I moved jobs, we moved from our apartment of 10 years and packed up most of our life, our dog Hula and drove up north for 20 hours and here we are! Just tell me how crazy we are!
In the midst of unpacking and settling in, we had to start exploring our new home. And let me just show you how absolutely gorgeous it is!
Everyone is telling me about the rain..but I think it's lies..all lies. All I see are blue skies 😉
More on Bellingham and the move as we continue to explore, but let's just get to the busy, shall we. Food and a new recipe!
A few staggered boxes are seen throughout our new place, pictures sitting on the floor but nothing would make us feel more at home than a comforting bowl of home cooking. I managed to pack the essentials, of course. A few hard to find exotic spices, ramen noodles and coconut milk. Because anything can be made with those and I was craving a good spice fix.
In just a about 20 minutes, this easy and quick to put together soup is steaming at your leisure. Use any vegetables you have on hand or in season and customize to your hearts desire. The best part…all done in one pot! After adding the potatoes and noodles, the starch helps thicken the soup just a bit to almost a curry stew. Leftovers, amazing! Add some crispy leftover rice (we are obsessed with leftovers) and a few extra dollops of sriracha and you have another fabulous meal.
Stay tuned for more Washington adventures. Planned trips ahead to Seattle and Vancouver and so much more!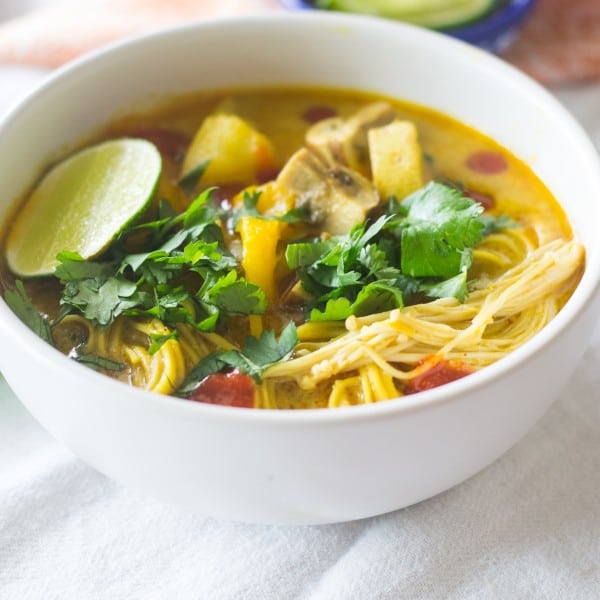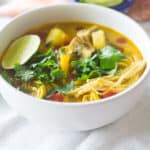 Print Recipe
Vegetable Green Curry Soup
Ingredients
2

Tb

coconut oil

2

garlic cloves

chopped finely

2

inch

piece of ginger

thinly sliced on an angle

1

lemongrass stalk

cut into 1 inch pieces

3

Tb

green curry paste

I use the Thai brand

1

Tb

sriracha

1

tsp

turmeric

1/2

tsp

cumin

1/2

tsp

curry powder

3

Yukon potatoes

chopped into 1/2 inch cubes

1

13.5oz can of full fat coconut milk

4

cups

vegetable stock

1

red or orange bell pepper

or 4-5 baby bell peppers, thinly sliced

2

cups

of baby portobello mushrooms

cut into quarters

4

oz

rice noodles

I used ramen noodles

1

5 oz package of Enoki mushrooms, for garnish

Lime wedges

Fresh cilantro

chopped for garnish
Instructions
First, prep your vegetables if you haven't already. Use the back of your knife to "bruise" the lemongrass pieces so it starts to release its aroma.

Then, in a medium pot, add coconut oil, garlic, ginger and lemongrass and saute for 1-2 minutes until fragrant.

Next, add curry paste, sriracha (optional) and spices and saute together for all spices are coated in the oil, for about another minute.

Then add the potatoes and toss to coat and pour in coconut milk and vegetable stock and stir everything together, making sure coconut milk is evenly distributed. Bring to a boil and then down to a constant simmer until potatoes are tender, about 5-7 minutes.

Once potatoes are done, add the baby portobellos, bell peppers and noodles and cover with a low and continue simmer for about 3-4 minutes until vegetables are just tender and noodles are cooked through.

When done, turn off heat and add the enoki mushrooms (they are so delicate that the steam will cook them )and garnish with lime, cilantro and extra dollops of sriracha.