This rustic swiss chard tart is the perfect recipe for an abundance of garden greens. Sauteed Swiss chard is layered on top of buttery puff pastry and finished with tangy sumac and strips of ricotta salata cheese.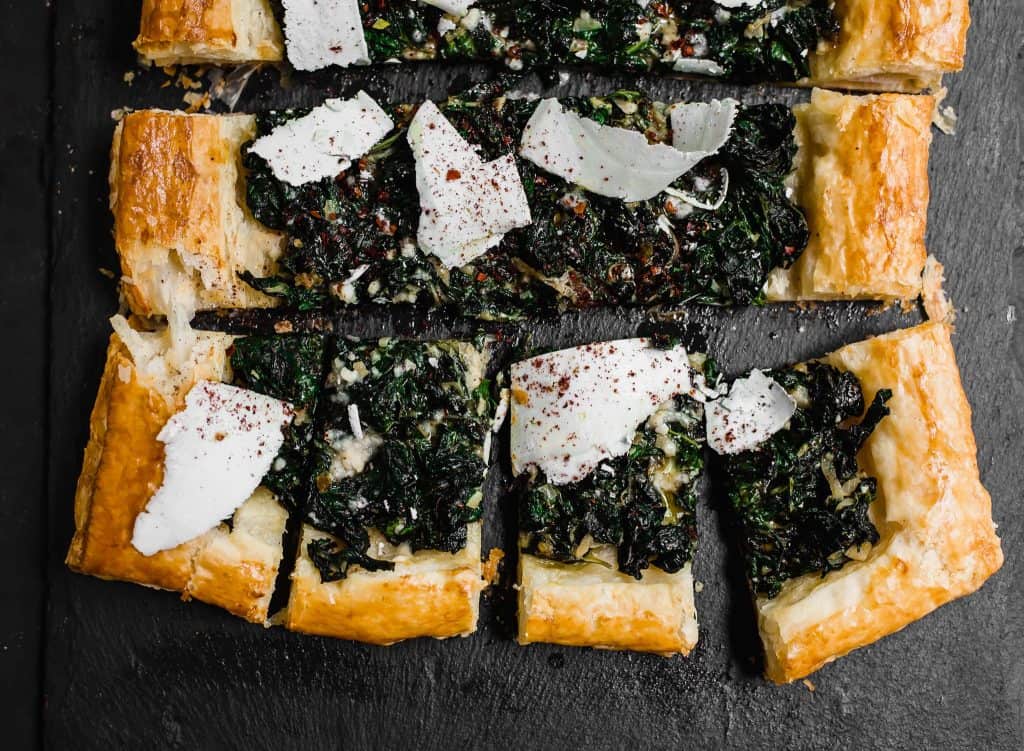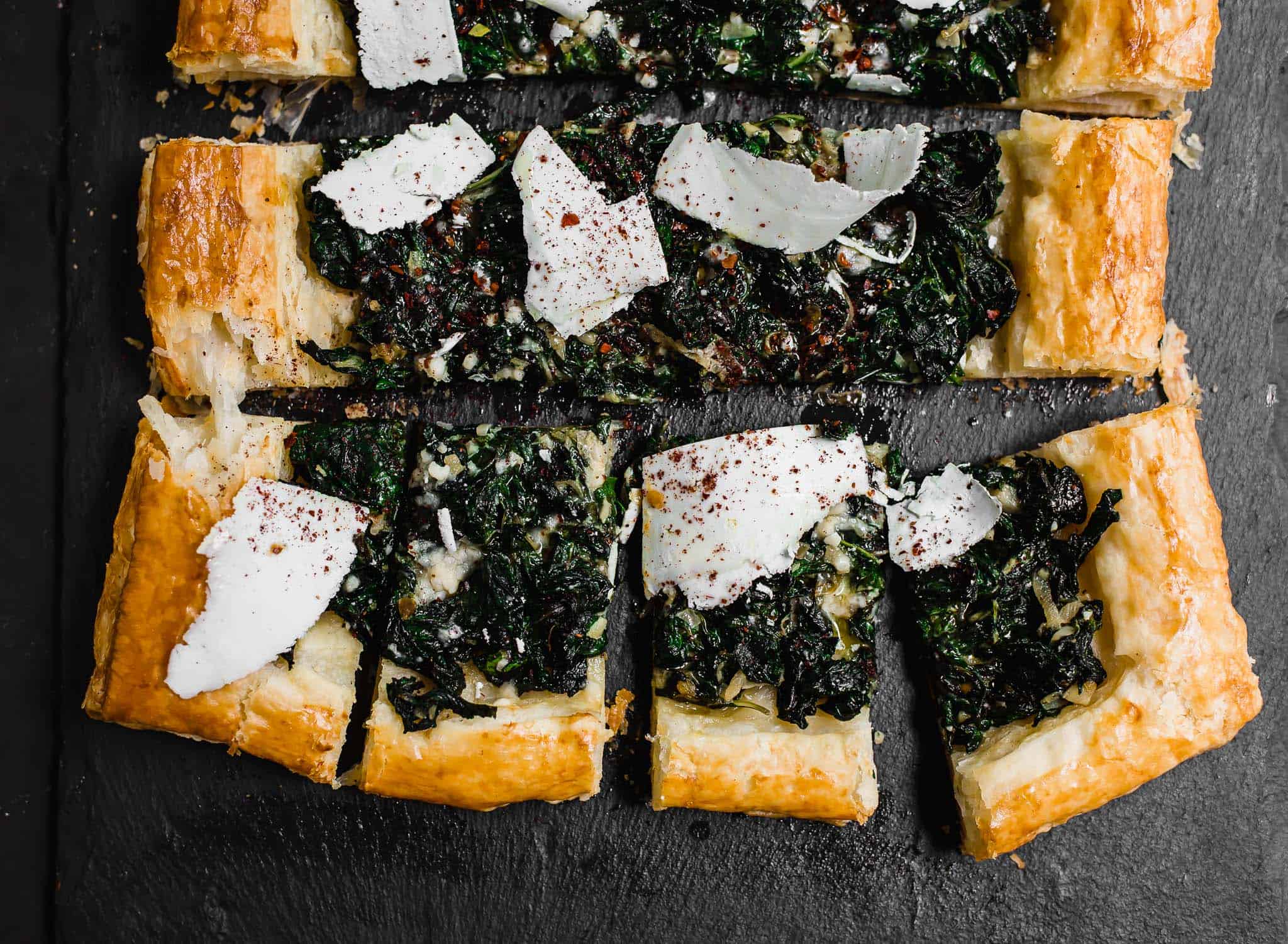 Swiss Chard Tart is the Perfect Way to Use Up Garden Greens
It seems that every year I go through the creative challenge of using up my garden greens. My kale and chard go absolutely bonkers in our garden and thankfully we find numerous ways to enjoy the hearty greens.
Puff Pastry Makes This Rustic Tart So Easy
I'd like to call myself an "easy baker" and thanks to the help of puff pastry for making anything taste fantastic.
To work with puff pastry:
Thaw the puff pastry for 30 minutes at room temperature.
Unwrap pastry and stretch out with a lightly floured rolling pin so the pastry is a bit thinner.
Before adding the filling, use a fork to poke small holes in the center. This will prevent the center of the tart from puffing up too much.
Though, if you don't have puff pastry, tmy savory galette dough would work really well instead.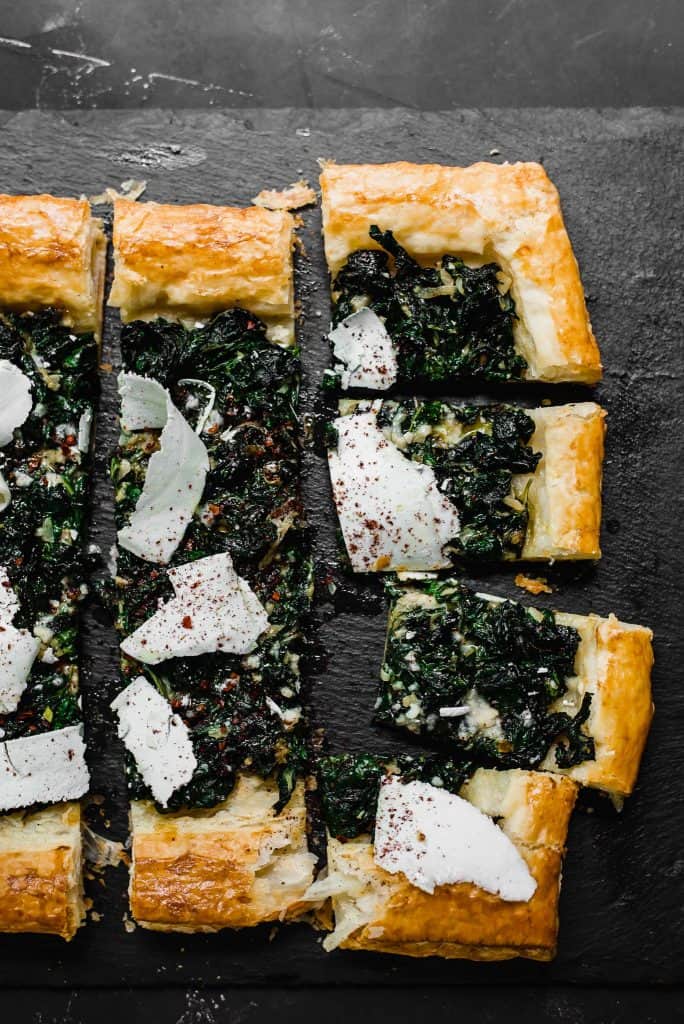 Ingredients Needed:
Puff Pastry: Again, so easy! Always keep a box or two in the freezer.
Shallot and Garlic: Starts with great flavors. Shallots are a bit milder than onions but leeks or red onion would be great too.
Swiss Chard or Kale: And LOTS of it! They wilt and cook down to about half of their volume. And stems removed. I usually like to keep the stems and chop them up fine, but wanted a more creamier texture, so no stems in the tart. Though, do love chopping them up finely and sauteing it in my orecchiette with chard pasta recipe.
Heavy Cream: I was inspired by creamed spinach and a touch of cream offers the perfect amount of decadence.
Parmesan Cheese: Freshly grated (if you can), in the creamed chard mixture and more for the top.
Ricotta Salata: Is a pressed ricotta, slightly salty and firm enough to peel with a vegetable peeler. I shaved a few shavings for the garnish.
Sumac: My Mediterranean twist on this tart. Sumac can be ordered here has a bright, lemony flavor and brightens up the richness of the puff pastry and cream. If you don't have sumac, a few grates or shaves of lemon zest would be fantastic.
More Swiss Chard Recipes
I wasn't kidding when I said we get a LOT of chard and kale in our garden. If you're garden is also overflowing with chard (these recipes will work with kale and spinach too), here are a few Swiss chard recipes to try.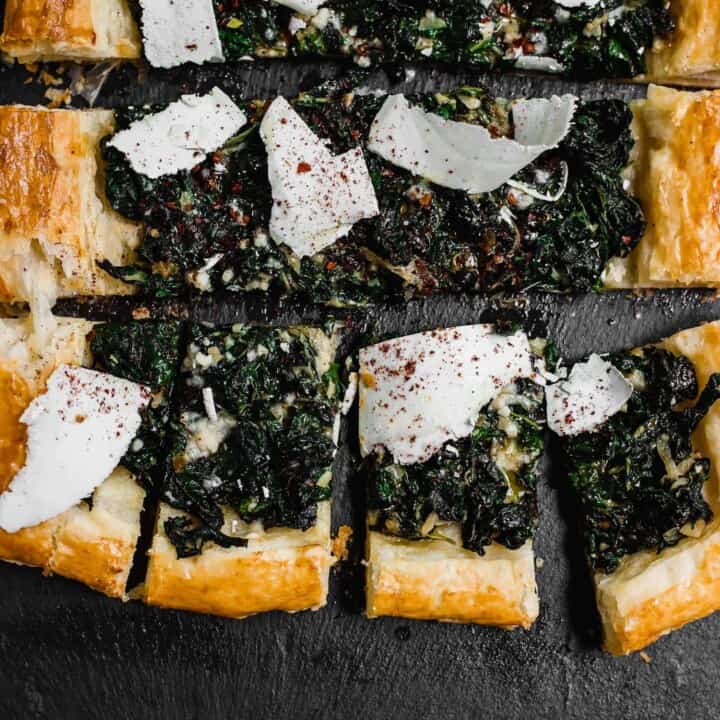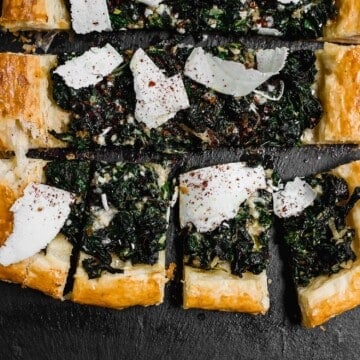 Rustic Swiss Chard Tart with Ricotta Salata and Sumac
LittleFerraroKitchen.com
The perfect use for an abundance of garden greens. Sauteed Swiss chard is layered on top of butter puff pastry and finished with tangy sumac and strips of ricotta salata cheese.
Instructions
Pre-heat oven to 400 degrees Fahrenheit and line a baking sheet with parchment paper.

Unroll thawed puff pastry and lightly flour a rolling pin and gently roll the puff pastry so it's a bit thinner.

Use a sharp pairing knife to score a half inch boarder around the puff pastry, leaving a crust and use a fork to dock holes in the middle of the pastry. This will help it not puff up as it cooks.

Place pastry on lined baking sheet and pre-cook the puff pastry for 10 minutes to give it a head start. Once done, remove from oven and set aside.

Heat a skillet over medium heat and drizzle in olive oil. Add chopped shallots and saute for 2-3 minutes until shallots just begin to soften. Then add in the garlic and cook for another minute.

Add in chard leaves, in batches if needed and saute until just wilted.

Pour in heavy cream and grated Parmesan and give everything a good stir. Turn off heat and set aside.

Once pastry is cool enough to handle, spoon the chard mixture onto the puff pastry, leaving a boarder and into an even layer.

Bake tart for another 15 minutes until pastry has puffed up and is lightly golden brown.

Once done, remove from oven and garnish with grated Parmesan cheese, shavings of ricotta salata and sprinkle of sumac. Cut into squares and serve.
Notes
Other greens will work for this recipe, including spinach and kale.
If you don't have sumac, lemon zest will work great.
If you don't have ricotta salta, you can omit or dollop a few spoonfuls of ricotta cheese.
Nutrition
Calories:
532
kcal
Carbohydrates:
30
g
Protein:
8
g
Fat:
43
g
Saturated Fat:
15
g
Cholesterol:
45
mg
Sodium:
315
mg
Potassium:
151
mg
Fiber:
1
g
Sugar:
1
g
Vitamin A:
1954
IU
Vitamin C:
7
mg
Calcium:
112
mg
Iron:
2
mg
Did you make this recipe?
Let us know by leaving a comment and 5 star rating!