Smoky Zucchini Baba Ghanoush
Oh hi, long time no talk. It's been a bit quiet in the LFK kitchen, and literally. We bought a house and moved and in the midst of updating the kitchen. I think I'll plan on writing a separate post about the kitchen  updates and all that fun stuff. I know I love to read about other peoples home transformations so it'll be fun to share.
In the meantime, I had some recipes I've archived for moments like this when we haven't been in the kitchen in nearly a month. And what perfect timing, because summer is here and you'll want to find more creative ideas for summers produce, such as making this amazingly delicious and smoky zucchini baba ghanoush.
Surprisingly, we don't eat eggplant that often. Joe's not too crazy about it but I on the other hand, would never pass up a plate of eggplant Parmesan. I do bring home eggplants every so often and will sneak in a quick baba ghanoush recipe, but thanks to Ottolenghi's Plenty cook, I almost fell over when I saw his recipe for zucchini baba ghanoush.
Obviously I can not take credit for this recipe, but it was just too good to pass up and not share. I used organic locally grown huge, gorgeous green zucchini from our local farmers market and cranked up the charcoal grill to get it as smokey as I could, just like you would do with eggplant.

The skin blisters, chars, wrinkles and blackens and personally, the darker the more smokier in my opinion. Once the charred bits are removed from the outside, the tender smoky flesh is left to mix in with garlic and other flavorings. Then, just as baba is, a drizzle of good quality olive oil and a few extra garnishes for texture and contrast.
Save
In the meantime…stay tuned for some more summer recipes coming up. Kitchen updates and a fun new project that I can't wait to share!
And for some more summer inspiration, check out these delicious zucchini recipes….
Salt and Vinegar Zucchini Chips, Zucchini Cobbler Bars, and this Zucchini Bruschetta Pizza!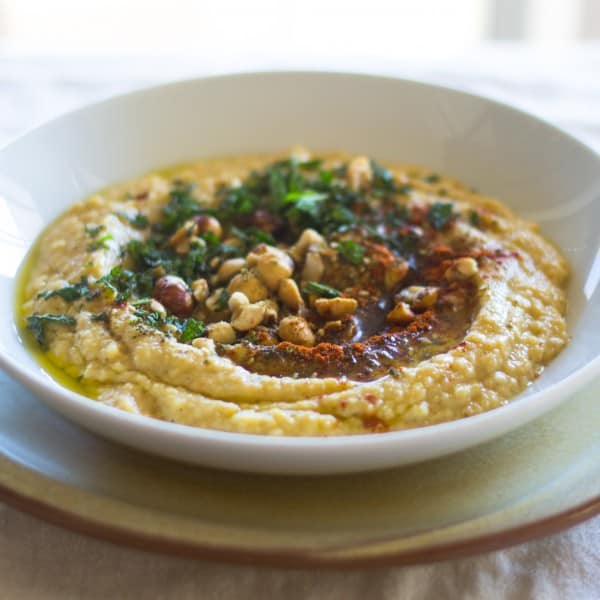 Print Recipe
Smoky Zucchini Baba Ghanoush
Ingredients
4

whole zucchini

1/4

cup

tahini

2

garlic cloves

chopped

1/2

tsp

paprika

Pinch

of cayenne

1/2

lemon

zest and juiced
Garnish
Chopped roasted hazelnuts

Fresh mint

chopped

Pinch

of paprika

Pinch

of zaatar

Drizzle of olive oil
Instructions
Using a hot grill (I used our charcoal grill for added smoky flavor), cook the zucchini until all sides are blackened. Use tongs to turn it every so often.

Once done, remove and place in a bowl and cover with foil and allow until easy to handle or room temperature. Once done, carefully remove all the outer charred skin, leaving the soft flesh.

Add zucchini flesh to food processor along with tahini, garlic, lemon zest and juice and spices and pulse just a few times to mix everything together. Don't over mix or it will get too thin.

Once done, pour onto a shallow bowl and garnish with mint, spices, chopped nuts and a good drizzle of olive oil.
Notes
Recipe inspired by Plenty Cookbook
Save