I sometimes have pet peeves, as many of us do and some particularly really seem to tick me off. Now I may be over-reacting in my own head, because I often do this and then I begin to talk out loud thinking these thoughts are only in my head until the person besides me gawks with a crooked look and wonders if it was directed at them.
Gosh that was a long sentence. I hope it made some sense.
What I am trying to get at here is there is an etiquette system. And I am talking about at the gym specifically. Now lately I have been a little more goal-oriented than normal but I do expect the same respect when going to the gym as anyone else. I have learned from much trial and error, that working out and going to the gym can and is actually fun. What a revelation, right? However, when I go there, I am on a mission. I am on a mission to get some sweat going, get focused, release some tension and listen to music that I can not shamelessly admit to. (Ahem….Brittany….Ahem….)
So when I have just finished an upper body workout and am ready to kick my bottom have into gear, the last thing I want to see is the nice lady casually ready her Danielle Steele novel on the leg extension machine. Now really…I can see bringing your book for the stationary bike…maybe..and that's a stretch, because honestly..how much of a workout are you really going to get? But sitting there on the machine and just reading like you're in West Palm Beach by the pool. No, sorry sweetie…wrong place and wrong time.
I may sound sorta harsh now..don't I? So for sake of not scaring anyone away, let me offer you some food.
I grew up on this Turkish-Sephardic spinach pie as a kid and made it recently when I visited mom a few weeks ago. It is so easy to throw together and is perfect for a weekend brunch. We made it with fresh spinach that we then cooked down, but frozen-defrosted spinach would work just as well. The addition of eggs created a flurry and souffle like texture as soon as it came out of the often and the distinct flavor that takes it over is the perfectly salty feta cheese.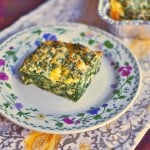 Print Recipe
Sephardic Spinach Pie
Ingredients
6

cups

cooked spinach

or frozen, squeezed of excess water

6

eggs

whisked

1

cup

breadcrumbs

1/2

cup

feta cheese

roughly crumbled

1/2

cup

Parmesan cheese + more for topping

Salt and pepper

to taste

Olive oil for drizzling
Instructions
In a large bowl, add the cooked spinach, eggs, breadcrumbs, feta cheese and Parmesan cheese. Mix well but gently. Add salt and pepper paying careful attention to salt due to the feta and Parmesan.

Using a 4X6 rectangular baking pan (or equivalent in size), drizzle olive oil in bottom of pan. Use a paper towel to smear the olive oil all over the bottom and sides of pan.

Pour spinach mixture into pan, evening it out. Top with fresh Parmesan and bake at 375 degrees for 40 minutes, uncovered. Test with a toothpick when done. If it comes out clean, its ready.