Preserved lemon chicken is marinated with tangy yogurt creating a vibrant and full flavored recipe. Wrap chicken in lettuce leaves or skewer for kabobs.
I love a good marinade that transforms a simple protein into a punch of flavor. My not so secret-secret weapon that surprisingly isn't as common as I thought....yogurt!
The last few cooking classes and demo's I did was with yogurt marinated something and I was surprised with how many of the students didn't think about using yogurt as a base for a marinade.
Yogurt is a fantastic marinade
Yogurt is a wonderful marinade for most proteins, including chicken. It's creamy and holds on to flavors well, such as spices. Yogurt has a neutral flavor that is easily paired with all sorts of flavors, such as in tandoori burgers. And my favorite thing about yogurt is that it's acidic which helps break down the meat creating an even more tender bite.
The high acidity in yogurt breaks down some of the muscle in proteins and thus, tenderizes meat and ultimately creating a 'melt in your mouth bite.
The other secret ingredient, Preserved Lemons
Preserved Lemons are salt cured whole lemons that have been curing for at least several weeks. The salt draws a lot of the water out of the citrus, making them soft, fragrant and incredible aromatic. The preserved lemon peel can then be used in marinades, such as this one or for salad dressings, rubs, etc. I made my own Preserved Lemons so can you.
A few tips on serving preserved lemon and yogurt marinated chicken
Chicken thighs are used in this recipe, but feel free to use chicken breasts as well. If you have a mallet or rolling pin, pound the chicken a bit to soften the meat.
The longer the marinade, the better! A few hours or the morning of is best, but if you have 20 minutes, that will work too.
Use this preserved lemon and yogurt marinade on other proteins such as beef or lamb.
Try different cooking methods, such as grilled or roasted in the oven. If roasting, place on a sheet pan at 400 degrees Fahrenheit for about 25-30 minutes until cooked through.
My favorite way to serve preserved lemon yogurt marinated chicken, is sliced up and rolled in crisp lettuce leaves and topped with chopped salad, fried halloumi cheese, olives and fresh mint.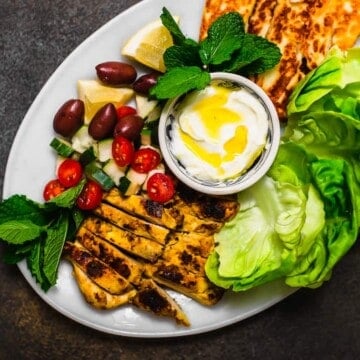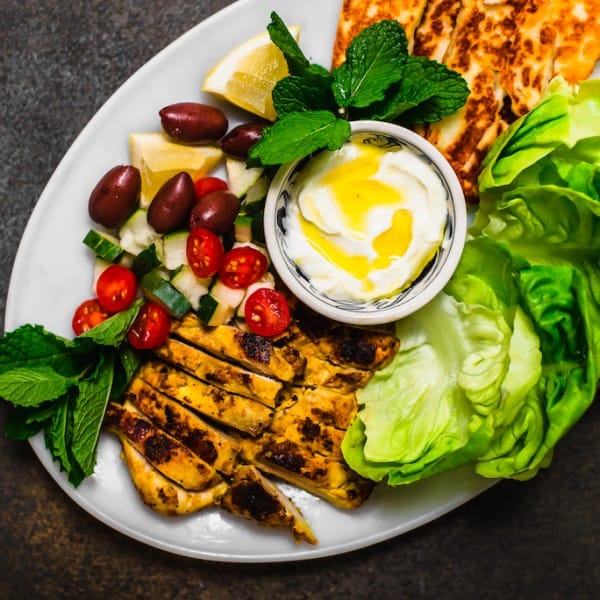 Preserved Lemon and Yogurt Marinated Chicken
LittleFerraroKitchen.com
Preserved lemon chicken is marinated with tangy yogurt creating a vibrant and full flavored recipe. Wrap chicken in lettuce leaves or skewer for kabobs.
Ingredients
Other Toppings to Serve
Crisp butter lettuce leaves

Olives

Fried halloumi cheese or feta

Fresh mint leaves

Lemon wedges
Instructions
Pat dry chicken with paper towels and blase in a large bowl or resealable plastic bag.

To a food processor or blender, add the yogurt, chopped garlic, preserved lemons, olive oil, spices and mint leaves and blend until well combined and no large chunks of lemon or herbs are left over.

Add marinade to chicken, making sure all of the meat is coated well and marinate for at least 20 minutes or up to 8 hours in the fridge.

Once you're ready cook, heat a skillet or grill pan over medium heat and drizzle a teaspoon of olive oil in the pan. Remove chicken from marinade, allowing any excess to drip off and cook chicken on first side until browned, for about 4-5 minutes. Don't move the chicken while it cooks so it can develop good color.

Then flip the chicken and cook on the other side for 3-4 minutes and until there is nice charred color.

When done, remove from pan and let rest for a few minutes. Slice chicken on a diagonal and serve with lettuce leaves and other toppings.
To Fry Halloumi Cheese
If you haven't fried halloumi before, it's quite easy. Slice halloumi into ½ inch slices. Drizzle a bit of olive oil in a non-stick skillet and place on medium high heat. Add cheese slices and fry for 1-2 minutes on each side or until lightly golden brown. Remove from skillet and serve with other toppings.
Notes
This recipe works great with different cooking method. If roasting, place on a baking sheet at 400 degrees Fahrenheit and roast for about 25-30 minutes until cooked through.
If you have the time, marinate the chicken for at least 20 minutes. A few hours is best.
You can find preserved lemons online or at Mediterranean/International stores.
If you can't find preserved lemons, substitute with the zest and juice of 1 whole lemon and ¾ teaspoon of salt.
Nutrition
Serving:
4
g
Calories:
454
kcal
Carbohydrates:
4
g
Protein:
53
g
Fat:
24
g
Saturated Fat:
5
g
Cholesterol:
147
mg
Sodium:
129
mg
Potassium:
994
mg
Fiber:
1
g
Sugar:
2
g
Vitamin A:
1265
IU
Vitamin C:
0.8
mg
Calcium:
63
mg
Iron:
2.7
mg
Did you make this recipe?
Let us know by leaving a comment and 5 star rating!