Passover Charoset Three Ways: Tropical, Persian, Tex-Mex
Passover Charoset Three Ways: Tropical Charoset with mango, pineapple and mac nuts, Persian Dried Fruit Charoset and Tex-Mex Salsa inspired Charoset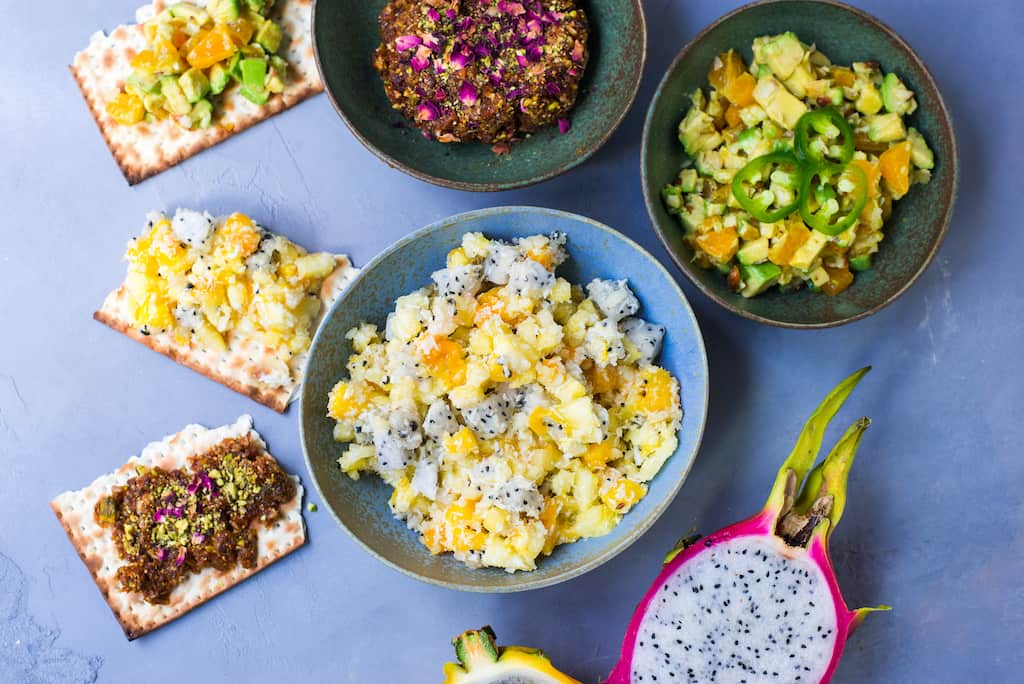 Why Have One Charoset, When You Can Have Three!
Every year I want to bring something new and exciting to the Passover table, literally. And this year, I couldn't stop at just 1 creative staple, but I had to make….three!
Let me introduce you to charoset, three ways! Now don't get me wrong…I LOVE traditional apple, walnut and red wine charoset. I argue that my mom's apple charoset is the best and she would add cranberries to it. I've upped the game since and added pomegranate seeds, but still kept the traditional apple, that will always be a childhood favorite of mine.
This time, I wanted to add a bit of color and homage to the places and cultures I admire most.
Tropical Charoset
Dare I say this is my new favorite charoset!? With mango, pineapple, coconut and ground macadamia nuts. This tropical charoset reminds me of growing up in Hawaii, it's sweet and fresh and is not only fabulous on matzo but as a yogurt topping for dessert or breakfast as well.
Also want to give a huge thank you and shout to my friends at Melissa's produce for sending me a gorgeous box of all sorts of produce, including white dragon fruit that you see in this recipe!
Persian Inspired Sephardic Charoset
Next is a Persian inspired charoset with dried fruit, pistachios and pomegranate molasses. The dried rose petals garnished on top are so beautiful (and edible). This charoset is sticky and holds a shape, so is great for rounding into charoset truffles or for a mid-day snack.
Tex-Mex Inspired Charoset
Finally another homage to years of living in Southern Cali. This is a Tex-Mex inspired salsa charoset that is sweet and spicy, with jalapeno, citrus and chile. This would go fab on top of brisket tacos!
This post was originally published in March, 2018 and updated March, 2021 with nutritional info.