Apple and cranberry Passover charoset is tart and fruity, mixed with pomegranate seeds and a touch of honey for sweetness.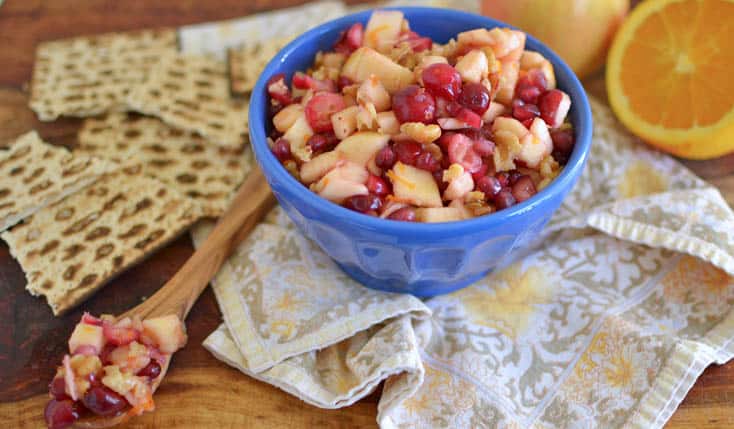 Passover Charoset Recipe
This is my mom's charoset recipe. Every Passover as a kid, she would make charoset, of course. I remember dunking my matzo into the chunky apple mixture and I knew I couldn't stop. It is sweet, tart and crunchy.
This apple and cranberry charoset is full of fresh ingredients with just a touch of sweetness from honey. Mom told me to add fresh, whole cranberries (not dried) which gives it a gorgeous color and perfect tart-puckery flavor. I then mellowed the tartness with some honey, fresh orange juice and snappy pomegranate seeds.
What Does Charoset Represent?
Charoset represents the "mud" that the Jews would stomp in to make the clay for building. Anything goes in charoset, apples, fruit, dried fruit, you name it. I've even seen charoset truffles and dried fruit charoset, chunky charoset, you name it, there's a charoset for it.
A Quick Passover History Lesson
The holiday of Passover is a very well known one with most religions. Passover or "Pesach" in Hebrew is the celebration of the Jews exiting from Egypt. In addition, Pass-over literally means that. When God was slaying the 1st born son of Egyptian families, he would "pass-over" Jewish homes. With Passover, comes the festive dinner, called a seder where 6 items are displayed on a seder plate, each representing something significant.
A hard boiled egg represents fertility and renewal, marror or bitter herb (usually horseradish) symbolizes the bitterness the Jews had to go through in slavery.
Charoset, as mentioned previously represents the mud used, a shank bone represents the lamb that was sacrificed because the Jews had to paint the blood of the lamb around their door so that God would "pass over".
Karpas, another bitter herb (usually parsley) is dipped into salt water and also represents the bitterness and tears hat the slaves endured. And finally, hazaret, which is another bitter green is used to represent the bitterness that he slaves went through, usually lettuce.
More Passover Favorites
Apple and Cranberry Charoset
LittleFerraroKitchen.com
Apple and cranberry Passover charoset is tart and fruity, mixed with pomegranate seeds and a touch of honey for sweetness.
Ingredients
2

apples

peeled and diced

1

cup

pomegranate seeds

1

cup

chopped walnuts

1

cup

fresh

or frozen cranberries, chopped

½

orange

zest and juice

¾

cup

sweet red wine

2

tablespoons

honey
Instructions
Combine all ingredients in a bowl and taste for seasoning. Allow to rest in refrigerator for at least 20 minutes so all flavors combine together.
Nutrition
Calories:
119
kcal
Carbohydrates:
13
g
Protein:
2
g
Fat:
7
g
Saturated Fat:
1
g
Sodium:
3
mg
Potassium:
160
mg
Fiber:
2
g
Sugar:
9
g
Vitamin A:
190
IU
Vitamin C:
7
mg
Calcium:
25
mg
Iron:
1
mg
Did you make this recipe?
Let us know by leaving a comment and 5 star rating!