Welcome to Day 1 of Christmas Week. This annual event was started in 2012, and is hosted by Kim of Cravings of a Lunatic. This year we have over 35 bloggers sharing festive sweet recipes for the event. Plus we all chipped in for a huge Amazon Gift Card Giveaway so be sure to enter!
Whenever I think of the holidays or my childhood, marzipan fruits is the first thing that comes to mind! My mom engrave that into my head and we are both madly in love with the adorable fruits. Every chance I get I'll send my mom a box to Hawaii, because I don't think you can find them there and she yells at me that the box is already gone. Ha. mission accomplished.

  Then I saw this amazing tutorial and couldn't believe how incredible easy it was! So one morning before work I laid out all of my equipment and let my artistry flow naturally. Therapeutic is what I found it, no cooking, just relaxing with some music,  hand panting little fruits. Dare I quit my day job?? Of course I had to hire a model for this project. This was my first "painting" project since nearly 25 years, the first time I've picked up a paint brush and painted anything. And I have to say, I think these turned out absolutely adorable!  
The apple and pear stems are from little pieces of clove that I broke apart and same for the little pumpkins. I think the apples and pears were my absolute favorite! And the trick is to not overdo it with the dye colors, let the natural diluted look of the color fade and blend in.
Have fun with these! Make different fruits, shapes and have fun! I think I may have a "Hawaiian" theme happening in the future. Little papaya's and mango marzipan? How cute would that be?!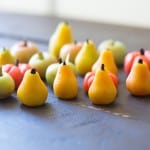 Print Recipe
Marzipan Fruits
Servings:
16
-18 marzipan fruits
Ingredients
1 7

oz

log of marzipan

Food coloring

I used natural food coloring in red, yellow and green

Powdered sugar

for dusting work surface

Cloves

broken so just little stems are used

Dry bay leaves

cut into small leaf shapes

Water

for diluting food dye
Other tools:
Very small paint brush

Several small bowls

Disposable tablecloth or parchment paper

for painting on
Instructions
First, add 2 tablespoons of water to 3 small bowls and add a few drops of each color dye to bowls until you get a light yellow, light green and mix the yellow and red for orange.

Then, divide your marzipan log into 3 equal pieces, each piece will be pear, apple or pumpkin.

Take one of the pieces and knead about 1/8 of the green dye until evenly colored (this will be for the apple), then knead the yellow to another piece for the pear and finally the orange for the pumpkin.

Dust some powdered sugar on your work surface and roll one of the pieces into a long log, you'll be this with the other 2 as well. Then divide the log into 6 equal pieces, each of these will be your little fruits.

For the pear, take one piece and use your hands to roll into a ball and taper at the end to shape a pear. Use the small paint brush to paint different colors on the pear. Add a small piece of clove for the stem

For the apple, roll it into a ball and stick a piece of clove in for the stem. You can also cut small pieces of bay leaf for the apples leaf. Use a paint brush to paint different colors of the apple.

For the pumpkin, roll it into a flatter ball with a flat bottom. Use the paintbrush handle to make the indents in the pumpkin and top it with a piece of clove for the stem.

Let them all dry on parchment lined baking sheet until ready to serve or give away.
Recipes from Day 1 of Christmas Week! Please visit all our talented participants:
Pistachio Brittle from Cravings of a Lunatic
Coconut Lemon Raspberry Bundt Cake from Desserts Required
Peppermint Bark from Poet in the Pantry
Eggnog Pound Cake from The Redhead Baker
Quince, Cranberry and Persimmon Crisps from Pineapple and Coconut
Chocolate Fruit 'n Nut Bites from All Roads Lead to the Kitchen
Fancy Chocolate Covered Marshallows from Hezzi-D's Books and Cooks
Gluten Free Cranberry Orange Coffee Cake from Cupcakes and Kale Chips
Marzipan Fruits from The Little Ferraro Kitchen
Eggnog Truffles from Crumb: A Food Blog
Peppermint Fudge from The Bitter Side of Sweet
Dark Chocolate Peppermint Cupcakes from Amee's Savory Dish
Gingerbread Cake with Orange Cream Glaze from Comfortably Domestic
Christmas Sweets and Treats from Food Done Light
Spiked Hot Cocoa Gift Mix from Farm Fresh Feasts
Chanukah Olive Oil Cookies from Mother Would Know
Coconut Pralines from Food Lust People Love
Blueberry Overnight Sweet Rolls from My Catholic Kitchen
Chocolate Chip Shortbread Cookies from Daily Appetite
Chocolate Dipped Gingersnaps from Try Anything Once Culinary
Mini Red Velvet Cupcakes from That Skinny Chick Can Bake
Dark Chocolate Almond Cheesecake Cups from Savory Experiments
Bourbon Soaked Eggnog Cake from Cooking In Stilettos
Ginger Snap Cocktail from Food Babbles
Coquito Cinnamon Roll Bundt from Mind Over Batter
No-Bake Chocolate Peppermint Cheesecake from Rants From My Crazy Kitchen
Easy White Chocolate Peppermint Fudge from Big Bear's Wife
Easy Cream Cheese Cookies from Everyday Southwest
Gingerbread Cookie Bars from From Gate to Plate
Molasses Ginger Cookies from Karen's Kitchen Stories
Apricot Spice Biscotti from Savoring Italy
Caramel Bacon Bark from Dixie Chik Cooks
Gluten Free Chocolate Gingerbread Crinkle Cookies from The Tomato Tart
Easy Macadamia Cashew Brittle from Aloha Flavor
Giveaway!
Participants for Christmas Week:
Christmas Week Amazon Gift Card Giveaway is open to U.S. and Canada. Giveaway will run from December 7, 2015 to December 26, 2015. Winners must be 18 years of age. Winners will be notified by email. Winners will be asked a skill testing question.