How to make homemade marzipan fruits made into adorable pears, apples and pumpkins, that are perfect for edible holiday gifts.
Whenever I think of the holidays or my childhood, marzipan fruits is the first thing that comes to mind!(Well, and maybe baking raspberry rugelach, of course! My mom engraved that into my head and we are both madly in love with the adorable almond flavored fruits.
Every chance I get I'll send my mom a box to Hawaii, because I don't think you can find them there and she yells at me that the box is already gone. Ha. mission accomplished.
Therapeutic is what I found painting these cute marzipan fruits. No cooking, just relaxing with some music, hand painting little fruits. Dare I quit my day job?? Of course I had to hire a model for this project. And I have to say, I think these turned out absolutely adorable!
What is Marzipan Made Of?
Marzipan is ground up almonds with a sweetener that's formed into a log usually. It's ground up so well that looks almost paste like and you can find them in a long slender box.
How to make Marzipan Fruits?
When you buy a log of marzipan, you'll notice the texture is a bit sticky and perfect for molding into little objects, in this case, little fruits.
Use a real fruit or vegetable as your "subject" to copy from and mold into desired shape.
Then use food dye, I like to use a natural dye such as Indian Tree Natural Food Dye to paint your little objects. You may need to water down some of the colors to get the desired shade you like.
Then, I use a small paintbrush to paint, giving it shade and dimension.
The apple and pear stems are from little pieces of clove that I broke apart and same for the little pumpkins. I think the apples and pears were my absolute favorite! And the trick is to not overdo it with the dye colors, let the natural diluted look of the color fade and blend in.
Have fun with these! Make different fruits, shapes and have fun! I think I may have a "Hawaiian" theme happening in the future. Little papaya and mango marzipan? How cute would that be?!
More sweet inspiration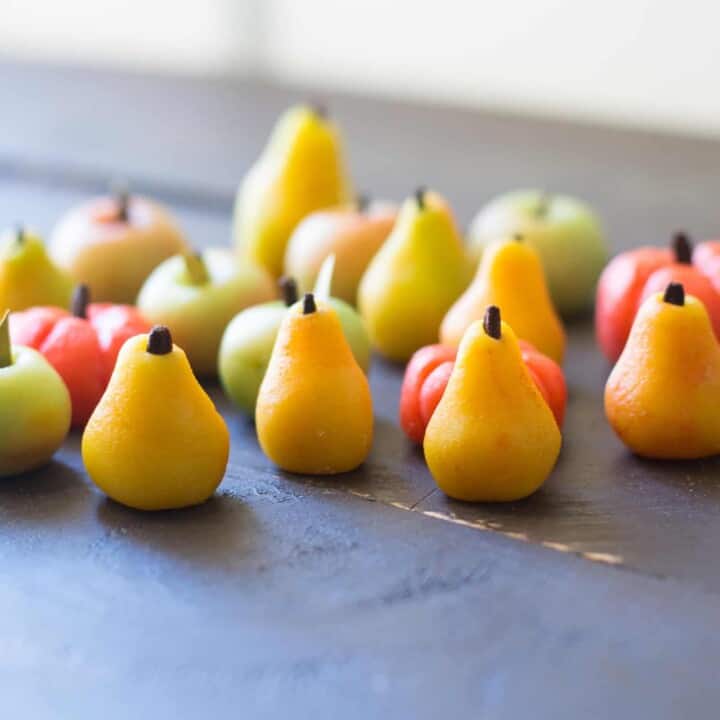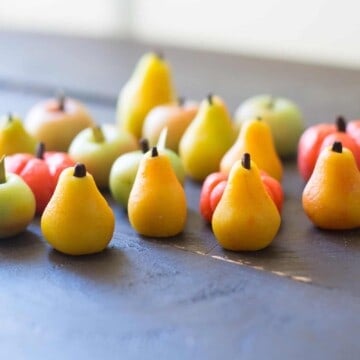 How to Make Homemade Marzipan Fruits
LittleFerraroKitchen.com
How to make homemade marzipan fruits made into adorable pears, apples and pumpkins, that are perfect for edible holiday gifts.
Ingredients
1

7 ounce

logs of marzipan

Food coloring

I used natural food coloring in red, yellow and green

Powdered sugar

for dusting work surface

Cloves

broken so just little stems are used

Dry bay leaves

cut into small leaf shapes

Water

for diluting food dye
Other tools:
Several small bowls

Disposable tablecloth or parchment paper

for painting on
Instructions
First, add 2 tablespoons of water to 3 small bowls and add a few drops of each color dye to bowls until you get a light yellow, light green and mix the yellow and red for orange.

Then, divide your marzipan log into 3 equal pieces, each piece will be pear, apple or pumpkin.

Take one of the pieces and knead about ⅛ of the green dye until evenly colored (this will be for the apple), then knead the yellow to another piece for the pear and finally the orange for the pumpkin.

Dust some powdered sugar on your work surface and roll one of the pieces into a long log, you'll be this with the other 2 as well. Then divide the log into 6 equal pieces, each of these will be your little fruits.

For the pear, take one piece and use your hands to roll into a ball and taper at the end to shape a pear. Use the small paint brush to paint different colors on the pear. Add a small piece of clove for the stem

For the apple, roll it into a ball and stick a piece of clove in for the stem. You can also cut small pieces of bay leaf for the apples leaf. Use a paint brush to paint different colors of the apple.

For the pumpkin, roll it into a flatter ball with a flat bottom. Use the paintbrush handle to make the indents in the pumpkin and top it with a piece of clove for the stem.

Let them all dry on parchment lined baking sheet until ready to serve or give away.
Nutrition
Calories:
59
kcal
Carbohydrates:
6
g
Protein:
1
g
Fat:
3
g
Saturated Fat:
1
g
Sodium:
4
mg
Potassium:
33
mg
Fiber:
1
g
Sugar:
5
g
Calcium:
7
mg
Iron:
1
mg
Did you make this recipe?
Let us know by leaving a comment and 5 star rating!