Inspired by the savory Lebanese Meat Pies called sfeeha, these open faced pies are topped with spiced lamb or beef and garnished with bright lemon and fresh herbs.
Lebanese Meat Pies
Greatly inspired by the traditional savory Lebanese pies called Sfeeha or sfiha, these open faced pies are loaded with bold Mediterranean flavors.
I used the same dough recipe as I did with Turkish pide. The dough is a dream to work with and once the ground lamb is browned with aromatics, including onions, garlic and tomatoes, the mixture is topped onto the dough and everything is baked until just golden brown.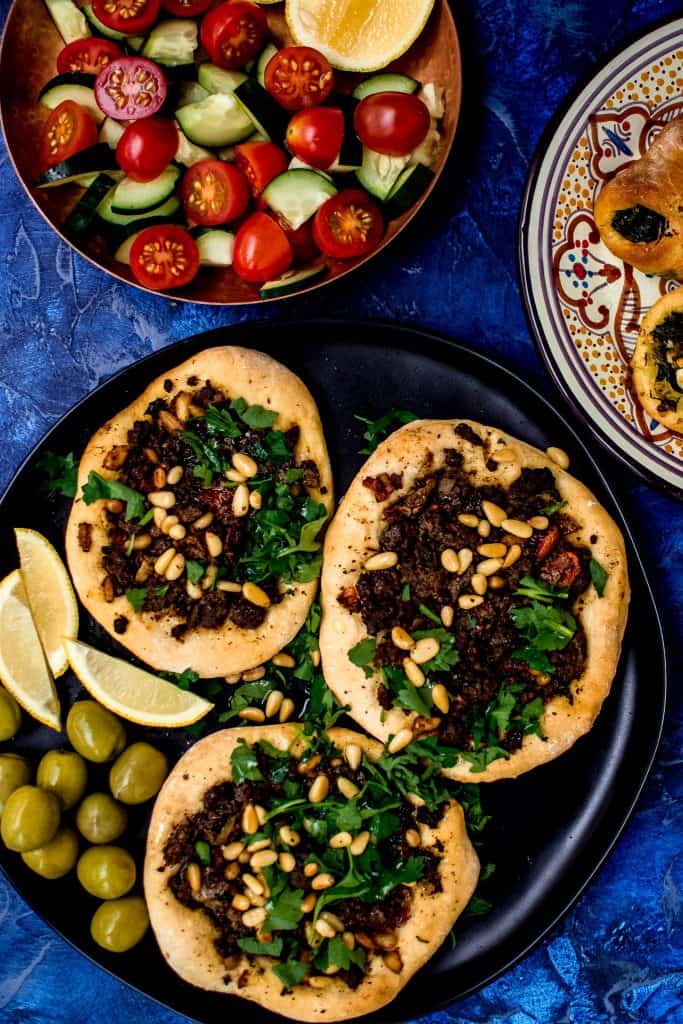 Ingredients in Sfiha Meat Mixture
Onion, Garlic and Tomato: Aromatics that give the meat mixture a savory flavor, and really, the base for any good Mediterranean recipe.
Ground Lamb or Beef: or a mixture of both.
Spices: Paprika, cinnamon and allspice. Very similar to Lebanese hushwee.
Pomegranate Molasses: One of my favorite ingredients in Mediterranean cooking. Is a thick syrup made from reduced pomegranate juice that is tart and brings the perfect zing to recipes.
Toppings: Toasted pine nuts, fresh herbs such as parsley and/or mint and lemon wedges.
What to serve with Sfeeha
I would probably have to take note from my trusted Lebanese friends on what is traditionally served, but I can tell you that savory meat pies are fantastic part of any mezze.
You can serve sfeeha alongside Israeli chopped salad or my summer version of Summer Fasulye, which is a Turkish dish of sauteed green beans and tomatoes and herbs.
If you have a jar of tahini, and I urge you to always keep that on hand, drizzle some tahini sauce over the lamb pies!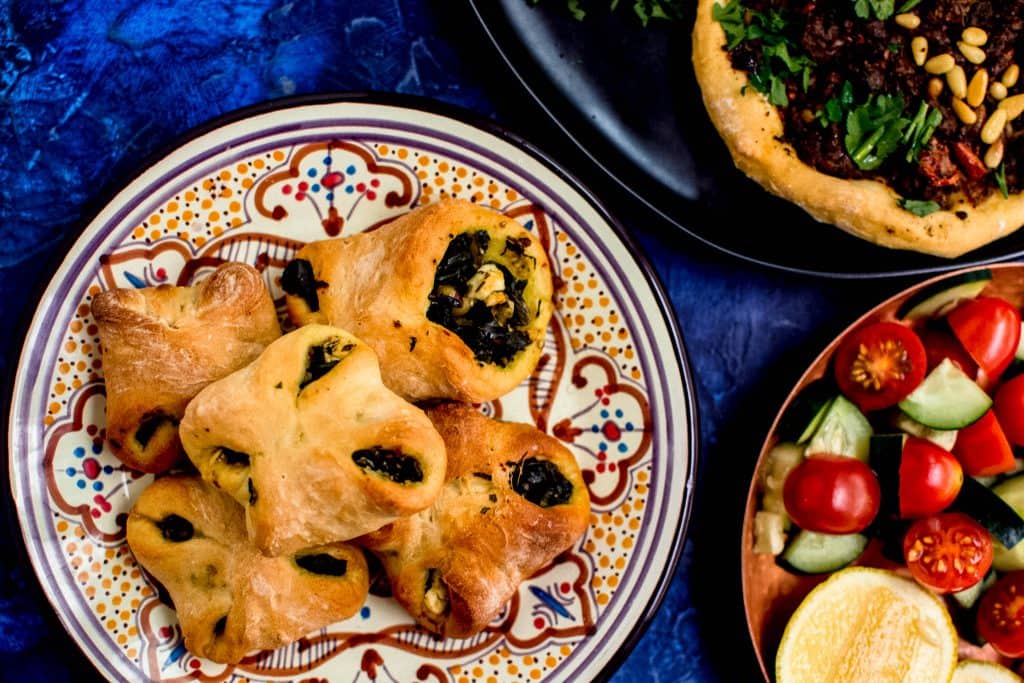 Other Mixtures and Shapes for Sfeeha
I had fun with making different mixtures and shapes and the ones pictured above are stuffed with spinach and feta.
Instead of making them into flat pizza shapes, bring the edges of the dough together, making a purse shape.
More Middle Eastern inspiration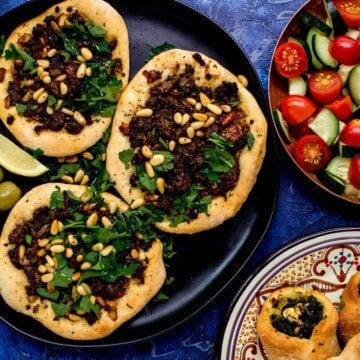 Lebanese Meat Pies (Sfeeha)
LittleFerraroKitchen.com
Inspired by the savory Lebanese meat pies called sfeeha, these open faced pies are topped with spiced beef or lamb and garnished with lemon and fresh herbs.
Instructions
Start with the dough, in a large boxing bowl (or the stand mixer bowl) add water, yeast and sugar. Mix lightly with a fork and set aside until the yeast starts foaming, about 10-12 minutes.

Next, add the egg, yogurt and olive oil and whisk together. Then using a dough attachment of a stand mixer, slowly mix in flour on low-medium speed until a ball of dough forms.

Transfer dough onto a lightly floured surface and knead for a few minutes until the dough is smooth and not sticky. Place the ball of dough in a bowl and let rest while you make the fillings.

At this point, pre-heat the oven to 400 degrees Fahrenheit.

While the dough rests, make the meat mixture. Drizzle olive oil in a skillet over medium heat. Add ground lamb and use a wooden spoon to start breaking up the meat. Cook meat until crust begins to form and it's about halfway cooked through.

Add in the chopped onion and cook for another 2-3 minutes, then add garlic and cook for another 1-2 minutes. Stir in pomegranate molasses and spices and continue cooking until meat is cooked through and is very aromatic. If there is excess fat, carefully drain that out. Once done, turn off heat and let mixture cool while you roll out the dough.

Once dough has rested and risen, divide into 2 and roll out to about ¼ inch thickness. Use a round cookie cutter (anywhere from 5-8 inches) to cut circles and place rounds on a lined baking sheet.

Top dough rounds with 1-2 tablespoons of meat mixture, gently pressing down so it stays. You can also bring the edges of the dough up to make little pockets for a different shape.

Bake savory pies at 400 degrees Fahrenheit for 18-20 minutes until dough is lightly toasted and golden brown.

Remove from oven and let cool for a few minutes before servings. Top with toasted pine nuts, fresh herbs and lemon wedges.
Notes
If you don't like ground lamb, substitute with ground beef or a mixture of the two.
For a vegetarian version, mix together cooked spinach with feta and lemon juice.
Have extra flour on hand when rolling the dough. It can be a tad sticky.
Nutrition
Calories:
310
kcal
Carbohydrates:
30
g
Protein:
11
g
Fat:
17
g
Saturated Fat:
4
g
Cholesterol:
41
mg
Sodium:
104
mg
Potassium:
202
mg
Fiber:
2
g
Sugar:
3
g
Vitamin A:
136
IU
Vitamin C:
1
mg
Calcium:
28
mg
Iron:
3
mg
Did you make this recipe?
Let us know by leaving a comment and 5 star rating!