The blog has been put on hold this week as I continue to pass out resumes and prepare for interviews. I had 2 interviews this week and I will find out next week how it went! Even though I love, love cooking and blogging, my other passion is health education and I am planning on making a career goal to move up in the Public Health world.

I also received some pasta swag last week as well! Hodgson Mill asked me (as well as other bloggers) to submit a fresh and summery pasta recipe for their #SummerPastabilities contest and in turn they sent me an awesome swag of 6 whole wheat pasta boxes! (Oh…and there's a Pasta Giveaway going on too!!)

I was thinking of creative ways to use pasta. We eat pasta all the time in the Ferraro house, but I decided to keep it classic and simple, just like me and showcase the amazing summer flavors of heirloom tomatoes. So therefore, the decision to make Heirloom Pomodoro was made! Why wouldn't I make something with tomatoes, naturally?
Joe was skeptical to try the whole wheat pasta, but after I cooked up the angel hair with pomodoro sauce, he couldn't believe it. And let me tell you, all these opinions are completely my own! The only thing with angel hair is that it cooks very quickly because its so thin, but the whole wheat version has double the fiber and tasted fabulous. It wasn't too al-dente and had a perfect bite.

And for your info, the word "pomodoro" means "tomato" in Italian, which makes perfect sense since this easy dish is a bowl of tomato love! This is also a very common dish during the summer time because it's so light and quick to make.
Giveaway!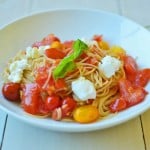 Print Recipe
Heirloom Tomato Pomodoro with Whole Wheat Pasta
Ingredients
8

oz

1/2 lb Whole wheat angel hair pasta

1

lb

assorted heirloom tomatoes

larger ones cut into 1 in pieces and cut large cherry tomatoes in half

3

cloves

garlic

chopped

Small bunch of fresh basil

Olive oil for drizzling

Goat cheese

optional

Salt and pepper

to taste
Instructions
Start by heating up a good drizzle of oliv oil in a large skillet. Add chopped garlic and allow to slowly carmelize.

Meanwhile, cook angel hair pasta in boiling water until al-dente. It cooks fast so keep your eye on it.

Once the garlic is begining to golden, add tomatoes and roughly chopped basil. Season with salt and pepper.

Allow tomatoes to cook until they begin to break down a bit.

When pasta is done, use tongs to add pasta directly to tomatoes. Toss to combine.

Bowl up your pasta and drizzle with an extra turn of olive oil and top with small pieces of creamy goat cheese and more fresh basil.