I have an incredible urge to constantly say "ya'll" all throughout this bit.
Like "Welcome to Burger Week, ya'll". But Brooklyn Jewish/Hawaii/Southern Cali chicks don't exactly say ya'll all to often. I blame it on this Hatch chile burger!
I have to be honest and confess that burgers are not the norm in the Ferraro house, and what a shame that is! So when Vijay from Nosh On It asked me to be in this years Burgerweek, I had to pull out all the stops!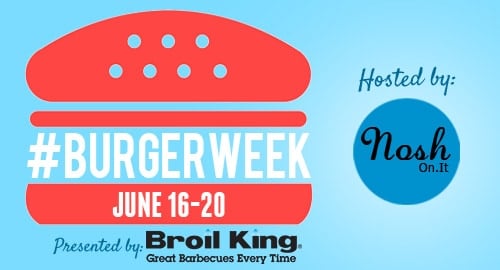 The last time Joe and I made burgers was for our anniversary a few years ago. It was before the blog and we were in some weird "lets be as healthy as we can be" phase and did everything you're not supposed to when making burgers. I got the leanest cut of meat and whole wheat buns. I remember we made baked onions rings and faked our smiles as we forced the swallow down. The burgers were thick, dry and tough as hockey pucks but we pretended they were the best things ever. We forgot how amazing a good quality burger is and have omitted them from the menu rotation ever since. Sad, but true.
So to help commence Burger Week, we had to go Ultimate and basically say "F* It" let's just do it right! Its a burger..and it will be a damn good burger!
Therefore, hatch chile burgers is what happened last week! I still had some whole roasted hatch in the freezer and couldn't wait to throw them in between a juicy burger. I kept the Southwest flair going and made a simple, quick and ultra creamy guacamole, added some Jarlsberg cheese and made a delicious spicy sauce with mayo, ketchup and lots of sriracha. This burger was messy, juicy, full of intense flavors and craved me wanting more!
In fact, confession. I had one burger patty left and ate this burger again, the next morning. No lie. I even posted it on Instagram so it has to be true.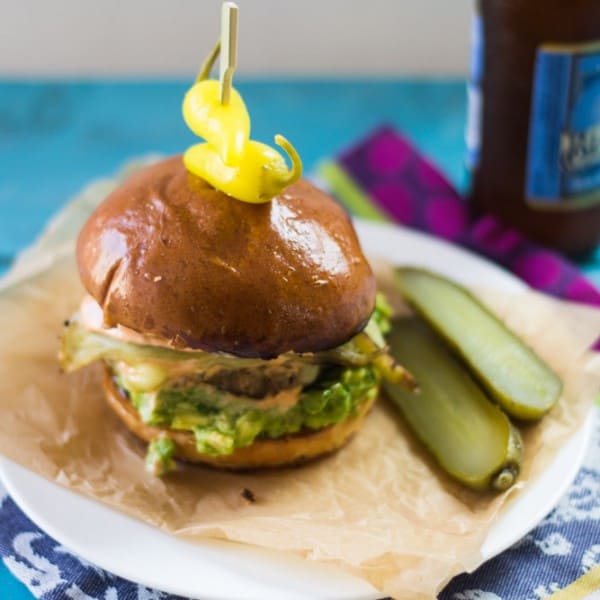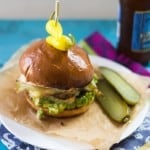 Print Recipe
Hatch Chile Burgers for #BurgerWeek
Ingredients
1

lb

ground beef

80/20 ratio

8

slices

Jarlsberg or good quality Swiss cheese

4

roasted Hatch chiles

seeds removed and cut in half lengthwise

4

Brioche burger buns

Salt and pepper

to taste

Olive oil

for brushing on burgers
Guacamole
2

avocados

mashed lightly with a fork

1

small jalapeno

seeds removed and chopped finely

1

lime

juiced

Salt and pepper

to to taste
Instructions
First prep burgers. Lightly form meat into 4 burger patties. Season with salt and pepper and allow to rest in the fridge until ready to use. Note* I like to make this early in the day and then take them out of fridge about 20 minutes before cooking.

Make guacamole by combining all ingredients in a bowl. Set aside until ready to use. Do the same with the Spicy Russian dressing.

Heat up a cast iron skillet (or grill, if using) and brush olive oil lightly on the burger patties. Use your thumb and make a slight indent in the center of each burger patty. This helps preventing them from bulking up as they cook.

Cook burgers on each side for about 3-4 minutes or until desired doneness. About 30 seconds before done, add 2 slices of cheese on top of each burger until melted. You can also cover with a lid to help melt faster. When done, remove to a plate and allow to rest.

In the same pan, cook the hatch chiles until warmed through. When done, place on top of burger. Also, use the same pan to toast the burger buns.

To assemble, spoon guacamole on bottom bun, then burger with cheese and hatch chile, Spicy Russian dressing and top bun. Serve with yrou favorite peppers and pickles.
Check out what some of my friends made to celebrate BurgerWeek!
The Corner Kitchen: Chipotle Black Bean Freekeh Sliders with Avocado Lime Crema
Kimchi Mom: Bibim Bap Burger
Very Culinary: Barbecue Onion Burger
The Lemon Bowl: Greek Turkey Burgers with Tzatziki Sauce
Completely Delicious: Salmon Cake Sliders
Boulder Locavore: Bacon-and-Egg Cheese Breakfast Burgers
Bake Your Day: Enchilada Burgers
Simply Scratch: Jalapeno + Cheddar Burger with Charred Corn Mayo
Giveaway!!
Do you want to become a grilling pro? Need a new grill? #BurgerWeek sponsor Broil King wants to give you the chance to win one of their high-performance gas grills (a $549+tax value) plus burger grilling accessories to use in your home!
Made entirely in North America, every one of Broil King's gas grills are made of the highest-quality materials and engineering that allows you the versatility to sear the perfect burger or steak, roast chicken or vegetables, or even bake a dessert right on the grill. Their grills are already in more Canadian backyards than any other brand and they're available in the U.S. at Lowe's and many other retailers! To enter to win your own Broil King grill, just click on the banner below.
ENTER THE ULTIMATE GRILL GIVEAWAY
GRAND PRIZE
Broil King Baron 440 Gas Grill (a $549 value), Stuffed Burger Press & Slider Grilling Basket,
and a Grill Tool Set
2nd Place: Stuffed Burger Press, Slider Grilling Basket, Grill Tool Set
3rd Place: 4-Piece Grill Tool Set
4th Place (3 winners!): Stuffed Burger Press, Slider Grilling Basket