It seems that I am on a constant journey to learn every and all things Asian cuisine. Once I befriend someone with a similar background, I beg them to teach me their kitchen secrets and food wisdom.
A few weeks ago one of my co-workers gifted me with items from her favorite Korean store, included was Anchovy sauce, soy sauce and (not pictured) rice starch and  Korean red chili..for…kimchi!!  I've had kimchi before and we always have a jar of the fermented cabbage in our fridge. If you can get passed the initial introduction, the flavor is wonderful.
But it is cucumber kimchi that truly has my heart. This is the one I remember overdosing on growing up in Hawaii. Cucumber kimchi is so different than the traditional cabbage cousin. Using Kirby or Persian cucumbers, the kimchi stays crisp and fresh, It has all the fabulous components you want in each bite; spicy from the Korean red pepper, crunchy from the cucumber, salty from the anchovy sauce and has gorgeous deep flavors of sesame and ginger.

My co-worker insisted on using rice starch to help thicken the kimchi. Once you add the kimchi to jars, the water from the vegetables will begin to come out so the starch will help thicken it. However, I love the kimchi "juice" that was created and is fabulous soaked into some white rice.
Also, be generous with the flavorings. I had to make a few batches to find to what I really liked. I loved adding extra ginger and sesame oil and I've heard people adding pineapple as well!  As soon as I made the second batch, I ran to my co-worker for taste approval and got the happy thumbs up!
Have you ever had kimchi? What is your favorite kind?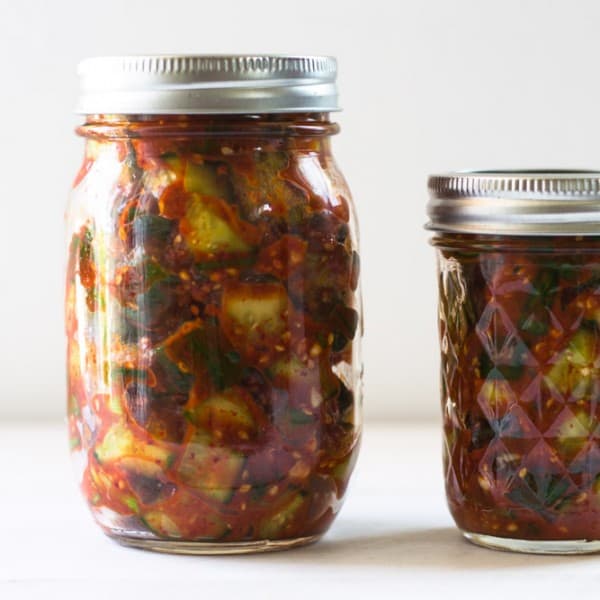 Print Recipe
Cucumber Kimchi
This recipe makes about 3 cups of kimchi.
Ingredients
5

Persian cucumber

cut in chunks

2

Tb

rice starch

1/2

cup

hot water

1

tbsp

Kosher salt

3-4

garlic cloves

chopped finely

1

inch

piece of ginger

peeled and grated

4

green onions

chopped

1/4

c

toasted sesame seeds

1

tbsp

Korean chile powder

2-3

tsp

anchovy sauce

2

tsp

sesame oil

1

Tb

rice vinegar
Instructions
In a small pot, add rice starch to hot water and cook until thick, about 2 minutes. Turn off heat and reserve.

Add cut cucumbers to a colander over the sink or bowl and sprinkle liberally with salt all over the cucumbers. Allow to rest for 30 minutes. Drain any excess moisture but don't rinse the cucumbers.

In another bowl add the rest of your ingredients and add the cucumbers and 2 tbsp. of thickened starch. Mix everything together and taste for seasoning. When ready, pack kimchi in glass jars with a tight fitting lid.

Allow kimchi to marinate at room temperature for at least 30 minutes, then place in refrigerator.