Bright lights, late nights, groovin' music and fine wine….Vegas here we come! I am so excited about blogging about our recent road trip, because I am such a new blogger and I love sharing my experiences with others. It allows me to live through it…just once more!
So this was our last "hoorah" for the summer. Before the bustles of school starting and the craziness of all the holidays that start parading in for the next few months…we needed this trip!
So here we go….Vegas here we come! Hubby, Hula and I in tow for the 4 hour trek to the glistening desert heat that was full of amazing eats and fantastic energy…just what we craved.
Of course, as seasoned food enthusiasts, we always base our trips around, but what else, FOOD! Most of our questions are like, Where do we eat first? Then second? Oh and where should we eat tomorrow? What hot chefs are featuring where and who has the best homemade pasta? I do massive research before any trip and list all the restaurants and foodie stops that we MUST try.

Am I the only one that does this? Ha…I guess it is pretty funny when I think about it myself.
So our Vegas excursion lasted an amazing 5 days. I will break up this long blog post into days and talk about where we went and ate in each day, the good, the bad, and the….really?
We were so excited to leave that we forgot to eat breakfast. We already packed the night before and ready to run out the door.
At this point hunger pangs start to seep in but we were too early to check in to the hotel (Ooohhh..and I can't wait to talk about the amazing hotel!) After we acted like a cheesy tourist and stood in line for the iconic Welcome to Vegas sign (it is pretty cool though), we killed time by driving up and down the strip…and long and behind…what do we find….Arepas!
A small 4x4 yellow box standing by the side of the road "I heart Arepas". I didn't even know what arepas was, but on this hot day with 2 hours to kill…we didn't care! It turns out Arepas is a Venezuelan dish made of ground corn, similar to polenta and stuffed with a variety of fillings. We chose the simple pollo and frijoles negros.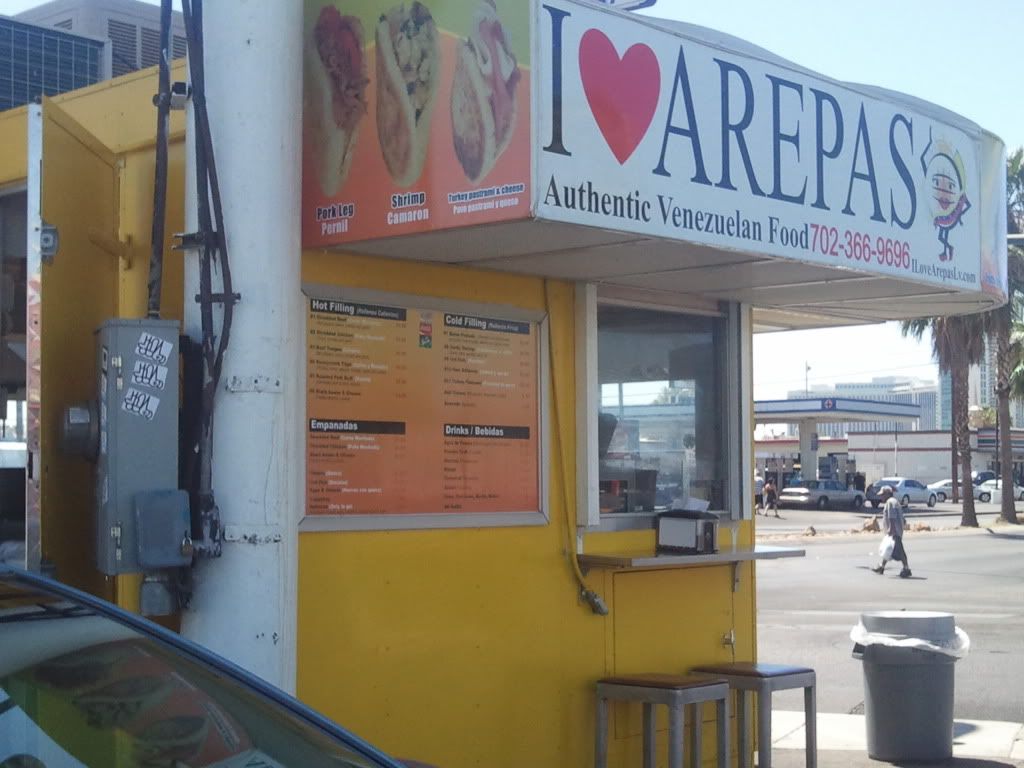 As we sat in the car off the side of the road and stuffed our faces, hubby and I were both pleasantly shocked by the amount of exotic spices that tickled our taste buds. The chicken was the clear winner for both of us. The cornmeal pancake was dense but not overcooked and definitely helped "fill" you up. The chicken was moist and shredded. The delicious meat juices drip down the sides of your arm and you can't wait to lick it up fast enough! It was definite South American flavors….something very different than Mexican flavors, which is what were so used to living in Southern Cali. Pursued flavors of garlic and
paprika….mmmmm…..
The black beans were delicious as well, but I'll give this guy 1st runner up.
The beans were al-dente for all you Italians out there and was topped with what tasted like

salty yummy parmesan cheese.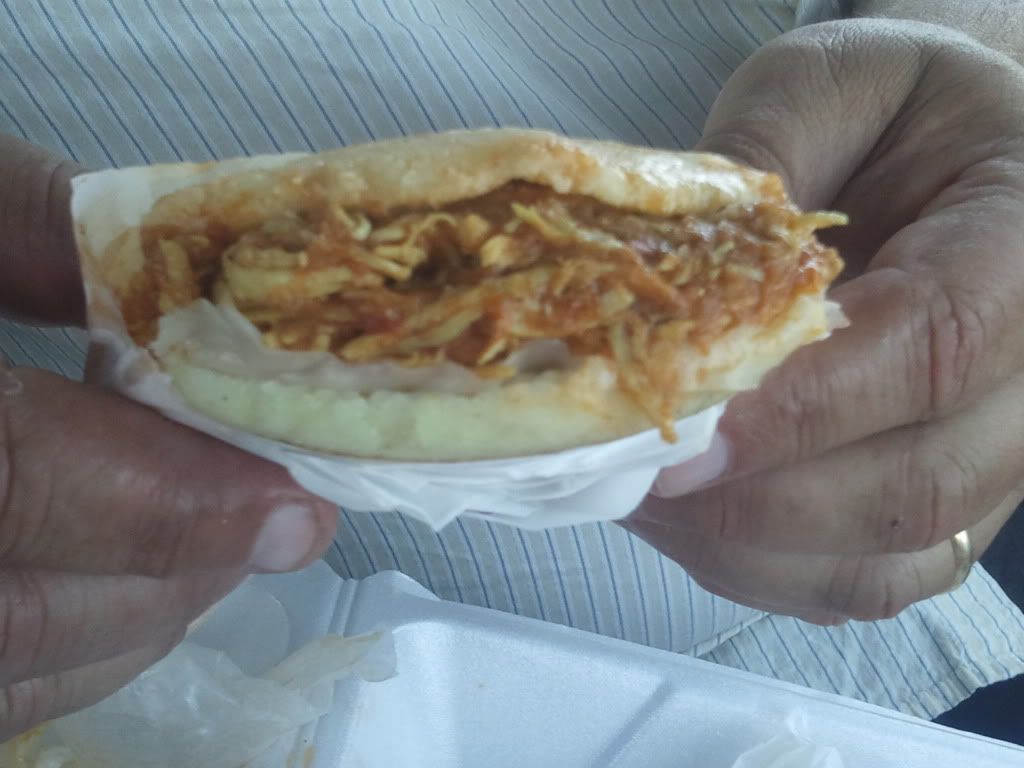 So the next time you're on the strip[ and need to kill some time before or after….drive Southbound and stop at Arepas. I love Arepas, and you will too!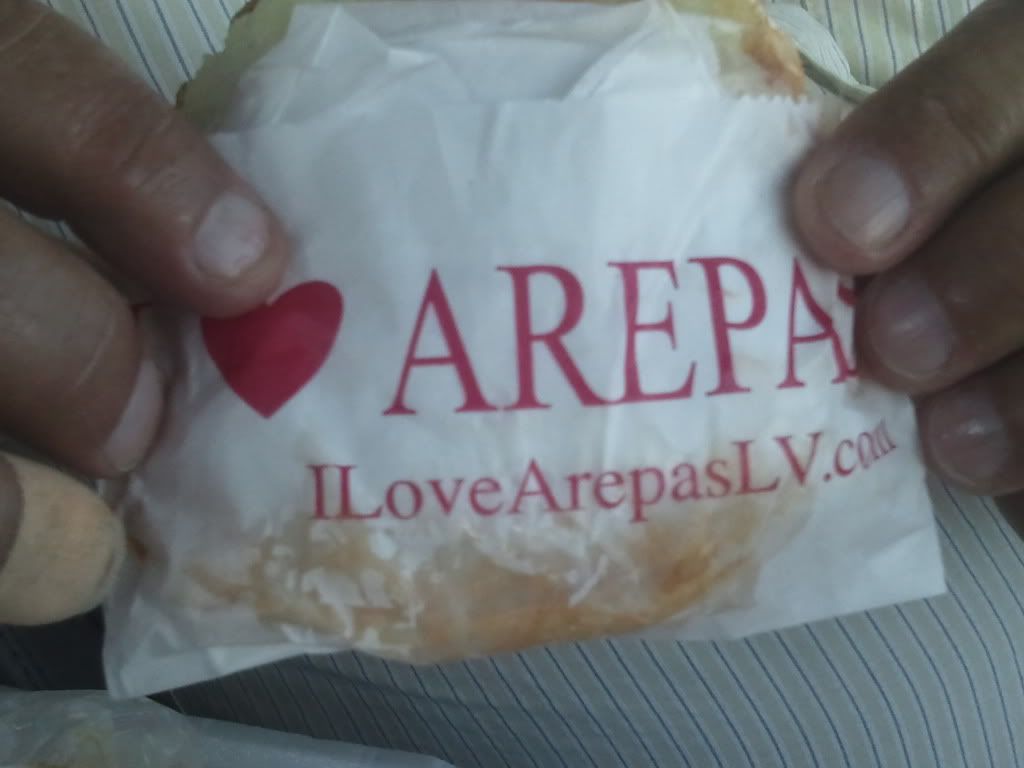 The Cosmopolitan
Probably one of the hottest and newest hotels on the strip! This place is trendy, classy and not over-crowded! Story is, the Cosmopolitan was originally built to be condos, but the venture fell through and instead was bought by a bank and is now the hottest hotel in Vegas.
I wouldn't normally do hotel reviews, but I just had to share how amazing they were here. You walk into the lobby and there are ceiling high beams of 3-D'ish digital visuals that change constantly. It is somewhat hard to explain unless you see this in person. The eye drawing beams are constantly changing, from falling leaves, library books, to a more risqué version of 2 blurred nude people at night….it's hot!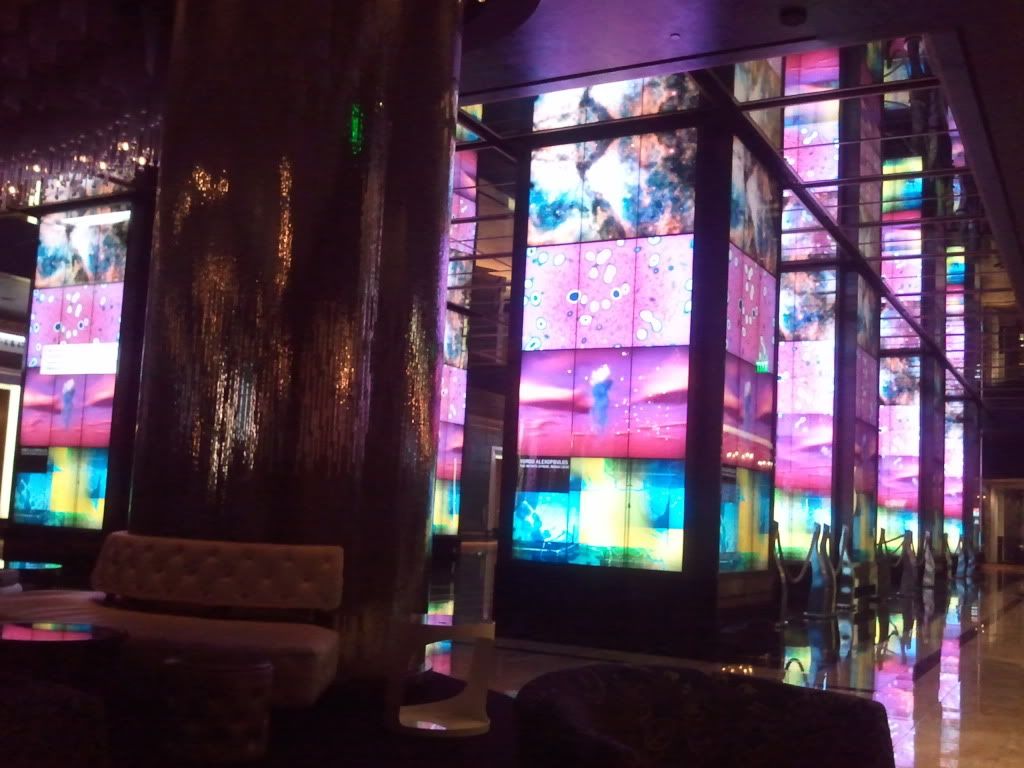 The 2nd floor is breathtaking. Take the escalator up to the Chandelier bar and feast your eyes on its sparkling beauty. I've never seen anything like it. A massive chandelier, with probably trillions of crystals that lengthen from the 1st to the 2nd floor of this huge hotel…just exquisite!
Our room rocked! We were placed on the sky-scraping 49th floor with FULL views of the Bellagio fountains and the faux Eiffel Tower….just beautiful! Our suite was accompanied by wine and grapes, and something I will never forget….an Italian cookbook with a welcome note! How awesome is that! I can't wait to make some recipes. Thank you, Cosmopolitan!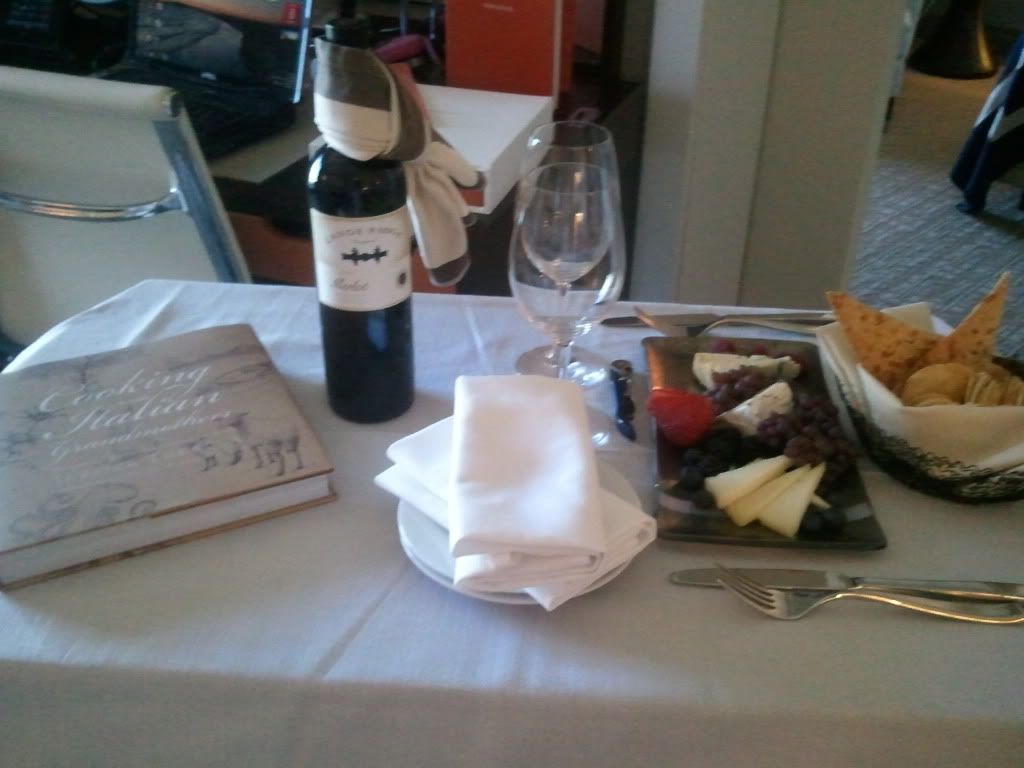 Blue Ribbon
Our first night in Vegas. I can't tell you how excited I am to try Blue Ribbon LV. We are HUGE fans of the Blue Ribbon in NYC and go there every time were on the east coast, so I just had to come to the brand new Vegas addition and do a little research. Even though this is a sushi bar, they did say they had their famous bone marrow..mm…my mouth is watering.
Steaming hot and moist, though served differently than its NYC counterpart. This one with an Asian twist of smeared teriyaki sauce on the bottom and flash sea weed as garnish. I found the challah bread that it came with way too heavy and eggy for such a delicate piece of gelatinous marrow. Sometimes less is more, and in this case, less should have been more… NYC wins!
Now onto the Sushi. Hubby and I were an adventurous mood. Let's go crazy and not get the typical Ahi or California roll….I really wanted to try something different that I could talk about.
And this is what we got....
Our waitress was awesome! I wanted to remember everything that was on the platter, so she graciously wrote everything down…you rock! And I'm keeping this note forever too.
J
I'll highlight some things that I will never forget. Personally, I am a huge texture person…weird, but I am. If something tastes fantastic but has an odd texture..well….ya know.
The sea urchin threw me off guard like that. The flavor was bright and salty and fresh as the ocean, but its texture got the best of me. The urchin was soft and slightly slimy, the feeling felt as if this sea creature was moving around my tongue. I am glad I tried it once.

The fish carcass was something in itself too! At first it is presented with the rest of the sushi, and is then taken away towards the end of the meal so the chefs are able to fry it up for you.
So ok…fried fish chips..not so bad right? Again, the fresh flavor of the fish was beautiful, but the sound of hearing your teeth crunch on tiny bones was hard to chew…literally. Again, I am glad I tried it once.
Ahh…finally desert! Sparkling blueberry infused sake and ginger bread pudding. I was so in love with this bread pudding, I even went back the next day and asked for the recipe! Can't wait to make this soon! It was so decadent and buttery, and of course you have to love the infusion of ginger

, which helped cut through the tongue-coating butter.

Perfect way to end our first night in Vegas.
Oh no....wheres the desert pic?? Whoops! It must have been SO good that I forgot to take a pic of it! So sorry! I'll just have to do an encore version soon!