There is nothing better than cooking with your best friend! Every 2 years or so, one of my bff's, Dominee flies down to Cali for our birthdays. Mine is on Halloween and hers is 10 days later, so we always say it's "our birthday".  Dominee and I have been friends for 15 years…maybe it's 16 this year. We met as freshman in high school when we both lived in Hawaii, and since we've "separated" and I've moved to Cali and she's moved to Oregon, have stayed close ever since! I predict 60 more years!
There is something special about really "good" friends. Friends that you don't need to impress or fake, friends that you can pick up the phone after weeks of not talking and just pickup where you left off. I have a select few of those and treasure them so. And I really feel Dom and I have that. We just get each other. And you know what else we get……food. Good food. And good cooking.
So when Dom came to Cali a few months ago, what else would we do than open a bottle of wine and get cookin! We had so many things we wanted to make. She wanted to make all this Middle Eastern food and I wanted to make pastas and finally we both agreed on…cheesecake! So at 9 at night and after dinner, in sweats and wine in hand..you betcha bottom we got cookin' on this glorious pomegranate cheesecake!
Have you seen anything more beautiful than this? We didn't bother doing any fancy water baths like some cheesecake recipes say to do. We just wanted a darn cheesecake and we wanted it fast. But we still had to wait till the next day to devour since it had to cool in the oven. But whatever, we got our cheesecake.
Oh and the pomegranate sauce! Oh baby…you may just want to spread this all over yourself and call it a night, because this pomegranate sauce will have you sweet dreaming. Trust that.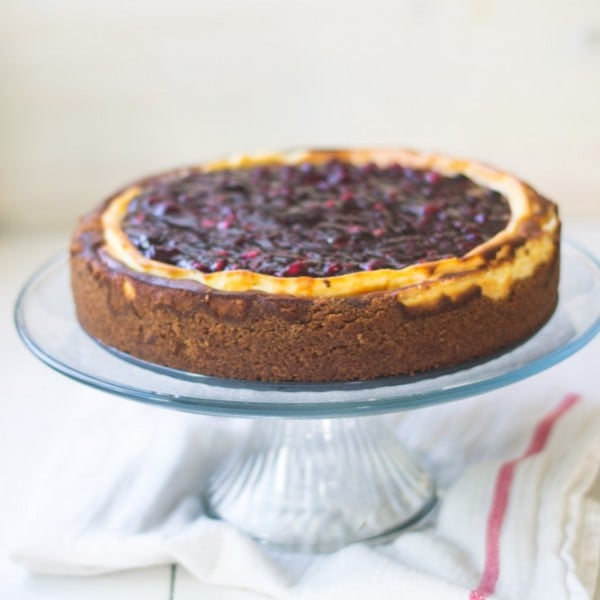 Pomegranate Cheesecake
LittleFerraroKitchen.com
Ingredients
Crust
2

cups

finely ground graham crackers

about 30 squares

1/2

teaspoon

ground cinnamon

1

stick of unsalted butter

melted and cooled slightly
Cheesecake
1

pound

full fat cream cheese

softened

3

eggs

1

cup

sugar

1

pint

full fat sour cream

1

lemon

zested

2

tsp

vanilla extract
Pomegranate Sauce
1

cup

pomegranate seeds

or seeds from 1 large pomegranate

1

Tb

pomegranate molasses

1

lemon

zested and juiced

3

Tb

cornstarch

1/2

cup

sugar

add 1/4 more if too tart

1/4

cup

water
Instructions
First, pre-heat oven to 450 degrees F.

Next, make the crust. Grind graham crackers until very fine in a food processor. Then add cinnamon and melted butter and pulse with the food processor until crumbs come together.

Spray a spring form pan all over the inside with cooking spray and pour the crumbs into the pan and, using the bottom of a measuring cup or cup, press the crumbs down into the pan all around and bringing the crust up 1 inch on the sides. Refrigerate while you make the cheesecake filling.

To make the filling, beat the cream cheese and sour cream together using the paddle attachment of a stand mixer. Beat until smooth and creamy. Then add in eggs, one at a time and continue beating until incorporated. Add sugar, lemon zest and vanilla extract, making sure everything is well mixed and scarping the bottom of the bowl with a spatula.

Once ready, take the crust out of the fridge and pour cheesecake filling into the pan, slightly tapping and smoothing the top if needed.

Place in 450 degree oven for 10 minutes, then lower the heat to 350 degrees F and continue baking for 1 hour, or until cheesecake is set and you can test with a knife and it comes out clean. Once done, allow to cool at room temperature (about 30 minutes) then cool in refrigerator before topping with sauce (4 hours-overnight).

To make the sauce, add pomegranate, sugar and water and cook on medium-low heat, stirring to begin softening the fruit. Then add the rest of the ingredients and continue stirring until sauce is thick and coats the back of a spoon. Taste for sweetness, if too tart, add a bit more sugar.

When ready, allow sauce to cool for a few minutes and then pour over cheesecake. The sides of the cheesecake will create a "well", which is perfect to hold the sauce.

Let cheesecake and sauce set in the refrigerate for at least 30 minutes before cutting.
Did you make this recipe?
Let us know by leaving a comment and 5 star rating!