A Latin fusion on the traditional matzo ball soup, matzo ball pozole has masa-matzo balls in a hearty stew with hominy and dried chiles.
A Blend of Cultures
Yes yes, you read that right...matzo ball pozole! A gorgeous blend of cultures, flavors, spices and cuisines.
It's funny when people ask me "where I'm from" because it often ends in a long over extended explanation of my background. I've learned to edit it a bit and just say the basics, but even the main subject gets raised eyebrows and questionable looks. The words Hawaii and New York are always followed by "How and why", and then I continue, the same story, each time, different company.
But after every explanation, I always think to myself how darn lucky I am. How blessed I am. How incredible fortunate I have been to be exposed to vast cultures, different religions and happy to say where I'm from. Yes it's different, not the norm, but I just love it that way.
Matzo Ball Posole
This matzo ball pozole is quite easy and full of bold flavors. Once you try pozole you'll never look back. Kosher eaters, make sure it doesn't have pork but either way the dried chiles and crisp cool cabbage topping will win your heart over, every single time.
The stew is already full of hearty bites with hominy and beans, then the addition of comforting matzo balls blends it all together. And these aren't you mama's matzo balls, not that I would ever turn those away...never ever.
Matzo Balls with a Twist: Masa-Matzo Balls
Now you can make these matzo balls either of 2 ways.
One, keep them simple, classic and use your favorite matzo ball recipe. Or....break out of the matzo ball box and try out this twist.
I split the amount of matzo meal with fine masa (the same masa you would use to make homemade corn tortillas) and flavored them with smoked paprika and lime zest.
Though, a word of caution, the masa will make the matzo balls a bit more dense and not as light and fluffy as you may prefer. If not, just use matzo meal and go to town!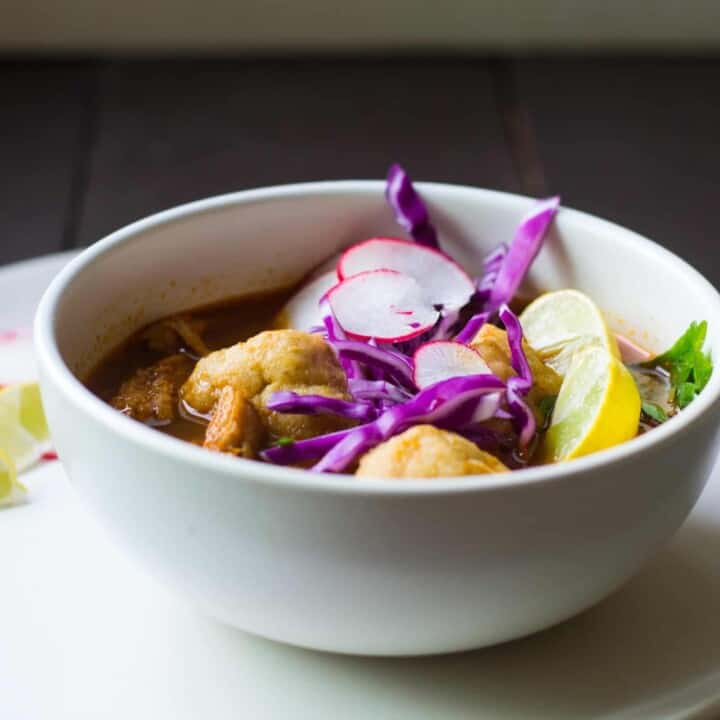 Matzo Ball Pozole
LittleFerraroKitchen.com
A Latin fusion on the traditional matzo ball soup, matzo ball pozole has masa-matzo balls in a hearty stew with hominy and dried chiles.
Ingredients
Stock
2

lbs

chicken

I sued 4 thighs and 2 chicken breasts

1

yellow onion

cut in quarters

1

garlic bulb

cut in half

Water

2

tablespoons

sofrito

optional

1 19

oz

cans hominy

drained and rinsed

1 15

oz

can black beans

Chile Sauce

5

dried ancho chiles

seeds and stem removed

5

dried guajillo chiles

seeds and stem removed

1

yellow onion

roughly chopped

Few sprigs of fresh oregano

Olive oil

for drizzling

Reserved water from soaked chiles
Toppings
Cabbage

sliced

Tortilla chips

Avocado

Lime wedges

Sliced radishes

Fresh oregano and/or cilantro
Instructions
In a large soup pot, add chicken pieces, quartered onion, garlic, bay leaves, salt and pepper. Cover everything with water and allow to simmer until chicken is cooked through and tender. As water begins to evaporate, add hot water to keep the broth at the same amount and use a ladel to skim any foam at the top of the stock.

While stock is cooking, make the chile sauce. Cut open your dried chile's and remove all the seeds and stems. Soak the chiles in warm water for at least 30 minutes to soften.

When chiles are soft, add them to your blender (or food processor) with the rest of the chile ingredients; the onion, garlic cloves, few sprigs of fresh oregano, drizzle of olive oil and about ½ cup of the chile water (from soaking). You may need more depending on consistency. Blend everything together until it is all pureed.

When stock is done and chicken is cooked through, remove chicken to cutting board and shred or cut into small pieces. Discard stocks onion, garlic and bay. Then add the pureed chile sauce to chicken stock and stir together. Then add the hominy, black beans and shredded chicken. Taste for seasoning and continue cooking for another 30 minutes to blend flavors together and soften beans.

While soup is simmering, bring another small pot of water to a boil for the matzo balls.

In a bowl add matzo meal, masa, eggs, sparkling water, grapeseed oil, paprika, lime zest and salt and pepper. Mix everything together and place in fridge to set for about 20 minutes.

When matzo mixture is ready, it will not be as "lose" as when you first mixed, but will be a little firmer. With wet hands, roll the matzo balls lightly between your palms, about the size of a golf ball.

Add matzo balls to simmering water, a few at a time and cook until they float to the top. Once done, add them to the finished soup or store separately.

Serve pozole with matzo balls and garnish with cabbage, radish and lime.
Notes
For leftovers, store the matzo balls separate from the soup to last longer.
Nutrition
Calories:
375
kcal
Carbohydrates:
50
g
Protein:
20
g
Fat:
12
g
Saturated Fat:
3
g
Cholesterol:
82
mg
Sodium:
541
mg
Potassium:
813
mg
Fiber:
14
g
Sugar:
12
g
Vitamin A:
6587
IU
Vitamin C:
14
mg
Calcium:
62
mg
Iron:
4
mg
Did you make this recipe?
Let us know by leaving a comment and 5 star rating!