A tropical lilikoi cheesecake tart with made with fresh passion fruit juice and finished with a sweet and tart passion fruit glaze.
You will swoon at the first hint of this aromatic fruit. I told you about it before when I made lilikoi bars. My mom sent over a whole box of lilikoi from her tree and it actually made its way all the way from Hawaii to my doorstep.
Also known as passion fruit, they are much more expensive here on the mainland. I am never too far away from the flavors of my home in Hawaii.
A rule with passion fruit is to wait until the fruit gets a bit wrinkly on the outside. My mom's passion fruit are yellow in Hawaii but the ones you will find on the mainland will most likely be purple with a smooth round skin. If you want to get them riper quicker, put them in a paper bag for a few days and observe how the outside shell begins to wrinkle. This means that the juice inside is getting sweeter. Passion fruit will still have a nice tang to it, but won't be as tart when you allow it to ripen a bit more.
I have been dreaming about a sweet and tropical treat for sometime now but wanted to make something a little different than with my lilikoi bars, which are by the way...incredible! So lilikoi cheesecake tart was invented! I added fresh lilikoi juice to the cheesecake mixture and also poured lilikoi glaze all over the top of the tart. And let me tell you....it was pure heaven! If you can, after you make everything, allow it to cool and set up in the fridge before cutting into it. And enjoy the flavors of the tropics!
Oh, and please refer to this post to learn how to make lilikoi juice, however here is a Pulp product you can order.
More inspiring desserts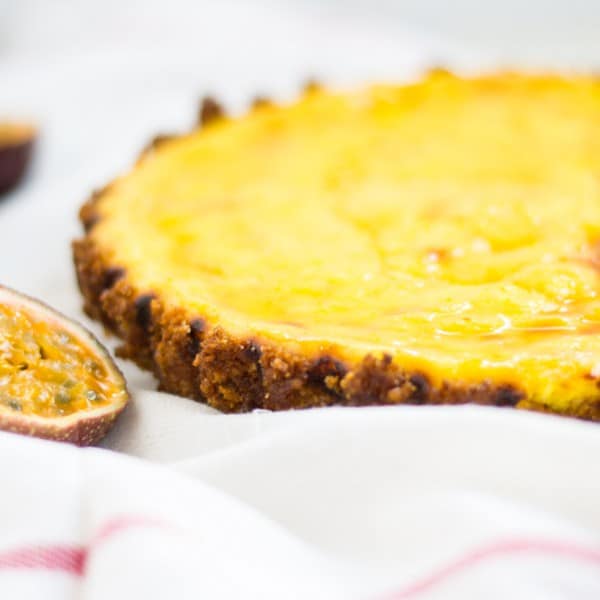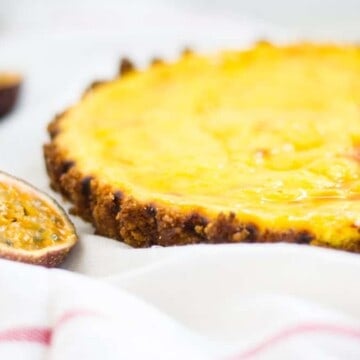 Lilikoi Cheesecake Tart with Lilikoi Glaze
LittleFerraroKitchen.com
A tropical lilikoi cheesecake tart with made with fresh passion fruit juice and finished with a sweet and tart passion fruit glaze.
Instructions
First make the crust. If you haven't already, pulse graham crackers, salt and sugar in a food processor until finely ground. Add melted butter and press into a tart pan. It is beneficial to have a tart pan with a removal bottom. Press so crust is even on bottom and sides. Bake at 350 degrees F for 10 minutes or until crust firms up.

Make the cheesecake. In a bowl, mix together the cream cheese, sugar, egg, lilikoi juice and salt using a stand or hand held mixer. Mix until everything is combined and fluffy.

When crust is done, remove from oven and allow to rest for a few minutes. Pour in cheesecake mixture and continue to bake at 350 degrees F for about 35 minutes or until the cheesecake is firm but still has a slight giggle to it.

While cheesecake is baking, make the glaze.

In a small pot, add water and sugar and allow to boil for 5 minutes until the sugar dissolves. Add lemon juice and lilikoi juice and continue to boil for another 3-4 minutes until it turns into a thick syrup. Remove from heat.

When cheesecake is done, remove it from the oven and pour the lilikoi syrup all over the cheesecake.

Allow cheesecake to cool at room temperature before cutting into it.
Nutrition
Calories:
270
kcal
Carbohydrates:
40
g
Protein:
8
g
Fat:
10
g
Saturated Fat:
5
g
Polyunsaturated Fat:
0.5
g
Monounsaturated Fat:
3
g
Trans Fat:
0.3
g
Cholesterol:
44
mg
Sodium:
419
mg
Potassium:
218
mg
Fiber:
1
g
Sugar:
30
g
Vitamin A:
475
IU
Vitamin C:
13
mg
Calcium:
147
mg
Iron:
1
mg
Did you make this recipe?
Let us know by leaving a comment and 5 star rating!