Ahh..it's good to be back. Joe and I went on another mini/post-grad vacay and hid out at his sisters spot in Palm Springs. Even though it didn't break 100 degrees, there is nothing like the desert oasis to purify you of "real-life" duties. Because it is always 100 and over in the summer, we planted our booties by the pool and intermittently jumped in the pool as needed.
I finally read a book for the first time in 4 yours, I mean a non-text book. And I have to tell you, reading for enjoyment is sure a lot different than reading for necessity. When you read a text book, you really don't necessarily have read the chapter word-for word. Instead students train their eyes to speed read and skim the pages to find the key words they are looking for. For instance, explanations, definitions, diagrams…really just answer to the questions, and then we move on.
However, reading a real book, fictional or non is completely different. On our to Palm Springs I was so elated to buy a book that sounded amazing. I was listening to AM Talk and they were talking about the story of Jessica Buchanan and played an audio clip of the book. The suspense hooked me and I quickly downloaded it on Joe's kindle. I was determined to begin reading a book for enjoyment and to get the other side of my brain fired up again. But I noticed that as I brgan reading, I wasn't savoring each sentence. I was quickly reading through the pages and thinking, "where's the main event?" I needed to take a breath and stop and understand that reading a book builds your suspence, it's not supposed to be rushed or skimmed. So I went back and re-read the skimmed pages. So far I am half ay through and already have another set up books ready to go.
So the question of the day is: Do you like to read? Have you gone through a "text-book to novel transition"?
And speaking of savoring and enjoying, that is exactly what I did with these fruit bars (See, nice transition, huh?) I have a thing for fruit bars, such as these passion fruit bars and kumquat-cardamom bars. If there is some sort of fruit juice involved, I seem to make it into a bar.
I've made simple lemon bars before and it is the usual go-to desert in this house because it is so easy, packs wonderfully and everyone loves them. But sometimes I get a wild hair and and add lavender. But this time I wanted something that mimicked the lemon, something bright and earthy. It was a toss-up between fresh thyme and rosemary. I love them both, but thyme won.
These are not as sweet as you would think with lemon bars. They are tart and the thyme mellows out the sweetness a little more but still leaves the herb delicate in the background like "hmm..what is that earthly aroma."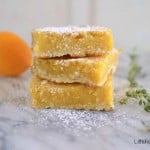 Print Recipe
Lemon Thyme Bars
Ingredients
For the crust:
1/2

lb

butter

room temperature

1/2

cup

sugar

2

cups

flour

2

Tb

fresh thyme

1/8

tsp

salt
For the filling:
6

eggs

room temperature

2

cups

sugar

1

cup

fresh lemon juice

About 3-4 lemons

Zest of 2-3 lemons

1

cup

flour

Powdered sugar

for dusting

Fresh thyme for garnish
Instructions
Preheat the oven to 350 degrees F. For the crust, cream the butter and sugar together in mixer until well incorporated.

In another bowl, add together the flour, salt and fresh thyme. Add flour mixture to butter mixture with mixer on low and mix until just incorporated.

With floured hands, take dough and gather into a ball. Then flatten dough and form in a 9 x 13 baking dish, bringing up 1/2in on each side.

Allow to chill in refrigerator for 30 minutes.

For the filling, whisk together the eggs, sugar, lemon zest, lemon juice, and flour. Pour over the crust and bake for about 30 minutes, until the filling is set. Let cool to room temperature.

Cut into triangles and dust with powdered sugar and fresh thyme.
Nutrition
Calories:
670
kcal
|
Carbohydrates:
101
g
|
Protein:
9
g
|
Fat:
27
g
|
Saturated Fat:
16
g
|
Polyunsaturated Fat:
2
g
|
Monounsaturated Fat:
7
g
|
Trans Fat:
1
g
|
Cholesterol:
184
mg
|
Sodium:
268
mg
|
Potassium:
146
mg
|
Fiber:
2
g
|
Sugar:
63
g
|
Vitamin A:
972
IU
|
Vitamin C:
15
mg
|
Calcium:
42
mg
|
Iron:
3
mg