A little something to help me, I mean us get through hump day and the rest of the mix. Shake and done in 90 seconds…these are way too easy guava mojitos! And as Ina would say, "how easy is that?"
Looking at these photos is a bit bittersweet, since these were some of the last things I made before we moved. And boy am I going to miss all that natural light I had in my kitchen. The move, let's just say..a tad stressful It all happened so quickly and in 10 years of living in the same place, we accumulated a lot of sh*t! Did I really need 3 paella pans, 4 pizza peels and a left-handed egg whisker?? Well, don't answer that.
There was one point about 2 days before we drove away where I just threw up my hands and said "take it all"! I had random neighbors coming by, co-workers and friends and I just laid all the stuff out and said go for it. Even though we were stressed and feeling every other emotion scattered through our bodies, the one thing we made time for, and always make time for..is connecting at the end of the day.
Now I probably can thank the guava mojito for this, because #1, it's delicious and made me forget what the heck we were in the middle of for a few seconds, #2, it's quick to prepare, but it also gave us time to stop, connect and talk about what we were feeling! I am sure the rum helped a bit, bit t was about the action of stepping back and enjoying the moment in the midst of dare I say, organized chaos.
Now one month in, we are slowly but surely getting settled and kitchen boxes are (mostly) unpacked, Hula is getting comfortable, we still don't have a couch but we do have a cocktail shaker. So happy Wednesday folks….take some time out of your day and enjoy this way too easy guava mojito.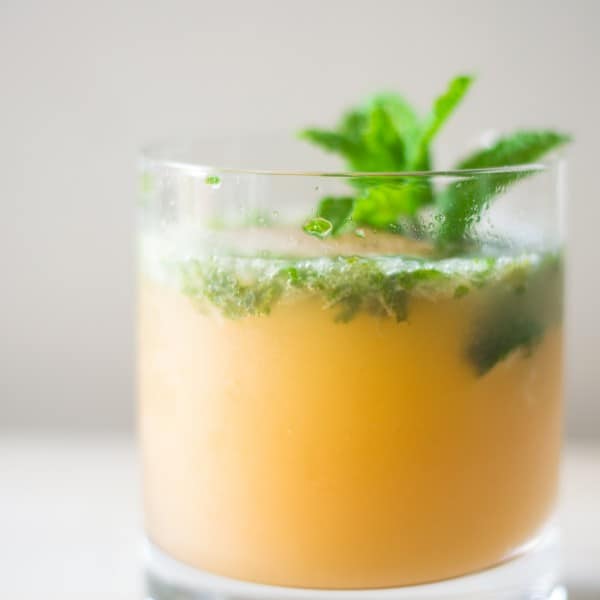 Way Too Easy Guava Mojitos
Ingredients
Small bunch of fresh mint + more for garnish

Wedge of lime

4

oz

rum

2

oz

Cointreau

or orange liquor

12

oz

guava juice

I used Ceres

Sparkling water
Instructions
In a tall shaker or glass, use the back of a wooden spoon (or a muddler) and bruise the mint and lime wedge together to release some of its aroma.

Then, add the rum, Cointreau, guava juice and a handful of ice and close the lid tightly and shake for a good 20 seconds.

Fill a glass with crushed ice (preference) and pour in mojito. Top with sparkling water and mint leaves.
Nutrition
Calories:
282
kcal
Carbohydrates:
21
g
Sodium:
8
mg
Potassium:
179
mg
Fiber:
1
g
Sugar:
19
g
Vitamin C:
43
mg
Iron:
0.04
mg