This flavorful chicken liver paté is chopped coarsely for texture and showcases Mediterranean flavors of capers, fresh herbs and a good amount of bright lemon zest. A bit different then the traditional chicken paté we're used to, but full of fantastic flavors.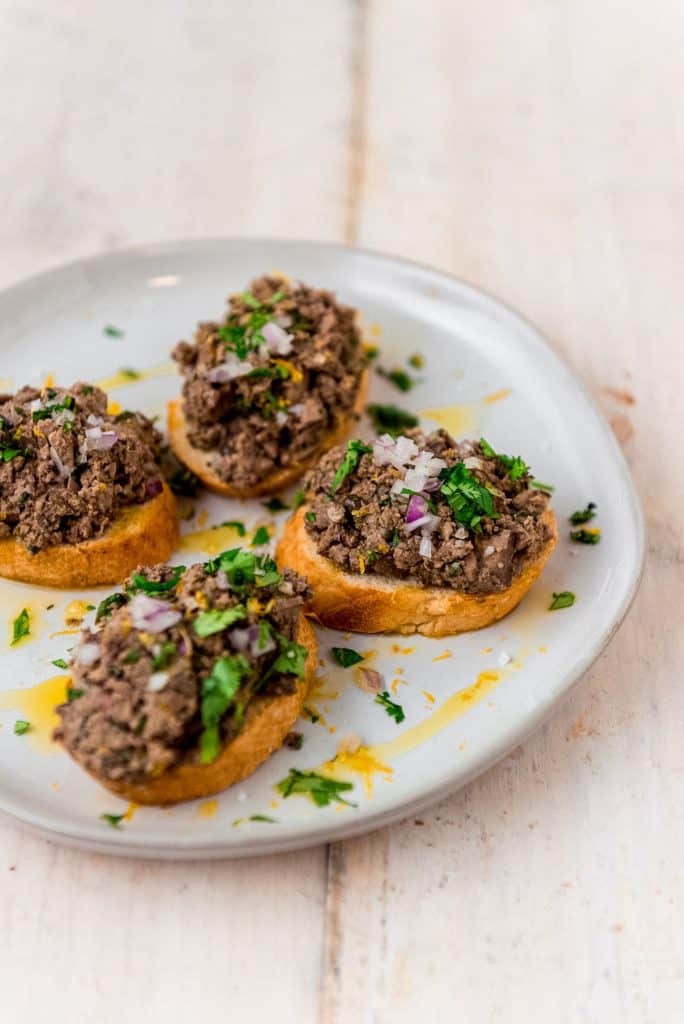 Chicken Liver Pate Inspired from Mozza
This chicken liver pate recipe is inspired from the restaurant, Mozza Restaurant in Southern California. It's a fantastic Italian restaurant and one of their appetizers was a very similar chicken paté that the waiter was raving about.
Mozza's version had added guanciale, which is cured pork that comes from the jowl of a pig. I use guiancale in my carbonara recipe and it offers a fantastic savory and salty bite. However, for my version, I kept it pork-free and added capers and an extra sprinkling of flakey sea salt for that salty bite.
What Makes This Liver Paté Different
Traditionally, you'll often see a French style of chicken paté, which I do love as well. That version is creamy and smooth where you can spread it on a crostini. There is also a Jewish style of chopped liver, which I have fond memories of. However, My Mediterranean twist is roughly chopped with a coarse texture and lots of fresh herbs.
Chicken liver can have a "irony" flavor to it, which can be indecisive. The added flavors of shallots, lemon and capers help cut some of that richness from the liver for a more flavorful and palatable bite.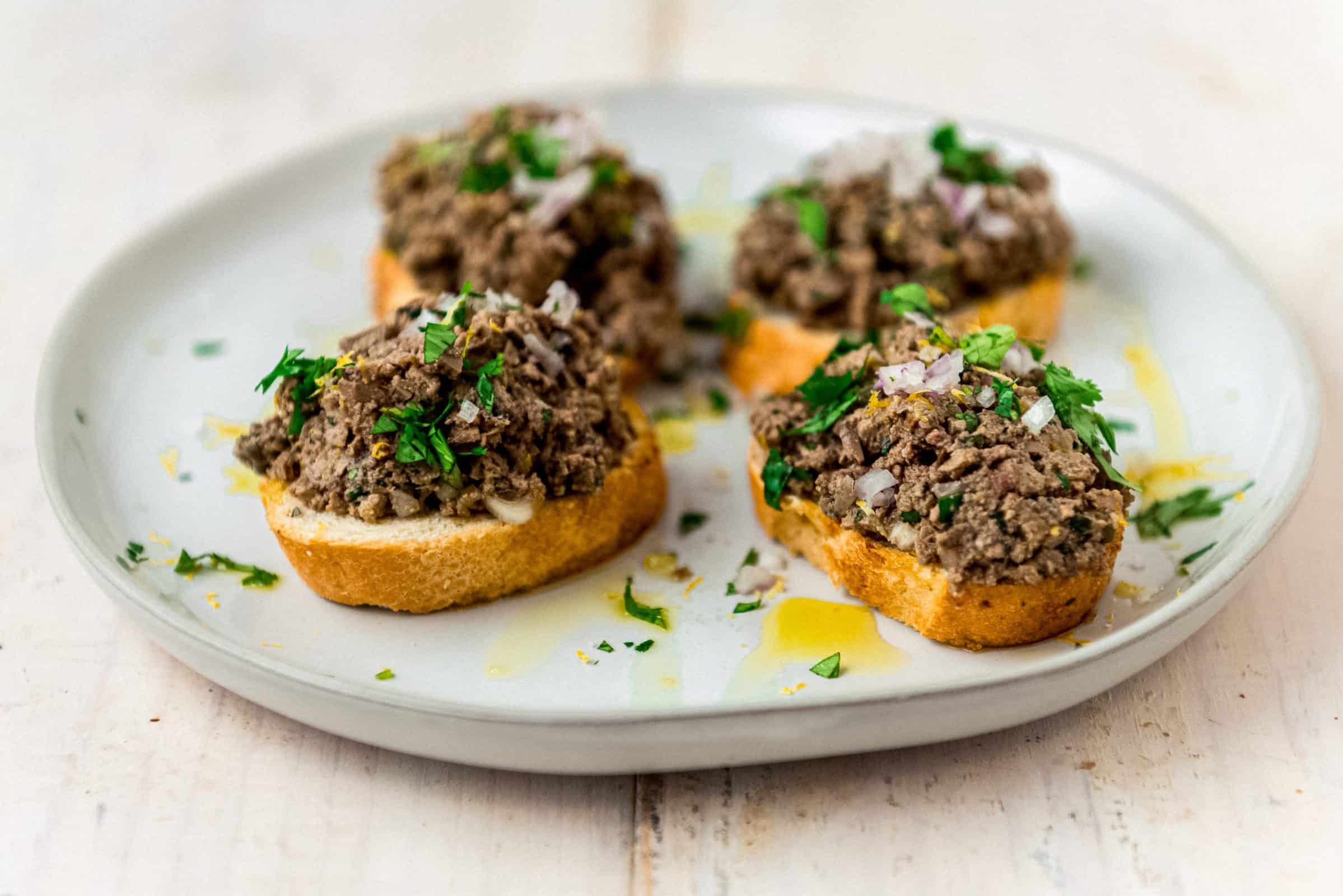 Chicken Liver Paté Ingredients
Chicken Liver: Source the best quality you can find. Preferably from pasture raised chickens, which will have the healthiest organ meat. We are lucky enough to live near local farms and got our chicken liver from Osprey Hill Farms.
Sherry: A touch of cream sherry reduces in the pan with the livers and cuts through the richness of the meat. You can find sherry in most grocery stores in the wine section, but if you can't, a splash of red wine is a good substitute.
Shallots and Garlic: Shallots and garlic are caramelized and add sweetness to the paté. There is also some finely chopped raw shallots mixed in that add a nice sharpness.
Capers: Also offers a sharp bite of brininess to the rich flavors.
Fresh Lemon Juice and Zest: It's the lemon zest that takes this dish over the top. Because liver is so rich, the citrus zest purks up all the other flavors.
Fresh Herbs: I've used both parsley and/or fresh cilantro. Give the leaves a rough chop and mix in.
Olive Oil: Good quality, extra virgin olive oil for drizzling on top as a finishing oil. I really love this Laudemio Olive Oil.
A Few Tips on Cooking Chicken Liver
Liver is very delicate so be gentle when working with the meat.
Cut off any extra fat or tissue before cooking.
Livers can handle a good sear, so get the pan nice and hot to achieve a good crust.
Livers cook very quickly, avoid overcooking, which can change the texture.
Chicken liver pate is great made ahead by a day and can last in the fridge, tightly wrapped for up to 5 days.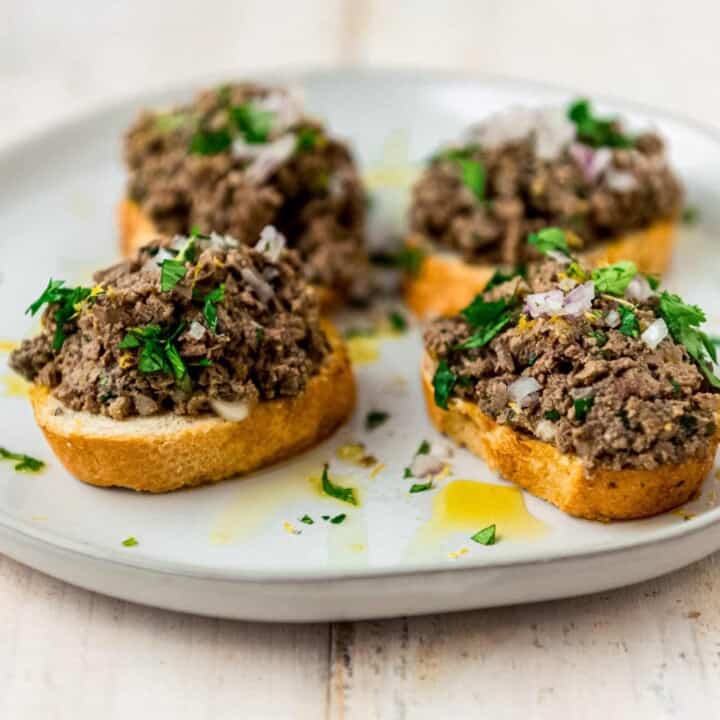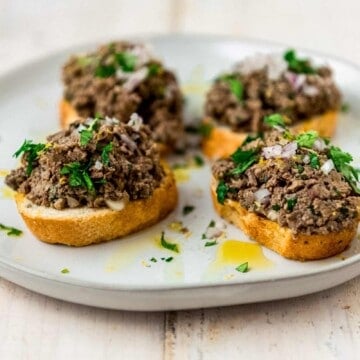 Chicken Liver Paté with Capers
LittleFerraroKitchen.com
This flavorful chicken liver paté is chopped coarsely and showcases bright Mediterranean flavors of capers, fresh herbs and a good amount of lemon zest.
Ingredients
1

pound

chicken livers

½

cup

olive oil

divided + more for garnishing

2

shallots

finely chopped and divided

1

garlic clove

finely chopped

2

tablespoons

sherry or red wine

2

tablespoons

capers

Small bunch of parsley leaves + for more garnish

Zest of 1 lemon + more for garnish

Juice of ½ lemon

Sea salt

for finishing

Toasted crostini

for serving
Instructions
Plce chicken livers on a few sheets of paper towels to dry (they may stick) and cut off any fat or connective tissue. Season with salt and pepper

Heat a medium sized skillet over medium heat and drizzle with ¼ cup of olive oil. 1 finely chopped shallot and saute until caramelized and soft, about 2-3 minutes. Add garlic and saute for another minute.

Add chicken livers and increase heat if needed to give them a good sear. Sear on first side for 1-2 minutes, then turn over and sear on the other side for another 1-2 minutes until just cooked through.

Pour in sherry and scrape any bits from the bottom of the skillet and reduce heat to medium.

Add capers and stir everything together. The sauce should have thickened but there should still be some moisture.

Remove from heat and place liver mixture onto a clean cutting board (I like to use a plastic cutting board for proteins) and pile the other finely chopped shallot, parsley, lemon zest and lemon juice and rest of the olive oil and give everything a really good chop.

Taste for seasoning and add more salt if needed. If the mixture is on the drier end, drizzle more olive oil and chop it through the mixture.

Spoon mixture on top of toasted crostini and top with parsley, lemon zest and a good drizzle of olive oil. If you have leftover chopped shallot, the added crunch is a nice touch.
Notes
Chicken liver pate is great made ahead by a day and can last in the fridge, tightly wrapped for up to 5 days.
Taste for seasoning and adjust as needed, more or less lemon or more capers, for example.
A flakey sea salt at the very end offers a nice crunch.
Nutrition
Calories:
261
kcal
Carbohydrates:
2
g
Protein:
13
g
Fat:
22
g
Saturated Fat:
4
g
Polyunsaturated Fat:
3
g
Monounsaturated Fat:
14
g
Trans Fat:
1
g
Cholesterol:
261
mg
Sodium:
129
mg
Potassium:
209
mg
Fiber:
1
g
Sugar:
1
g
Vitamin A:
8379
IU
Vitamin C:
14
mg
Calcium:
12
mg
Iron:
7
mg
Did you make this recipe?
Let us know by leaving a comment and 5 star rating!