Fun and colorful Beach Cupcakes perfect for July 4th!
I am so thrilled that July 4th is just a few days away! Our little beach town is known to have multiple block parties each year we stick our little American flag on our beach cruiser bikes and make the rounds. Hula rides with us in Joe's bike basket and she always turns out to be the summer mascot!
So for this weeks #SundaySupper festivities, one of my favorite blogger gals, Jennie is hosting the #SundaySupper Summer BBQ Party and I am pretty excited to see all the BBQ treats and sweets that everyone is bringing!
And... you're going to laugh. I actually made these cupcakes LAST year! With the annual July 4th party, our block also throws the annual Ice Cream and Dessert Contest. It's pretty ligit and serious if you ask me. Huge tables are filled with themed and patriotic sweets and everything is timed to perfection until the call for the ice cream comes. Then everyone on our block runs to their homes and grabs their award-winning ice cream. I'm tellin' ya, I totally live in Mayberry by the Beach.
My contribution to the desert challenge were these festive and colorful cupcakes. I am really glad I saved the photos for 1 whole year so I can share these super fun and totally adorable patriotic treats with you!
Now if you know me, you know I rarely if ever eat processed foods and colored-candied treats, but ya know...once in a while for some fun is never a bad idea. I did color the icing and the cupcake batter using gel dye. But honestly, it was like a few drops. I have also used organic dye and it just doesn't produce the same color that I was looking for, not for this creation.
For toppings you can have as much fun as you want! The sand is made out of ground graham crackers and the "sea" is a wavy blue icing. I stuck a little cute gummy bear dude on his private island and gave him a life saver if he wanted to hit the waves. Someone else suggested a rolled up fruit roll-up as his beach towel and I think that is an awesome idea!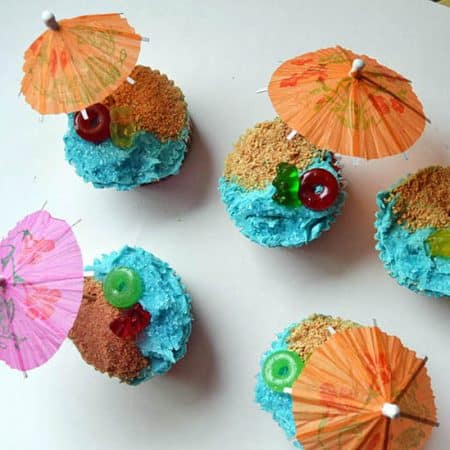 Beach Cupcakes for #SundaySupper
LittleFerraroKitchen.com
Fun and colorful Beach Cupcakes perfect for July 4th!
Ingredients
Red, White and Blue Chocolate Chip Cupcakes
2 ¼

cups

cake flour

1

Tbl baking powder

½

teaspoon

kosher salt

1 ¼

cups

whole milk

room temperature

4

large egg whites

room temperature

1

stick

8 tablespoons butter, room temperature

1 ½

cups

sugar

1

vanilla bean

cut in half and scraped

2

teaspoon

vanilla extract

1

cup

chocolate chips

1

lemon

zested

Red and Blue gel food coloring

few drops
"Sea" Vanilla Butter Cream
Toppings
Gummy bears

Life saver candies

Ground graham crackers

Blue sugar

Drink umbrellas
Instructions
Red, White and Blue Chocolate Chip Cupcakes
Start making the cupcake batter. In a large bowl, sift the flour, baking powder and salt.

In another bowl, whisk together milk and egg whites.

Using your stand mixer with a paddle attachment, beat together the butter, sugar and vanilla bean seeds until everything is well mixed and light. Add the vanilla extract.

On low speed alternate adding the flour mixture and milk/egg mixture, about ⅓ of each at a time.

So add ⅓ flour, then ⅓ milk, flour, milk and end with the flour. Mix until well incorporated. Then add the chocolate chips and mix until just combined.

At this point you can divide the batter into 3 bowls evenly. Using your dye, color 1 bowl with red dye until desired color and another bowl with blue.

Line cupcake pan with liners use a large tablespoon to scoop each one of the different colored batters. So start with red, white and then blue batter and alternate until batter is about ¾ full.

Bake cupcakes at 350 degrees F for about 18-20 minutes or until you can stick a toothpick in a cupcake and it comes out clean. When done, cool on wire rack.
"Sea" Vanilla Butter Cream
In a stand mixer, cream the butter until very smooth (this may take a while) and then add the vanilla extract.

With the mixer on low speed, slowly add in the confectioners sugar until blended and scraping down the bowl as needed.

Add the milk and beat on high for about 3-4 minutes until butter becomes light and fluffy. Add a few drops of blue dye to get the color of the "sea".

Coat the cupcakes with a light layer of frosting and top half of cupcake with ground graham crackers. Use a cake spatula to add more frosting to the other side of the cupcakes and make "waves" with the frosting.

Top with a gummy bear dude, life saver and umbrella.
Nutrition
Calories:
351
kcal
Carbohydrates:
75
g
Protein:
6
g
Fat:
13
g
Saturated Fat:
8
g
Polyunsaturated Fat:
0.5
g
Monounsaturated Fat:
2
g
Trans Fat:
0.3
g
Cholesterol:
26
mg
Sodium:
204
mg
Potassium:
95
mg
Fiber:
1
g
Sugar:
36
g
Vitamin A:
314
IU
Vitamin C:
5
mg
Calcium:
63
mg
Iron:
0.5
mg
Did you make this recipe?
Let us know by leaving a comment and 5 star rating!