I have such a treat for you today. Vijay who reins  as the Editor and Chief of one of my favorite new and upcoming websites, Nosh on It is guess posting for us today! Nosh on It features hand-picked recipes and expert cooking tips from amazing up-and-coming bloggers so you don't have to think about what to make for dinner! What I enjoy most about their site is that each day of the week features a different cuisine, such as Wednesday which is "World Cuisine Day" and the day I shared my Mom's grape leaves!
If you want to try out their emails, just head over here:http://subscribe.noshon.it. And on Facebook!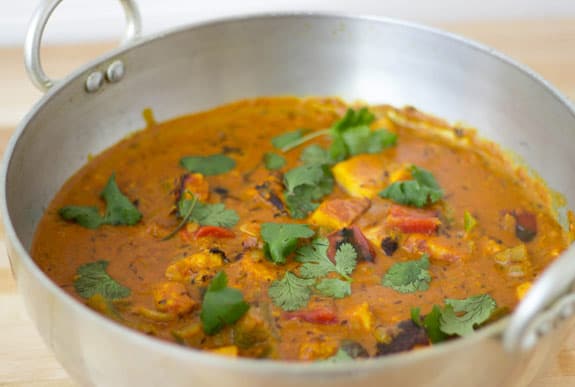 As most people know, I have a pretty deep fascination with international foods and really believe that we can learn all about different cultures from their foods. Beautiful dishes from around the world are passed down to generations with love, respect and history and Indian food is something I am slowly venturing into. The colors are vibrant, the spices are exotic and their cuisine is tempting.
Today, Vijay is here to introduce this traditional Indian dish with a simple step by step guide! Gosh I am excited!
———————————————————————————————————————————————————————–
Hi everyone! My name is Vijay and I'm the Editor and "Chief Nosher" at NoshOn.It, a daily email to inspire you to cook just a little bit better each and every day. I'm really excited to be posting over here today because Samantha and I share a special bond over the love of cooking foods from around the world. I truly believe that the best way to explore a new culture (whether you can visit the place or not) is through its food. So, today, I want to share with you one of my favorite Indian dishes: Paneer Tikka Masala.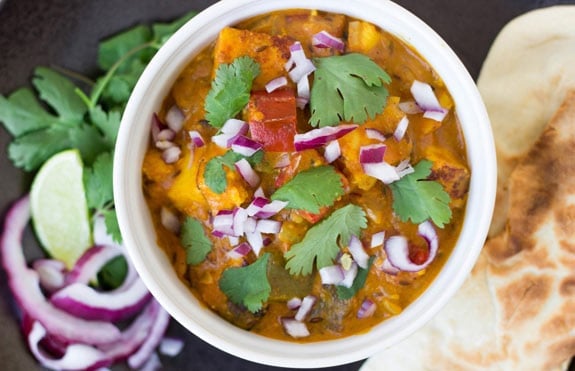 If you've ever had Chicken Tikka Masala, think of this dish as its vegetarian cousin. Paneer, an Indian cheese, is marinated in yogurt and a blend of spices then sauteed until crispy. In a different pot, you make a silky, creamy sauce with onions, garlic, ginger, tomatoes, and spices then combine it all together for an absolutely delicious dish. I'm going to venture to say that this is even better than what you get in restaurants!
To be perfectly honest, this is not a dish I grew up eating at home. Over the years, I've just come to appreciate the combination of textures and flavors so I figured it was about time to figure it out for myself.
And, if you think Indian food is too difficult to make at home, I'm here to prove to you that it's not! All you need is a well-stocked spice cabinet and a little know-how, which is why I'm going to walk you through it step-by-step. Don't be scared by the long list of ingredients – it comes together in 30 minutes (after the marinade). So, let's get started!
Method:
1) Gather the ingredients to marinate the paneer. You should be able to get all of the spices and paneer at any Indian grocery store and maybe even at your local grocery store if they have a well-stocked ethnic aisle. Be sure to use greek yogurt since it's thicker. If you've never heard of Tandoori spice, it's a combo of cumin, coriander, paprika, chili powder, and other spices.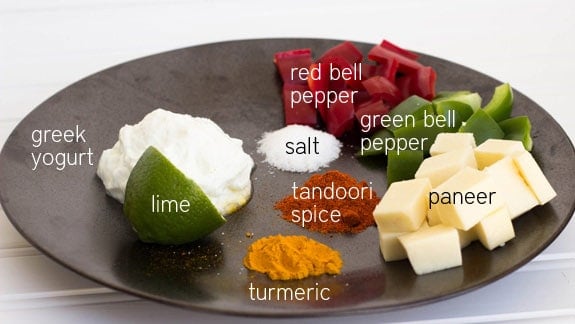 2) Mix all of the marinade ingredients together, add the paneer and bell peppers, cover, and marinate in the fridge for an hour if you can.
3) Get the ingredients together for the rest of the dish. To make the ginger garlic paste, just add equal parts chopped ginger and chopped garlic into a blender with enough oil or water to puree.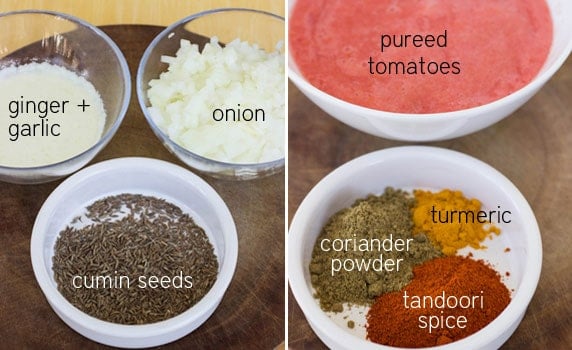 4) After the paneer has marinated for an hour, coat the bottom of a saute pan with oil, heat on medium-high, and add the paneer and vegetables. Saute, flipping every few minutes, until the paneer gets a nice charred crust. Set aside.

5) In a separate large pan, add a few tablespoons of oil, heat, and add the cumin seeds. Once they start sizzling, add the onions and cook until browned. Add a pinch of salt. Add the ginger-garlic paste, stir  for 30 seconds, then sprinkle with flour. Cook for 1 minute then add the pureed tomatoes.
6) This is the most important step. Once the tomatoes have started to darken, add the remaining spices and cook, stirring often, until the mixture is almost a paste and you see a bit of oil oozing out, 10-15 minutes. If you don't let the tomatoes cook enough, the flavor won't be as deep.

7) Add enough water to make a sauce (for me, it was 2-3 cups), simmer for 5 minutes, then add a sprinkle of garam masala. Add the cooked paneer and peppers and cook for another 5 minutes.
8) Finish with a drizzle of cream to soften the bite and ta-da! You've just made an Indian restaurant classic at home!
9) Serve with naan bread (I like the frozen kind from Trader Joe's) and a wedge of lime. Enjoy!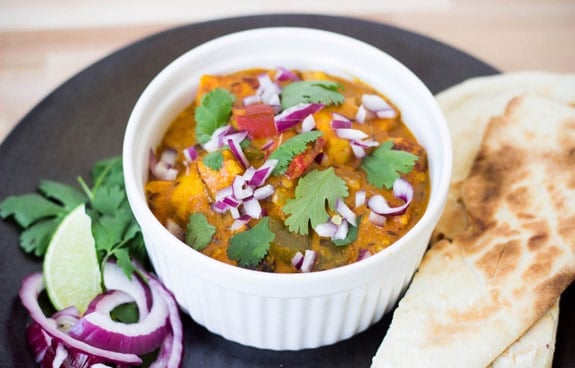 ————————————————————————————————————————————————————————-
Thank you Vijay for making such a gorgeous and authentic dish. I will be sure to visit an Indian market and making this ASAP!
And be sure to follow Nosh On It on Facebook and Twitter too!
Ingredients
Paneer Marinade:

16 oz. paneer, cut into 1" cubes (if you can't find paneer, you can make your own or use extra firm tofu).
1 small green bell pepper, cut into 1" cubes
1 small red bell pepper, cut into 1" cubes
1/3 cup Greek yogurt
½ tsp turmeric
1 ½ tsp. tandoori spice powder
Juice of ½ lime
1 tsp vegetable oil

Sauce:

2 tsp cumin seeds
1 medium yellow onion, finely diced
1 tbsp minced ginger + 1 tbsp minced garlic, blended into a paste with oil
2 tsp all-purpose flour
3 plum tomatoes, stem removed, and pureed in a blender
2-3 cups water
1 tbsp coriander powder
1 tbsp tandoori spice powder
½ tsp turmeric
1 tsp garam masala powder, optional
¼ cup heavy cream
Cilantro and lime, for garnish
Instructions
Combine all marinade ingredients in a bowl and marinate in the fridge for at least 1 hour. You can do shorter but the paneer won't have the same flavor.
After the paneer has marinated, coat the bottom of a large saute pan with vegetable oil. Heat until shimmering then add the marinated paneer and peppers. Allow to cook on one side for 3-4 minutes then flip and continue cooking until deep golden brown on all sides, about 10 minutes total. Set aside.
In a separate large pan, heat 2 tablespoons of vegetable oil until shimmering. Add the cumin seeds.
When the cumin seeds start sizzling, add the onions and a pinch of salt. Saute until the onions are golden brown, 5-6 minutes.
Add the ginger-garlic paste and cook for 30 seconds.
Sprinkle the flour over the mixture and cook, stirring constantly, for 1 minute.
Add the pureed tomatoes and mix to incorporate, scraping the bits off the bottom of the pan.
After about 5 minutes once the tomatoes have darkened slightly, add the coriander powder, tandoori spice powder, and turmeric.
Stir to combine and cook, stirring often, until the tomatoes have turned into a paste and you see a bit of oil oozing out, 10-15 minutes. Don't rush this step!
Add enough water to make a sauce. It was 2-3 cups for me but you can make it as thin or thick as you like. Stir to combine and simmer for 5 minutes.
Add the garam masala and the reserved panner and peppers. Simmer for another 5 minutes.
Add the heavy cream, a sprinkle of cilantro, a squeeze of lime, and you're ready to eat!
Serve with naan bread or rice.
7.6.4
109
http://littleferrarokitchen.com/2013/01/guest-post-paneer-tikka-masala/