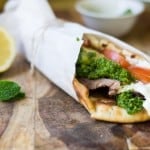 The lamb serves easily 6-8 people, so please adjust toppings and bread to the amount of servings.
Lamb Shwarma
5

lb

leg of lamb

bone in

5

cloves

ground

1/2

tsp

cardamom

1/2

tsp

fenugreek

1

tsp

fennel seeds

1

Tb

cumin

1/2

tsp

cinnamon

1/2

whole nutmeg

grated

1/4

tsp

ginger powder

1

Tb

paprika

1

Tb

sumac

2

tsp

sea salt

3

garlic cloves

chopped finely

1

lemon

zest and juice

Small bunch of fresh cilantro

chopped

Small bunch of fresh parsley

chopped

1/2

cup

grapeseed oil

or any light oil
Zhoug
1

large bunch of cilantro

leaves and stems

1

large bunch of parsley

leaves and stems

1

jalapeno

stem removed

1/2

tsp

cumin

1/2

tsp

cardamom

1/4

tsp

sugar

1/4

tsp

kosher salt

2

garlic cloves

1/4

cup

water

Drizzle of olive oil
Additional Ingredients and Toppings
Naan or Pita bread

1 per person

Chopped Salad - Please go here for recipe

Yogurt mint sauce - Please go here for recipe
Lamb Shwarma
To make the lamb, add all the ingredients (exept the lamb) in a bowl and stir to combine. Score the lamb about 1/2 slits on the fat side and meat side. Rub the marinate all over the lamb, making sure to get in the slits you made. Place it in a bowl and allow it to marinate in the fridge for at least 6 hours or over night.

When ready, take the lamb out of the fridge and allow it to sit at room temperature for abotu 20 minutes. Use kitchen twine to wrap the uneven parts of the meat and make it a more uniform shape.

If using a rotiserrie, follow manufactures instructions. It took about 2 hours for our lamb to cook.

If using the oven, place lamb in an oven proof dish with fat side up. And roast at 325 degrees F for about 4 1/2 hours.

After 30 minutes of cooking, add 1 cup of hot water to the pan and baste about every hour.

The last 3 hours, cover the pan with foil so the rub doesn't burn.

When done, the meat should fall apart easily and read 160 degrees F using a meat thermometer. Allow the meat to rest for 10 minutes before slicing.
Zhoug
Place all ingredients in a food processor and pulse to combine. The sauce should not be too smooth and still have texture to it. Taste for seasoning and serve with lamb or other protein.
Putting Lamb Shwarma Together
Heat the bread in a skillet or pizza stone so that it becomes slightly crispy. Place a few slices of lamb first, then dress with chopped salad, yogurt sauce and zhoug.