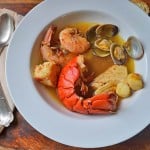 Print Recipe
Julia Child's Bouillabaisse
Please credit the recipe with the following: Excerpted from Mastering the Art of French Cooking by Julia Child. Copyright © 1961 by Alfred A. Knopf. Reprinted with permission from the publisher Alfred A. Knopf, a division of Random House, Inc.
1

leek

washed well and chopped

3-4

cloves

garlic

chopped

1

large can of diced tomatoes

drained

6

cups

of water

1

bay leaf

1/2

tsp

thyme

1/8

tsp

fennel

2

pinches

saffron

1

large piece of orange peel

About 3lbs of assorted fish

We used: sword fish, halibut, lobster, clams, mussels, shrimp, scallops

Salt and pepper

to taste

Olive oil for drizzling
Saute leeks in olive oil for about 5 minutes until wilted but not browned.

Add garlic and tomatoes. Raise heat and cook for a few more minutes.

Add about 6 cups of water, all the herbs and seasonings, orange peel and fish. At this point I placed in all the fish but the shell fish. Allow to cook at a moderate boil for about 30 minutes.

Add in the shell fish and allow to cook for an additional 10 minutes.

Once the fish is cooked. Gently take the fish out and reserve to a platter. Using a strainer or sieve, strain the soup leaving just the tomato broth. Taste broth for seasoning. (More salt?)

To plate, plate fish and shell fish in bowl and ladle broth.