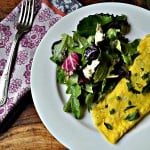 Print Recipe
Julia Child's Omelette Roulee
Excerpted from Mastering the Art of French Cooking by Julia Child. Copyright © 1961 by Alfred A. Knopf. Reprinted with permission from the publisher Alfred A. Knopf, a division of Random House, Inc.
Begin by heating a 7 inch non-stick skillet with 1 Tbl of butter on high heat. Swirl the pan so the butter coats all over and the sides. Allow the butter to melt and watch for the butter to foam but don't allow to brown.

Beat eggs in a bowl until the whites and yolks are just mixed. Add chopped herbs, salt and pepper and whisk one more time.

Just as the butter is foaming, pour the eggs into the pan and allow to set for about 3 seconds while swirling the pan so it doesn't stick or overcook.

Now here's the tricky part. Tilt the pan away from you slightly and begin jerking it towards you so that the eggs are folding over itself.

Then have your plate ready in another hand and tilt the omelet from the pan onto the plate.