Remember on Friday when I teased you about the mystery box challenge I am doing with Whole Foods, Long Beach? Well here is the appetizer! I asked on facebook, "What would you make with these ingredients?" and I got some pretty awesome- 'Wish I thought of that' ideas! A lot of you said ratatouille, which makes sense from all that gorgeous produce. Someone else said ceviche with the tilapia and citrus. I actually wish I would have thought of that! Some other people said roasted vegetable pasta or lasagna. All sound amazing!
I really wanted to utilize those gorgeous tilapia filets. Sure I could have just pan fried htem and throw them over some quinoa or pasta or in a taco. But I wanted to try something different. Sometimes when Joe and I go to the local fish restaurant, we order crab cakes. So…what about tilapia fish cakes over watercress and roasted vegetable salad? Yum!
We trust Whole Foods in Long Beach when buying our protein. Fish is in such high demand these days that it is crucial to keep the fish supply sustainable in the future. What I trust with Whole Foods is that they work closely with fisheries that are NOT overcrowding their fish supply to just sell as quickly as they can, instead Whole Foods works with responsible fisheries that raise abundant, healthy fish so we all know what is going in the fish we eat and especially what is NOT!
Besides receiving responsibly raised fish, I also was gifted with organic cage free eggs! I only buy eggs from Whole Foods in Long Beach because all of their eggs are cage-free and I can trust the health quality of the eggs and chicken I am eating. After studying some research, I learned that all of the hens are kept in a hen house that allows them to completely move around their hen house. I know that my eggs are not stressed and and are constantly cared for.
With all of these amazing ingredients, I had to let them shine. I created a simple roasted vegetable salad and tossed with mustard-y watercress. I then oven baked the tilapia so flavor would just jump out and created fish cakes with fresh herbs, lemon and panko. The fish cakes cake out crispy on the outside and tender in the middle. It makes enough for a few people to share and are perfect to make ahead (before the pan-frying).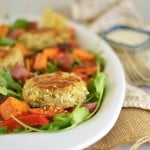 Print Recipe
Fish Cakes with Roasted Vegetable Salad
Ingredients
Tilapia Fish Cakes
3/4

lb

Tilapia fillets

1/4

c

mayonnaise

1

egg

1/2

cup

panko + more for coating

1/4

c

fresh parsley

chopped

1/2

lemon

juiced and zest

1/4

tsp

cayenne

Salt and pepper

to taste
Roasted Vegetable Salad
1

large bunch of watercress

1

sweet potato

cut into 1 inch pieces

1

bell pepper

cut into 1 inch pieces

Olive oil and lemon juice

for water cress
Horseradish Tartar Sauce
1/4

c

mayonnaise

1

Tb

mustard

1

Tb

fresh horseradish

1

lemon

juiced

1

Tb

capers

roughly chopped

Salt and pepper

to taste
Instructions
Tilapia Fish Cakes
Place fish filets in a shallow dish and drizzle with olive oil, salt and pepper. Bake at 400 degrees F for 20 minutes until fish is cooked. Allow to cool.

In a large bowl, add the tilapia fillets and flake gently with a fork. Add the rest of the fish cake ingredients and mix together. (Only using 1/4c panko in the mixture).

Place extra panko on a plate for the fish cakes.

Use your hands to form fish cakes. This should make about 5 and they should be the size of your palm.

Coat in extra panko on both sides and pan-fry in a hot skillet with olive oil.

Cook on 1 side until golden brown, about 3-4 minutes and then flip over to cook other side until golden brown and crispy.
Roasted Vegetable Salad
Lie sweet potato and bell pepper on foiled lined sheet and toss with olive oil, salt and pepper.

Roast in 350 degree oven for 25-30 minutes until sweet potato are fork tender and begin to blister. When done, allow to cool to room temperature.

Dress watercress with olive oil and lemon juice and top with roasted vegetables.
Horseradish Tartar Sauce
In a small bowl, combine all ingredients and allow to marinate in fridge for at least 30 minutes. Use this as a dipping sauce for fish cakes.

Assemble salad: Use a large platter for salad and top with fish cakes. Have tartar sauce on the side.
To find out everything I received in my mystery box, click here.
Find out what I will be making on Wednesday for my entree!
Learn more about Whole Foods milk and eggs here!
And learn about sustainable seafood here!