Welcome to day 2 of Brunch week week hosted by Terri of Love and Confections and Susan of The Girl In The Little Red Kitchen!  Join us May 5th through 11th while we celebrate the deliciousness of brunch and to prepare for Mother's Day and summer brunching season.  We have 32 bloggers bringing you their best brunch game, from cocktails to eggs benedict to donuts, there is something for everything this week.  Our amazing sponsors have donated some great prizes for a gigantic giveaway, please visit them all for more information.  (Link to giveaway at END of post)
I was really hoping to call this "strawberry RHUBARB crumble" and not just simple strawberry. Which is not a bad thing..strawberries are becoming plentiful and sweeter as we dip deeper into the warmer months, but I was really hoping to finally work with rhubarb.
For as long as I can remember, my mom has always said she loves rhubarb, probably for the same reason I want to- it's tart and not sweet which is what my taste buds crave naturally. I never really "crave" a cake or anything along those lines, but something that's acidic and savory always wins me over.
I finally found rhubarb after 3 grocery store visits and they even had it for an entire day at my local Whole Foods. But now…wham…gone! No rhubarb anywhere!  I feel like this needs to be an epic treasure hunt of the spring rhubarb. Will I ever find it again? Will I ever get to experience slicing into the red stalk and tasting it's cutting bite?

Even tough I am usually a savory tooth-head, I do need a bit of sweet here and there. This usually happens after dinner when my savory tooth has been satisfied and I ache for a minimal sweet treat to end the night. I don't need an entire slice a cake or even a bite of a cupcake. Something fresh, floral with texture. Something like strawberry crumble.
This strawberry crumble has an interesting addition of hazelnut meal, thanks to one of our Brunch week sponsors, Bob's Red Mill. It is basically very finely ground hazelnuts, almost to a powdery consistency and the with the flavor of hazelnuts is still pronounced. To continue it's flavor, I added a "generous" dash of hazelnut liquor to the strawberries, but not too much to overpower.
And the best part of this crumble…..coconut whopped cream! Oh my..I don't think I will ever go back to dairy cream again. Just because it tastes so amazing! I've posted about coconut whipped cream before, and it does take a bit of planning. But I promise you, the end result is so worth it. You won't be getting that spoon away from the bowl!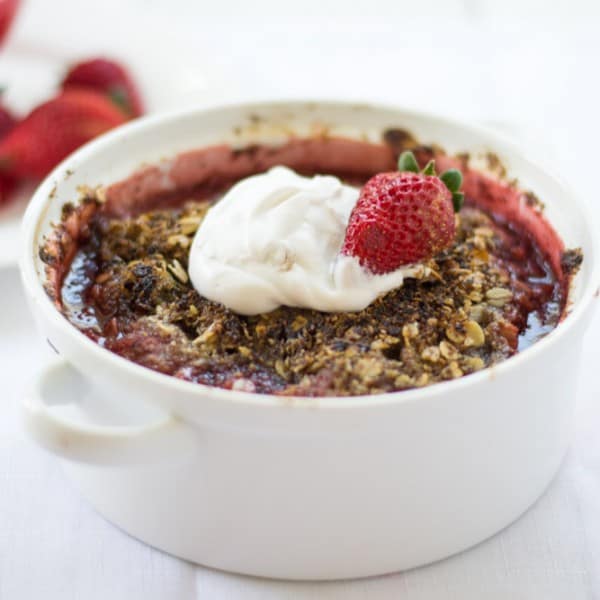 Print Recipe
Strawberry Hazlenut Crumble with Coconut Whipped Cream
Ingredients
Topping
1/2

cup

hazelnut flour

1/2

cup

oats

1/4

cup

butter

cut into cubes

1/2

cup

brown sugar
Filling
1

lb

strawberries

fresh or frozen

1

Tb

cornstarch

1

vanilla bean

split

1

Tb

hazelnut liquor

1

lemon

zested and juiced

1/4

cup

sugar
Instructions
Preheat oven to 375 degrees F

In a bowl, mix togetehr all the topping ingrdients. Use your fingers to work in the butter and break it up so it is evenly distributed.

Next, in another bowl, mix together all the filling ingredients and then pour it into an oven safe dish. I used my 6 cup souffle mold which fit perfectly.

Top with oat topping, gently pressing down.

Bake for 45 minutes until the top begins to turn golden brown. (Note: Keep an eye on it during the last 15 minutes, if it's rurning brown too quickly, cover with foil and continue baking)

For the coconut whipped cream, please click

HERE

for recipe.

Allow crumble to cool for at least 15 minutes. Then top with coconut whipped cream.
And please check out what everyone else made for #BrunchWeek as well as our GIVEAWAY!
Brunch Beverages:


Brunch Egg Dishes:


Brunch Breads and Grains:
Brunch Fruits, Vegetables, Sides: 


Brunch Desserts: 
Giveaway!!
Please go HERE for enter Giveaway!
Disclaimer:
California Walnuts, Bob's Red Mill, Oxo, Dixie Crystals, Whole Foods Market Doctor Phillips, Grimmway Farms, Woot Froot, Vidalia Onion, Baloian Farms, Stemilt and Bonne Maman are providing the prizes free of charge.  I have received product related to these brands to use for #Brunchweek. All opinions stated are my own.