Spinach Pomegranate Salad with Pumpkin Vinaigrette
With all of the recent indulgences my waist line has been enjoying, a wintery salad sounded just about right. I needed something crisp and fresh to cut all the fat and heavy meals we've been having the last few weeks. I cooked up about 3 different kinds of latkes this year, and believe me, I have my fry fix for quite sometime.
I was so intrigued with this salad I couldn't wait to share it. I was invited to an event recently that featured some of Fresh and Easy's holiday dishes at Sur La Table and we were able to make some of their salad creations. My ultimate favorite salad of the event was a spinach and butternut squash salad with pumpkin vinaigrette. I even bought butternut squash the next day and will be blogging about the entire salad put together soon. But for now, I couldn't wait to create the pumpkin vinaigrette again.
This pumpkin vinaigrette contains pumpkin oil which is something I have never seen nor tasted before. It comes in a small bottle where someone described as looking like a bottle of paint thinner and pours out thick and dark and smell . The oil has a dark orange-brown color pronounced nutty smell and flavor. I was so intrigued with this oil I decided to to a little more research on this robust oil.
According to LiveStrong.com, research has shown that pumpkin oil has wonderful beneficial effects for men's prostate. A study was conducted at the Department of Urology at the National Cheng Kung University in Taiwan revealing that the proper induction of pumpkin oil has shown to reduce the size of males prostate. In addition, other studies have shown that pumpkin oil has lowered lipid levels and LDL aka "bad cholesterol" as well as lowering blood pressure overall.
I fell so in love with this pumpkin oil that at the end of the Fresh and Easy event I asked the chef and PR person if I can snag the rest of the bottle and they happily gave it to me. It is just so delicious and unlike anything I have ever tasted before. Unlike the salad that we made at the event, I decided to pair this rich dressing with bright tangerine segments and sweet pomegranate seeds. Both the tangerine and pomegranates were given to me by neighbors and grown in local gardens and I thought this would be the perfect match.
And speaking of pomegranates, I wanted to offer a little tip on how to seed them. I was talking about pomegranates with a family friend and was surprised when she told me that she has never seen a real pomegranate. She only buys the seeds in packets, in which I replied, I didn't even know they sold them that way! (I have been living under a rock, apparently). Anyway, here is a pomegranate. It is basically a hard shelled fruit that is easily cut with a sharp knife. Once you cut into it, dozens of rich red seeds are tucked inside. Each seed has a gorgeous sweet and tart flesh around that we eat, however is sometimes hard to get out because they are snuggled in with pith that I think looks like a honey-comb.
Tip: My wonderful neighbor told me a great tip on how to get these seeds out of that tight pith. Cut them into segments and hold under a bowl of water while releasing the seed with your fingers. The seeds will fall to the bottom and the white pith will float to the top.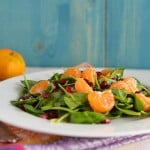 Print Recipe
Spinach Pomegranate Salad with Pumpkin Vinaigrette
Inspired by Fresh and Easy and Chef Cynthia Perez
Ingredients
Pumpkin Vinaigrette
3

tablespoons

pumpkin seed oil

3

tablespoons

white wine vinegar

3

tablespoons

fresh orange juice

or tangerine

2

teaspoons

Dijon mustard

1

teaspoon

honey

Salt and pepper to taste
Salad
2

cups

baby spinach

1/2

pomegranate

seeds removed

1

tangerine

segments
Instructions
Place all vinaigrette ingredients in a mason jar, close lid tightly and shake well.

Plate salad with spinach, pomegranates and tangerine segments and toss with a few tablespoons of pumpkin vinaigrette

Store any additional vinaigrette in the refrigerator. .
Nutrition
Calories:
155
kcal
|
Carbohydrates:
13
g
|
Protein:
1
g
|
Fat:
11
g
|
Saturated Fat:
2
g
|
Polyunsaturated Fat:
5
g
|
Monounsaturated Fat:
3
g
|
Sodium:
42
mg
|
Potassium:
238
mg
|
Fiber:
2
g
|
Sugar:
10
g
|
Vitamin A:
1584
IU
|
Vitamin C:
20
mg
|
Calcium:
30
mg
|
Iron:
1
mg