Today I took my last final ever as an undergrad student. I have so many feelings rushing though and graduation is in 6 days. This is going to be a fun week.
Of course, I will share all the festivities once things settle down.
Today, Miriam from Over Time Cook is bringing over roasted green beans. I love, love this girl! 1) She put tomatoes in this dish, and everyone in the entire world knows how much I love tomatoes and 2) Not only is she a professional and fabulous food photographer  (how gorgeous are these pics?), Miriam is a fab baker and is my confident in times of need. You can follow all her tasty treats on Facebook and Twitter too! Tell her Sam said hi 🙂
—
Hi everyone! My name is Miriam aka The Overtime Cook, and I am super excited to be guest blogging
here for Sam while she gets herself graduated and fun stuff like that!

I have to admit, the gorgeous, mouthwatering, and totally exciting recipes on The Little Ferraro Kitchen make me drool, but they also make me wonder how I could possibly top them with a recipe of my own. Confession time: I don't have time to spend in the kitchen (as you might have realized from my name!) and I totally don't have a super sophisticated palate. Want to know what I am known for? (Aside from my desserts. Some people call me The Cookie Lady and they would totally not be wrong.)  So aside from that, I am known for simple, quick dishes.
It's only natural, really. My day starts at 6:30, I leave for work at 7:30 am, and factor in the commuting time, I get home after 7:30 pm. So when do I cook? In the very few minutes between getting everything else done. My favorite dishes to cook lately are the ones where I dump a few ingredients on a tray, stick it in the oven, and come back some time later to something delicious. I have become quite the master of this, starting with my Spicy Zucchini Sticks, one of my all time most popular recipes, and ending with a new favorite of mine, which I am going to share with you today. It's super simple, both in preparation and taste. But try it, and you'll see that simple is sometimes best.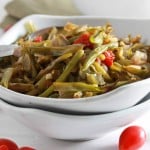 Print Recipe
Roasted Green Beans with Shallots and Cherry Tomatoes
Ingredients
2-3

large shallots

finely diced

½

pint

cherry tomatoes

sliced in half

1 ½

pounds

green beans

or cheat and use frozen. I won't tell anyone., cut up

2

Tablespoons

olive oil

2

teaspoons

salt

½

teaspoon

garlic powder

½

teaspoon

dried basil
Instructions
Preheat oven to 425. Line a cookie sheet with parchment paper.

Combine all ingredients and toss to combine.

Bake at 425 for 40-45 minutes, stirring occasionally.

Serve hot. Enjoy!
Thanks for having me here! And thanks everyone for reading. Don't forget to connect with me on Facebook, or tweet me @overtimecook! -Miriam