Welcome to Day #6 of Appetizer Week, a multi-blogger event co-hosted by Kim of Cravings of a Lunatic and Kristen from Frugal Antics of a Harried Homemaker. Whether you are a Broncos fan or a Seahawks fan , we wanted to make sure you had plenty of ideas for your game day spread. Each day we will be dishing up a different set of appetizers. We hope you enjoy this fabulous group of recipes. Tune in each day starting with Monday, January 20 and ending on Saturday, January 25. Today is our final day of #AppetizerWeek. We hope you have enjoyed it as much as we have! Should we make it an annual event? I think so!
To finalize Appetizer Week or what I kept calling it…tapas,  I thought I would share another one of my favorite tapas that we had in Spain! You have already seen other Spanish small bites that I made, but these queso stuffed padron peppers really take it over the top!
Padron peppers are small green peppers that grow in Padron, Spain. We found them at a little pintxos bar in San Sebastian, Spain and fell in love! They are small and usually simply charred, which I still have yet to share too. When we came home, the first and only thing I wanted to find were Padron peppers! I searched high and low, went to every Hispanic and Asian market in Southern California without any luck. I was so determined to find these little Spanish peppers, nothing was going to stop me! Finally after much searching, researching and asking every soul alive…I found the one place that sold these pepper jewels…Melissa's Produce!
These guys were awesome! Melissa's Produce usually sells to grocery stores in bulk and online, but they were awesome and searched for local stores that had them. I was so excited, I had Joe drive 30 minutes to a store all the way in Newport Beach just to buy some peppers. Seriously..just awesome!
I did notice a tad difference with these peppers than with the ones we had in Spain. The ones in Spain were smaller and not spicy. These Padron peppers, however are are a tad larger with more seeds = more spicy! Which is all good cause this girl can handle her heat, but not exactly what I remembered. I'm wondering if they picked the peppers while they are at their younger stage, if that would make a difference? But all in all, these little peppers are rockin'.
As you can see, I stuffed these with creamy queso. Padron peppers have a perfect pocket for stuffing…I was also thinking ground meat or chicken which would be awesome too! After they were roasted and the cheese melted, I topped them over romesco that I made the other day. The charred pepper with the oozing cheese over creamy and slightly spicy romesco sauce was just out of this world! Not only is this an amazing tapa…but wouldn't this be awesome for Game day too?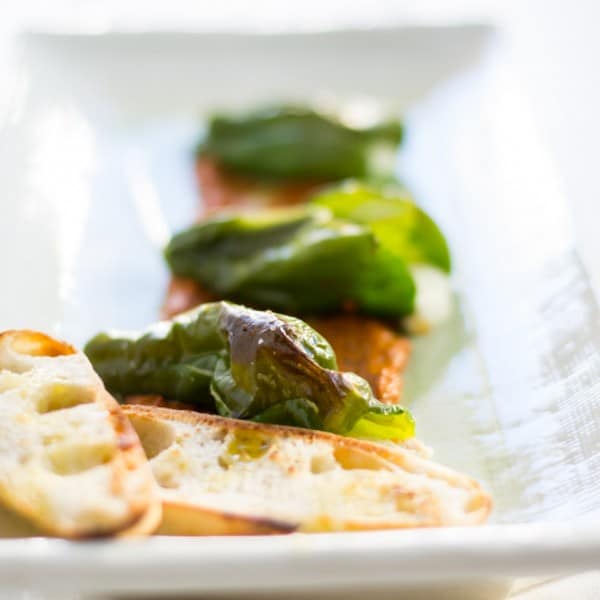 Print Recipe
Queso Stuffed Padron Peppers Over Romesco #AppetizerWeek
Servings:
2
-3 servings, depending on how many peppers are in package
Ingredients
1

package Padron peppers

1/4

cup

Queso

cut into small chunks

Olive oil

for drizzling

Sea salt

to finish

Romesco sauce

recipe here
Instructions
Preheat oven to 400 degrees F.

Remove stem and seeds from peppers. Cut a slit in the pepper and stuff a piece of queso in.

Lay all stuffed peppers in a baking sheet and drizzle with olive oil. Roast in the oven for about 20 minutes, or until the cheese melts and pepper begins to char.

When done, smear romesco sauce on your serving plate and place stuffed padron on top. Finish with a drizzle of olive oil and sea salt.
Visit all the other Appetizer Week participants for more dishes for the Big Game:
Giveaway!!
Today's giveaway is absolutely amazing. It is a huge cookbook giveaway, one winner takes ALL. We would like to thank Healthy Slow Cooking, Scarletta Bakes, Quarry Spoon and Fair Winds Press. We appreciate all our sponsors and folks who helped put together this fabulous giveaway. This giveaway is open to U.S. residents only. Sorry to all our Canuck and International friends.
List of cookbooks up for grabs for #AppetizerWeek, one winner takes ALL:
Vegan Slow Cooking for Two or Just For You by Kathy Hester
The Great Vegan Bean Book by Kathy Hester
The Vegan Slow Cooker by Kathy Hester
The New Southwest: Classic Flavors with a Modern Twist by Meagan Micozzi
Easy as Pie Pops: Small on Size and Huge on Flavor and Fun by Andrea Smetona
Stuffed The Ultimate Comfort Food Cookbook: Taking Your Favorite Foods and Stuffing Them to Make New, Different and Delicious Meals by Dan Whalen
Baking by Hand: Make the Best Artisanal Breads and Pastries Better Without a Mixer by Andy King
Bake and Destroy: Good Food for Bad Vegans by Natalie Slater
Stealth Health Lunches Kids Love: Irresistible and Nutritious Gluten-Free Sandwiches, Wraps and Other Easy Eats by Tracy Griffith
Scoop Adventures: The Best Ice Cream of the 50 States: Make the Real Recipes from the Greatest Ice Cream Parlors in the Country by Lindsay Clendaniel
Gluten-Free 101: The Essential Beginner's Guide to Easy Gluten-Free Cooking by Carol Fenster
Vegan Food Gifts by Joni Marie Newman
Whole Grain Vegan Baking by Celine Steen
Great Gluten-Free Vegan Eats From Around the World by Allyson Kramer
The Flavorful Kitchen Cookbook by Molly Krause
500 Paleo Recipes by Dana Carpenter
Paleo Sweets and Treats by Heather Connell
Fire in my Belly by Kevin Gillespie
Latin American Street Food by Sandra Gutierrez
Eat your Vegetables by Joe Yonan
Cooking Slow by Andy Schloss
a Rafflecopter giveaway

***Disclaimer: This giveaway is being provided by sponsors. #AppetizerWeek bloggers have not received product or been compensated as a part of this giveaway.***