My 2 week hiatus of finals and graduation has finally come to a close end. My graduation was yesterday and my party will be this weekend. I can't wait to share off the fun with everyone.
Today, my good bloggy friend, Susan from The Girl in The Little Red Kitchen is bringing over a dish with my FAVORITE ingredient ever…heirloom tomatoes! Gosh i love this girl! She knows me so well 🙂 I mean, how amazing does this heirloom tomato & spinach basil pesto lasagna look? Say that 5x fast! ha!
You can follow Susan and all her tasty treats on her blog, Facebook and Twitter!
—
Hello Little Ferraro Kitchen readers! I'm Susan from The Girl In The Little Red Kitchen. I am so thrilled to be here today, because if you haven't heard the awesome news, Sam just graduated college on Wednesday! Let's give her a huge round of applause!
While she's out celebrating and hopefully relaxing, she's giving up the reigns of one little kitchen to another (me!). When thinking of what to make for Sam, I joked I might have to make a souffle since she's so well known for them. However, my fear of it falling flat and me wanting to be able to show face around here again swayed my decision.
Ultimately, it was our mutual love for heirloom tomatoes that made up my mind. With tomato season right around the corner, I figured a lasagna that prominently featured them, plus fresh ricotta, mozzarella and a bright green pesto would do the trick!
Like any lasagna, this takes a bit of prep work, but I promise it is worth it. This is so good and hearty, even the meat lovers in your family won't even notice it's not their classic lasagna bolognese.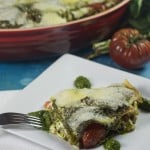 Print Recipe
Heirloom Tomato & Spinach Basil Pesto Lasagna
Ingredients
For the pesto:

2

bunches cleaned fresh spinach

bottom stems removed

1

cup

fresh basil

2

large garlic cloves

smashed

3/4

cup

toasted walnuts

3/4

cup

extra virgin olive oil

1

teaspoon

kosher salt

1/2

teaspoon

black pepper

For the lasagna:

1

box no-boil lasagna noodles

you may not use them all

1

lb

assorted heirloom tomatoes

sliced 1/4 inch thick

12

ounces

fresh ricotta cheese

8

ounces

fresh mozzarella

thinly sliced

1/4

cup

grated parmigiana cheese
Instructions
In the bowl of your food processor, place half the spinach and basil and pulse until broken down. Add the remaining spinach, and pulse until it is finely chopped.

Add the garlic, walnuts, salt and pepper and pulse until all the ingredients are finely chopped.

Scrape down the sides of the bowl, replace the top and start the motor. With the motor running. slowly drizzle the olive oil from the top until the pesto is smooth. Set aside.

Place paper towels down on a cutting board and the sliced tomatoes on top of it, sprinkle lightly with kosher salt and top with more paper towels.

Let the tomatoes sit for 5-10 minutes to drain excess moisture.

Pre-heat your oven to 350 degrees F.

In a 9X13 dish, spread 1/4 cup of the pesto evenly across the bottom.

Place one layer of lasagna noodles and then dollop 1/2 of the ricotta. Top with 1/3 of the tomatoes.

Add another layer of lasagna noodles and spread more pesto across it. Top with 1/2 of the fresh mozzarella and 1/3 of the tomatoes.

Add the next layer of lasagna noodles, more pesto, the remaining ricotta and tomatoes.

Place the final layer of noodles on top and finish with a little more pesto and the remaining mozzarella.

Bake, covered with aluminum foil for 30 minutes.

Remove the foil and sprinkle the top with the parmigiana cheese. Bake for an additional 5 minutes.

Remove from the oven and let sit for 5-10 minutes prior to serving.