Your guests are going to go nuts over these Boursin stuffed mushrooms! Creamy herb and garlic cheese is mixed with sautéed shallots and stuffed inside button mushroom caps. After a quick bake, you won't be able to resist these easy savory and cheesy stuffed mushrooms!
Boursin Stuffed Mushrooms
If you have ever had Boursin cheese, then you know how absolutely delicious it is! Boursin is a creamy French cheese that is seasoned with herbs and garlic. There is a lot of flavor and when stuffed inside mushroom caps, makes for a fantastic and easy mushroom appetizer.
The entire recipe takes under 20 minutes from start to finish and makes for a truly impressive and delicious bite. My tip, make an extra batch because you won't be able to stop at just 1!
Why You'll Love This Recipe
Minimal ingredients and big on flavor!
These stuffed mushrooms make a perfect holiday appetizer that everyone will love!
Entire recipe takes under 20 minutes to make!
You and your guests will devour these easy boursin mushroom bites!
Ingredients
Button Mushrooms: Button mushrooms and cremini mushrooms are both small mushrooms that are perfect for a stuffed mushroom appetizer. Remove the stems and chop those up to mix with the other flavorings.
Boursin Cheese: Boursin is a French cheese that is incredibly creamy and savory. You can often find it in the cheese section of grocery stores as it's become more widely available. There are a few flavors of boursin cheese, but the more popular one and the one used in this recipe, is flavored with garlic and herbs.
Olive Oil: A good drizzle of olive oil is used to saute the shallots and chopped mushrooms.
Shallot: I love the flavor of shallot as it's a bit sweeter and works so well with the boursin cheese and mushrooms. If shallot isn't available, finely chop 1/4 cup worth of red onion.
Thyme: Fresh thyme offers an earthy layer of flavor to the cheese stuffing. Remove the leaves from the stem and give it a rough chop before adding it to the sautéed shallots.
Panko Breadcrumbs: Panko is a Japanese style of breadcrumb that has a really nice crunch. A small amount is added to the mixture to help bind the ingredients together and offer a bit more texture.
How to Make the Stuffed Mushrooms
Prep the Mushrooms
Remove the mushroom stems from the button mushrooms and chop the stems into fine pieces.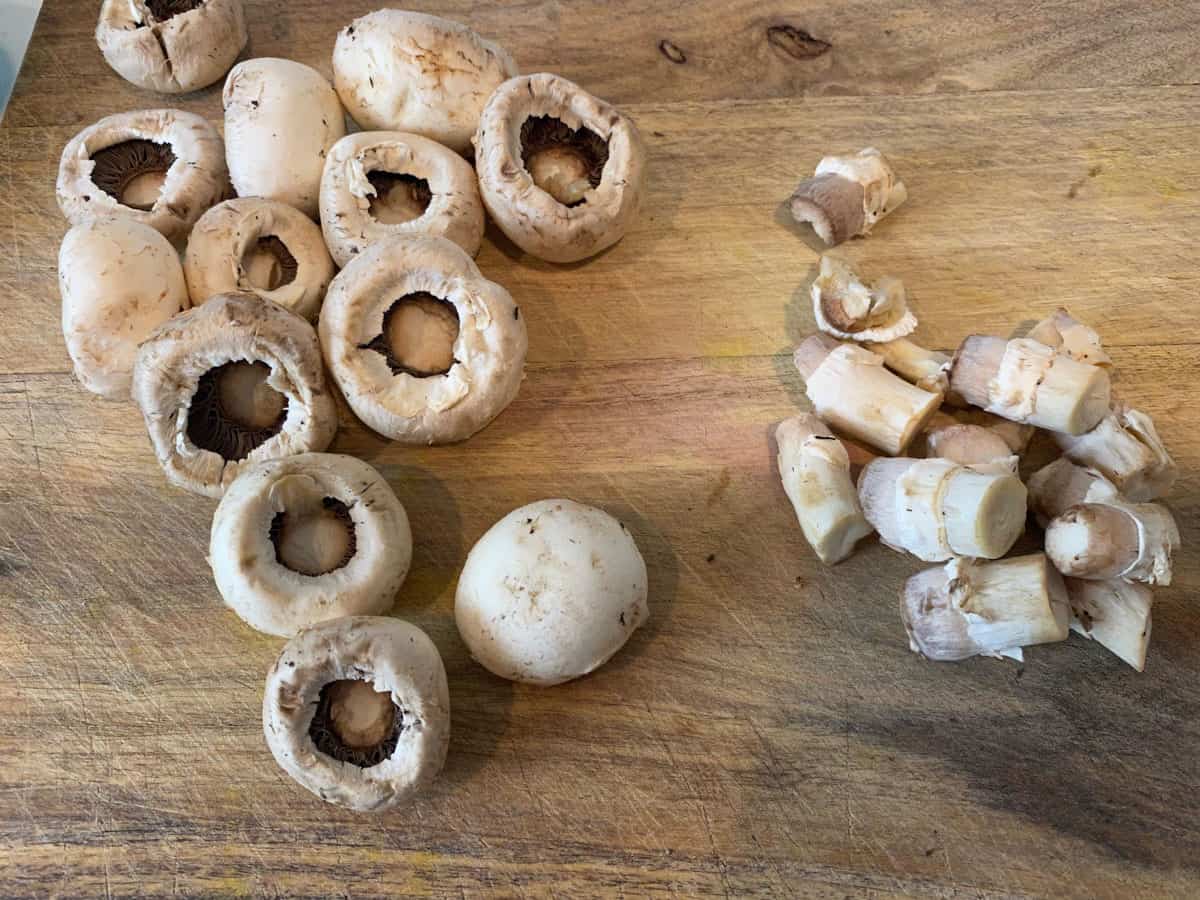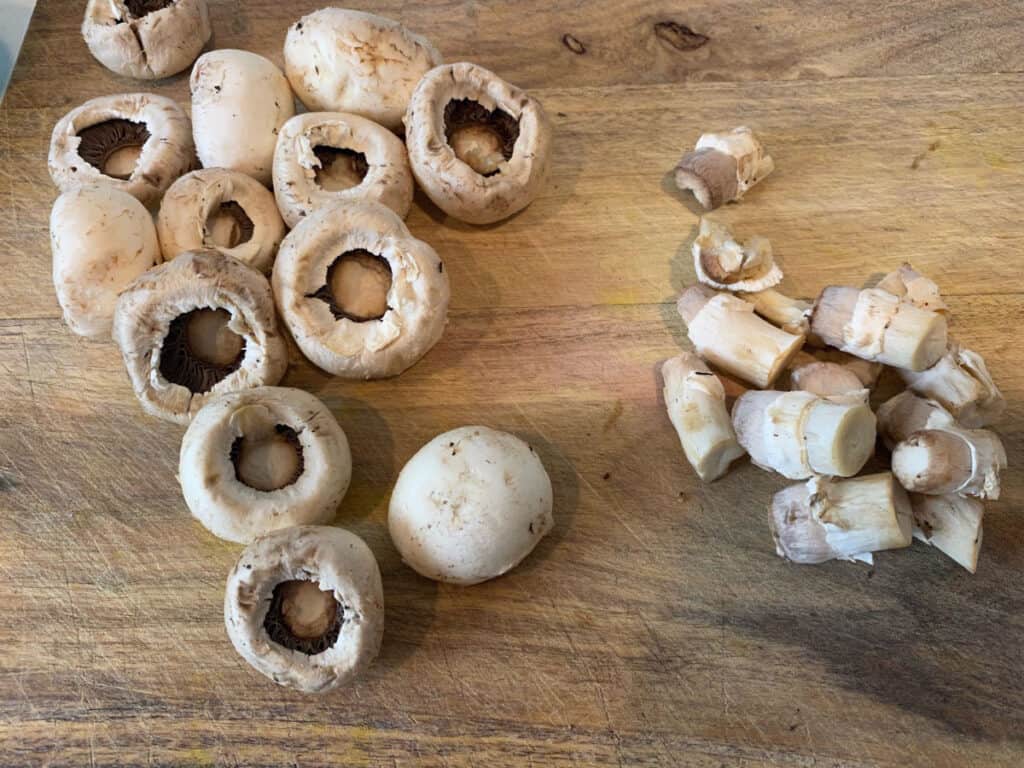 Make the Filling
Drizzle a wide skillet with olive oil and place over medium heat.
Add the chopped mushroom stems and saute for 1 minute to soften.
Add the chopped shallots and thyme and saute until shallots soften and become fragrant, about 2 minutes.
Add the panko breadcrumbs and continue sautéing for another 2-3 minutes to lightly toast the panko.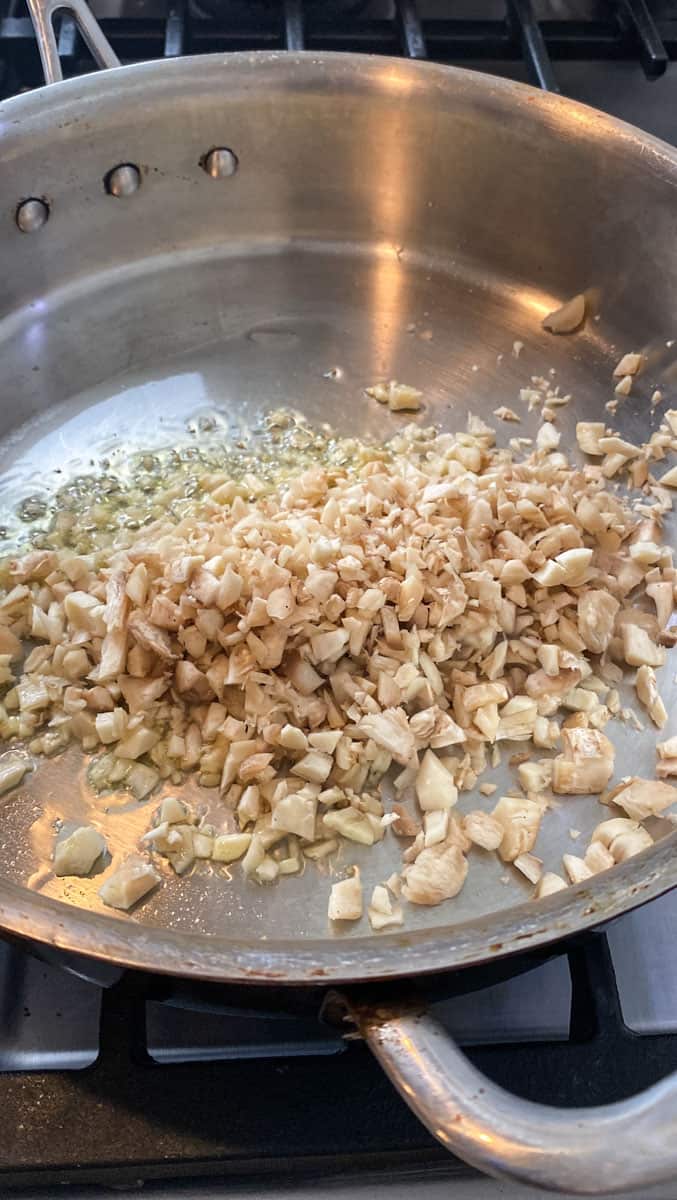 Stuff the Mushrooms and Bake
Add the mushroom mixture to a bowl and add the boursin cheese.
Mix everything very well and stuff each mushroom cap with the cheese filling.
Place the stuffed mushrooms on a baking sheet and drizzle the tops with olive oil and bake at 400 degrees Fahrenheit for 12-13 minutes.
Once done, remove the mushrooms from the oven and garnish with chopped parsley and serve.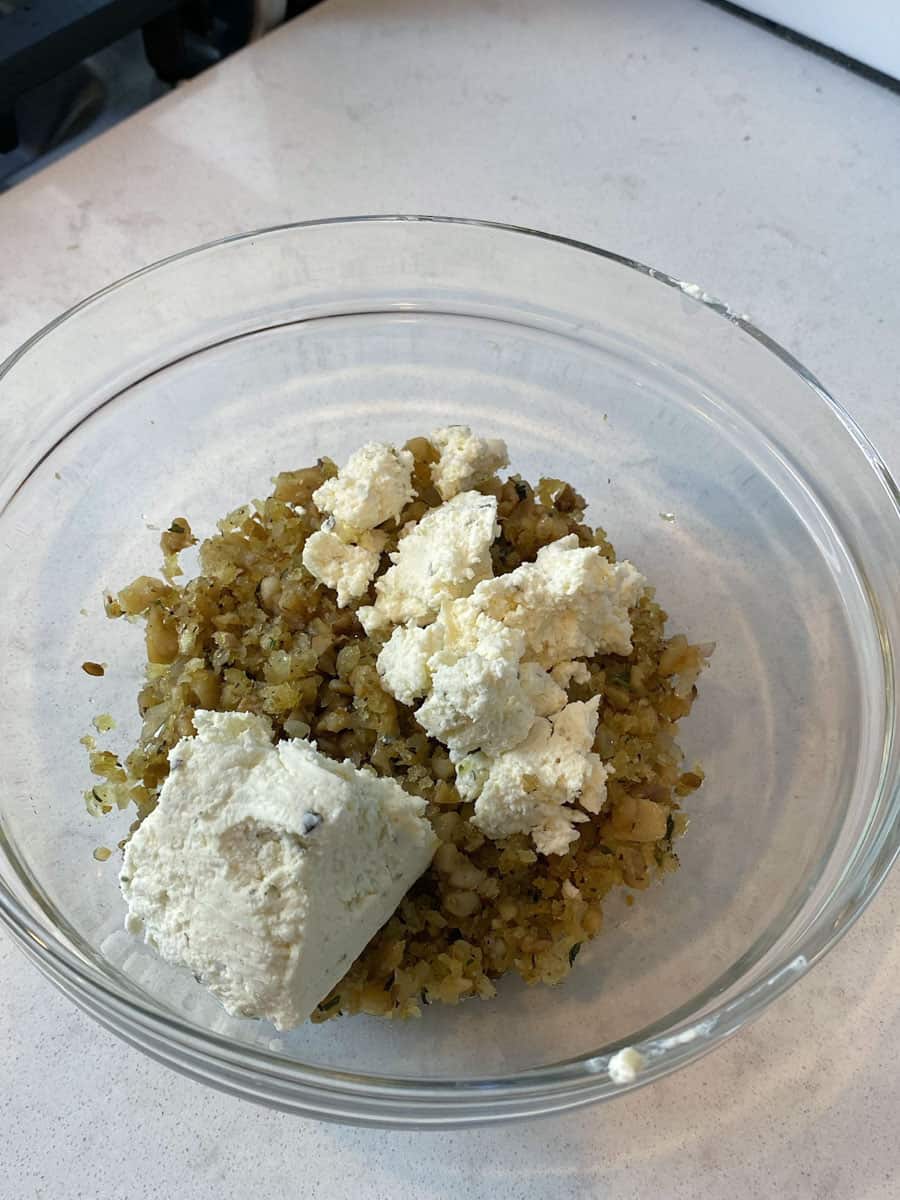 More Appetizer Recipes to Try